A quiet concert weekend is upon us, so barring a late notice confirmation, today's post features this weekend's previously announced concert previews, plus some new videos from two very different local acts. Without any further adieu, here's what you should know!
We'll start our previews with the Sault Ste. Marie debut of Sudbury punk trio
Lightmares
, who will rock
LopLops Lounge
TONIGHT! After two fan favourite appearances at both of the Oh!No concert festivals in Leeburn, this will be a long overdue chance for Oh!No attendees and newcomers alike to see Lightmares in the Soo proper, and with their alternative-tinged, upbeat blend of originals, they should get a solid reception among the LopLops faithful! Openers were quietly confirmed in recent weeks, and they will include new local hip-hop jazz quartet Bom Kronik (spelled "Bomb Chronic" on
the Facebook event page
) and local surf rock quartet
The Dynowaves
, who also played at Oh!No this year. Diverse but talent-laden lineup, so don't be late for the opening acts! Advertised as promoters
Six, Two, Oh.
's 90th concert to date, this show has a 19+ age limit, $5 cover charge, and 9:00 PM start time.
With this show tonight and The Therapists returning to our area later this month, this is a good time to be a fan of this year's Oh!No lineup, so if you can swing a Thursday nighter, head to LopLops for all of tonight's varied action, and for a preview, here's Lightmares live last month!
Next up, the only other advertised local hard rock concerts this weekend will take place at the re-opened and relocated
Gliss Restaurant
, as
Tym Morrison
's weekly arrangement there begins it's second week since the big move TOMORROW & SATURDAY! Following the grand re-opening on October 27th, Tym resumed his regular run there last week, and will play his second public concert weekend at the former Cesira's location over the next two days. Fans of Tym's regular and proficient blend of hard and classic rock covers should welcome his weekly Gliss matinee gigs back after a 3+ month hiatus, and you can expect more of the same high quality entertainment on Spring Street tomorrow and/or Saturday! Unless there's a late confirmation, these are Tym's only publically announced shows this weekend, and they are 6:00 PM gigs with no announced cover charge or age limit, but mind the more intimate restaurant locale. Visit
the Facebook event page
for more details, and here's Tym live in concert a few years back!
We'll close today with some new videos, starting with a surprise song posting from....
Room 206
?! This comes from bassist
Brad "Example" Lacell's YouTube channel
last week, and while your first guess may be that the song (entitled "Last Stance") is a 20 year old demo from the punk quartet's original run, that doesn't appear to be the case, as the video's description says that it was "recorded for
Tidal Records
' compilation #1." This seems to imply that former Room 206 members recently reunited to record at least one more song, presumably at Tidal Records' own
Mission Control Studios
, for an apparent compilation album featuring Tidal-signed artists & collaborators, though this is largely conjecture until there is confirmation beyond this video. For what it's worth, Brad is on Tidal's roster already as a solo artist, and was a bandmate of Tidal head Dustin Jones in The Inner City Surfers. Also note that much of Tidal's recent online posts have revolved around the big Jesse Merineau concert yesterday, so outside topics may have been on hold then.
I was a kid (as in, under 10) during Room 206's heyday, so I missed out on the glory years of the Windsor Park Hotel concert era, but this new song should highly pique the interest of mid-1990s local punk fans! I can't confirm full credits for who's representing Room 206 here, and I'll hold on reviewing "Last Stance" pending teasers of a Tidal compilation album being true, but give it a listen below, and stay tuned for more when and if it comes in!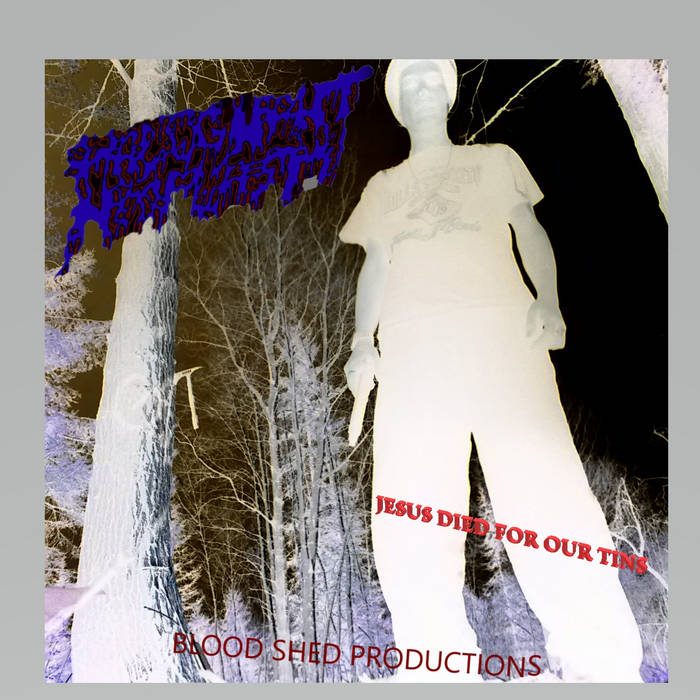 Finally for today, here's the latest from local cybergrind solo project
Malignant Neoplasm
, who returned after a lengthy hiatus with two new digital albums on their Bandcamp page on Tuesday! One is entitled
"Jesus Died For Our Tins"
, and the other (embedded below via label
Blood Shed Productions' YouTube channel
) is entitled
"No More Medical Songs."
This seems to signal a shift away from songs named after medical terminology and conditions, though this isn't new, as their 2016 album didn't have any medical song names either. In fact, Malignant Neoplasm's 2018 songs have more in common thematically with their sister goregrind act
Crucify the Whore
, so if that's more your thing, these will be familiar! While less cyber-influenced than previous material, these new songs (some with suitably provocative titles) remain a quick listen, as despite having 8 and 9 songs respectively, neither crosses
10 minutes
in total length. Only 3 songs between them exceed 2 minutes, and 6 don't run for more than
20 seconds
, so don't lose track of time when checking them out, as a song could end before you know it!
These albums are both available at the above links on "name your price" models, and while the polarizing gorenoise originals and typically undecipherable vocals will not win over any prior detractors of Blood Shed's grind acts, the aggressive noise rock will be right up the alley of existing label fans! Give all 9+ minutes of "No More Medical Songs" a listen below, and stay tuned for more from Tyler and company when it rolls in!
That's all for today, but stay tuned for more news and updates on the site in the coming days! Thanks everyone!