Before we touch on this month's Saultites In Out Of Town Bands Profile, we have some news of the old and new varieties today, including some recent shorter notes, new media from a local band, a neat concert video from 23 years ago, and leading off, information on a 16 year old CD that I recently bought for collecting and SMS purposes, so here's what you need to know!
Local music fans from the late 1990s might be interested in this find, as I now have a physical copy of the 1998 compilation album
"Local Steel"
! Found on the "Various Rock" CD shelf on the left hand wall at
The Rad Zone
for $10 yesterday, this is an album I've been looking hard for since learning that you can't check it out of the library's "local archive" section, so what should you know about it? This CD compiled 17 different local acts to contribute original material, and though all are long since defunct, there's plenty of familiar faces! For example, members of Lion Ride are featured with
The Bombed Squad
, and future Stiffler's Mom bandmates appear with
Alexis Machine
, while more recently familiar artists like
Tripod the Dog
,
Troy Isaac
, and
The Gully Yodellers
perform original songs, among many others. Most of the CD is focused around alternative & hard rock, but there's some full metal, blues, and punk tracks as well, with the somewhat cryptic
Porn Fairies
even diving into an industrial/techno sound! While mostly separate performers on each song, 4 artists play on multiple tracks, with bassist Steve Batenchuk featuring on 3.
Co-produced by future Gsis Murphy bandmates Tony Marcello and Keith Davis at Full Scale Audio Productions, the booklet hints that there would be a second annual "Local Steel" disc, but I can't prove if that occurred. This was an awesome find, and given that the album has a high amount of hard rock songs, I do want to review it on the site in a month with no new CDs waiting! In the meantime, I've uploaded the whole thing to YouTube at
this link
, so check it out if you want, and here's one of the early heavier tracks, local metal quintet Hollow playing their song "Flesh & Bones"!
Leading from "Local Steel", my research on some of the performers led me to this even older concert video featuring 3 future bandmates in
Your Mother
(the aforementioned Tony Marcello, Keith Davis, and Steve Batenchuk) from an older band in 1991! Joined by guitarist(?) Rob Struk and drummer Mark Webster, the band in question was Midpoint, who were a familiar metal band around the turn of the 1990s, so much so that they even toured! This video (courtesy of
Tony's YouTube channel
in March) comes from a performance in Thompson, Manitoba, which was filmed for a local TV show there called "The Pit", and it's of their cover of Ozzy Osbourne's "Mr. Crowley", so how does it sound? Despite not beginning at the start of the song, it's well performed, and the presence of a keytar is of interest, but the vocals aren't quite at the right range for this song. Very cool to see this video though, and hopefully more local musicians post some old archive material like this at some point, so check out Midpoint live in Thompson, Manitoba below!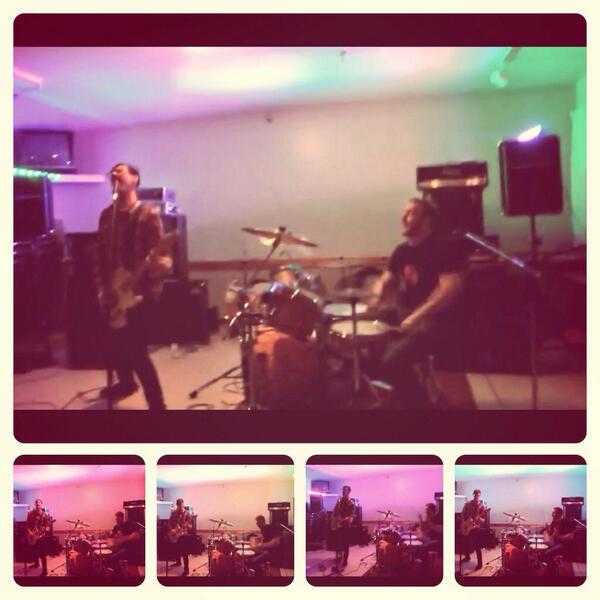 Next up, have you been curious to hear more material from local grunge/hardcore duo
Bad Back
? Well, this might be as good a source as any, as drummer Nathan Sauve has posted
26
recordings of them onto
his personal Soundcloud page
over the past year! I'm not sure how this slipped us by for so long, but Nathan has been posting material there since May 2013, and it's definitely publically accessible. While mostly originals (including most, if not all of their live setlist contents), there are select covers and even a few songs with guest performers. The recording quality has steadily improved since last spring, and given that these were likely recorded at jam sessions, there's a fun energy and spirit present in most! It's nice to hear nice quality versions of
"Togna Sharogna"
and
"Lung Bucket"
, among others, and hopefully Nathan keeps adding to this page, or expands Bad Back's social media presence beyond Twitter! Check everything out above, and stay tuned for more on Nathan and Jamie's next shows!
Finally for today, here's three recent shorter news items from the last while, and as usual, these are in alphabetical order by band name:
The local contingent has grown for this year's Touch of Death Metal & Punk Fest in Cochrane, Ontario, as local sludge metal trio AlgomA, the aforementioned Bad Back, and local goregrind project Crucify The Whore have all been confirmed for the late June lineup, as per the event's Facebook page! They all join Shit Liver and Steve & Andrew from D3athcharg3r among the Saultite performers. Awesome news, hopefully they tear up Cochrane next month!
After a 9 month hiatus, Sault Michigan concert promoters Allstar Promotions re-emerged on their Facebook page on Friday to ask for opinions on booking British hard rock legends The Cult for a show this year, presumably at The Dreammaker's Theater at the Sault Ste. Marie Kewadin Casino. It'd be cool to see, but if you want to show your support, like or comment the status at the above links!
Add some more Saultites to the well anticipated Hardcore Homecoming show at The Rockstar Bar on September 13th, as London hardcore punk quintet Gatgas (featuring Harsh Heads alum Bob Bromley Jr. and fellow Soo native Garry Ingram) have been added to the lineup, joining Random Killing and their local frontman Andrew Kiteley for this long awaited return home! Awesome news, hopefully Gatgas deliver a solid set of crust punk this fall! My source is promoter J.D. Pearce on the Facebook event page on Wednesday.
That's all for now, but stay tuned either tonight or tomorrow for this month's Saultites In Out Of Town Bands Profile on Alpha Trion! Thanks everyone!