I wasn't expecting to have a second news post today, but due to SHORT NOTICE LOCAL CONCERT ALERTS that just came to my attention, we'll rush another one, but check out more new concerts, videos, and other updates in the post below this one! Now, we have the aforementioned late notice gigs, a Sault Michigan metal band's recent updates, and more assorted news and notes, but first, here's a new local metal project we recently came across!
We have a new local metal project to add to our Sault Ontario band links, that being a new solo metal project named
StrykerGC
! Led by a veteran local singer/guitarist named Troy Isaac Kulka (who also uses the "Wyatt Erp" alias here and there), he had previously been in a British Columbia rock band named Angel Dust, but has been producing his own solo music since November, launching under the StrykerGC name last month (including
Facebook
&
Reverbnation pages
.) While relatively new, StrykerGC are looking to release his recent solo recordings as an album named "Life's A Bitch" on iTunes, and songs towards that goal are now streaming on Reverbnation, so how do they sound? Troy's solo music has elements similar to those of veteran local hard rock artists like Tym Morrison and SweetKenny, harbouring a classic metal sound with blues influences, and a good vocal range, and it will be interesting to see how far StrikerGC goes!
Note as well that Troy is looking to form a full band for this project, so if you're interested to get more details, message him at
this link
or via
his Musicians Wanted Facebook group
post yesterday! One YouTube copy of StrykerGC's song "Black As Night" also exists on
Troy's YouTube channel
, so give it a look below, and stay tuned for more from this new local band discovery as we hear it!
Next up, we have SHORT NOTICE LOCAL CONCERT ALERTS for TONIGHT AND TOMORROW NIGHT, as Marquette, Michigan hard rock quartet
Nudge
will be rocking The Satisfied Frog in Sault Michigan for two nights this weekend! Apologies for the short notice, these shows were only announced via
their Facebook event page
on Tuesday, and they slipped our radar until now (thanks to frontman Danzo McCracken for the heads-up!) Last seen at The Frog in February, this weekend's shows are their third & fourth Sault Ste. Marie dates since drummer Eric Schlumpf returned to their lineup, and they do indeed follow Danzo's traditional Wednesday & Thursday acoustic gigs at The Frog, so hopefully they went well! Nudge's entertaining modern hard rock covers always find a receptive audience, and you can rock out with them once again TONIGHT & TOMORROW at 9:00 PM, with 21+ age limits and no announced cover charges in effect. For more details, check the above links, don't miss Nudge's E.U.P. returns tonight or tomorrow, and here's Nudge covering Static-X in Munising!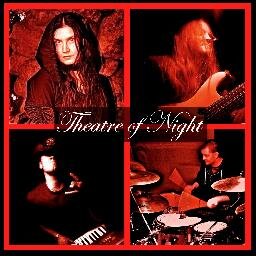 Staying across the river, local classical metal band
Theatre of Night
recently overhauled
their official website
, and there's some interesting new stuff there, so what should you know? Along with an expended slate of online pages (including ones on
Twitter
,
Soundcloud
, and
Pinterest
), they now have an updated blog with recent news, including the revelation of a new original song named "The Killing" that will feature guest vocals from Italian singer
Ida Elena DeRazza
, and that their first album "Christmas Night" is almost sold out of it's original instrumental CD pressings. Their website doesn't have any brand new material yet that we haven't already heard, but it does include a tab for future tour dates, which has to be encouraging for long time fans! Studio work has been slow for Theatre of Night in the last year, but their talent and originality speaks for itself, and hopefully we hear much more from the Giles brothers, Craig, and Gaby soon, so keep an eye out!
Finally for today, here's three assorted shorter news items from the last while, and as usual, these are in alphabetical order by artist or series name:
These Sins of Time frontwoman Alexa LeClair is again looking for musicians for her current hard rock project (still unclear whether it's T.S.O.T. or something else), now focusing on a guitarist or bassist. At last word, Sault Michigan's Ethan Twardy was on drums, though it's unclear whether they're looking for an additional guitarist or if Dalton Boissineau left. The aim is to tour and make CDs, but if you're interested, message Alexa via her Musicians Wanted Facebook group post from May 4th!
Local thrash metal band Pillory have quietly parted ways with guitarist Josh Amendola, as per his move to their former members list on their Facebook page. A public reason was not announced there, but note that Pillory have not made a Facebook post since March. Josh had replaced the late Andres Duchesne in the band last year, but only played with them at a few early 2014 gigs. Hopefully all's amicable, and best of luck to Josh in the future!
The most recent installment of Local2's bi-weekly music profile video series Tuned with Donna Hopper was posted on May 3rd, and while you can watch it at this link, note that it doesn't focus too much on metal or hard rock bands, instead mainly covering White Pines Collegiate student band The Pine Tones. It does feature a plug of the Alice Cooper show in Sault Michigan next month though!
That's definitely all for today, but we'll see you guys at The Rockstar Bar TONIGHT for the Jack Spades EP release show! Thanks everyone!