Hey guys, in a surprise second post today, here's our overdue latest installment of our Battle of the Bands Rewind series! As you may remember, we're profiled a selection of recent battles of the bands on the site in the last few years, in order to spotlight what happened, who competed, what were the stakes, and where the bands are now, with new installments coming a year after the original battle took place. However, we admittedly forgot about our profile on the most recent Sault Ontario battle last month, but with two new ones coming up in early 2015, now's better than ever! Remember, our battle of the bands profiles are strictly informative and do
not
feature reviews or criticism of the bands or their sets. With that said, read on below for our newest Battle of the Bands Rewind Profile!
(Updated on February 17th, 2016)
------------------------------------------------------------------------------------
Viva La Battle
(November 13th, 2013)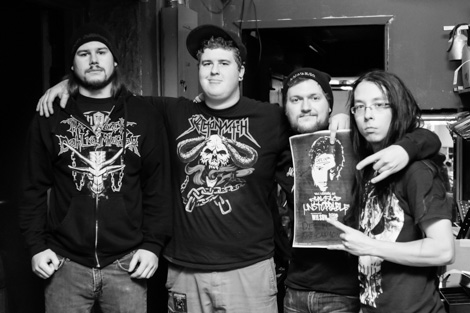 Background:
Seven months after his successful Rockstar Bar Battle of the Bands, local concert promoter J.D. Pearce hosted Viva La Battle in November 2013 at
The Canadian Nightclub
. Much like his Battle for the Blood the previous summer, this was a smaller battle featuring less bands, fan voting rather than judges, and an opening concert slot for the winner being the only prize. In this case, the winner of Viva La Battle would be named as one of the local openers for
Bam Margera
's
Fuckface Unstoppable
at The Canadian on December 14th of that year, similarly to the past year's prize of opening for 3 Inches of Blood at The Rosie. All competing bands would play 30 minute sets, and after they wrapped up, concert attendees marked their chosen winners on a paper ballot to be tabulated after the show. The battle's name was inspired by Bam Margera's MTV reality show "Viva La Bam".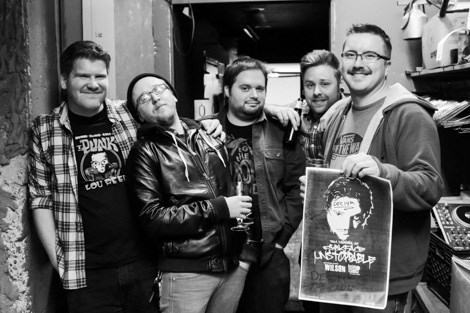 Prizes:
Again, just the opening slot for Bam Margera the next month, where the winners would also join Detroit party/hard rock quintet
Wilson
and two other local bands on the lineup, including punk/metal quintet
Jack Spades
and hardcore punk notables
Destroilet
. There were no other announced prizes for the winners or runners-up.
Competitors:
Though four bands were scheduled for Viva La Battle, only three would end up playing, including local death metal veterans
The Bear Hunters
, debuting local indie/punk quintet
Northwest
(then spelled as "North West"), and the debuting hard rock quartet
Punch
, a supergroup merger of Suicide Kings & Haggith alumni.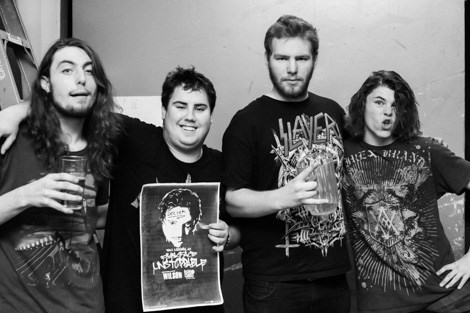 Results:

The fans voted The Bear Hunters as the winners of Viva La Battle, scoring 21 of a possible 43 votes and giving them the right to open for Fuckface Unstoppable the following month. Northwest made a strong impression in second place with 13 votes, while Punch rounded out the podium in third with 9 votes.

A

ftermath:

The Bear Hunters continued their success with a number of high profile concerts throughout 2014, and also released their debut CD "Eternal Hibernation" that same December, with more big concerts and recording sessions towards their sophomore album following! Northwest have played more sporadically, but have opened for the likes of Gob and The Sunparlour Players over the past two years, and also released a debut self-titled EP in mid-2014 with their original lineup. Finally, Punch played a handful of concerts over the following months, such as opening for Diemonds and playing at one of the Roosevelt Hotel's short lived Heavy Thursday shows, before falling inactive in mid-2014 due to members' other band projects.

Some Notable Performers' Newer Bands

(Metal/hard rock/punk in

italics

):

Chronic Demonic (Nik Deubel from The Bear Hunters)

The Cover-Up

(Clint Wilson from Northwest)

Eclipse (Curtis McKenzie & Daniel Horton from Punch) Heavy Head

(

Daniel Horton from Punch & Johnny Belanger from The Bear Hunters

)

Jack Spades (Justin Lam & Johnny Belanger from The Bear Hunters)

Late Shift

(Clint Wilson from Northwest) Lorrie Lynn & The Sinners

(Greg Callaghan & Clint Wilson from Northwest)

Mourning Wood (Steven Flint from Punch)

Project 421 (Daniel Horton & Curtis McKenzie* from Punch) The Suicide Kings (Mitch Sirie from The Bear Hunters, and Steven Flint & Ben Boudreau from Punch)

Trivia:
A new (and intentionally secretive) local band named Keep It Lit were originally scheduled to play this battle as the fourth band, but dropped out on the day of the show after an undisclosed band member broke their hand. Keep It Lit would never play a live concert, but their lineup was to have featured singer/bassist Paul Stanghetta, guitarists Alice Rose & Paul Fowler, and drummer John Mignacca. Had they competed, Paul Stanghetta & John would have had a chance to better their second place finishes at past battles with The Fury and As It Stands respectively, though Paul plays similar material in his current band The Apocalypse Afterparty, with that band placing in fourth place at 2015's VM Radio Battle.
Local hard rock quartet The Suicide Kings (later known as Beaumont Avenue) were originally slated to play Viva La Battle, but were replaced by the debuting Punch a few weeks prior due to frontman Mike Gaetano having external commitments, though Steven & Ben were also in Punch, and bassist Mitch Sirie was still playing the battle with The Bear Hunters. Had The Suicide Kings competed, they could have tried to win their second straight battle, following their Rockstar Bar Battle win that March.
The Bear Hunters' victory at Viva La Battle was their first in three tries, following their 6th place run at 2012's Sault Humane Society Battle of the Bands, and their finals run in the aforementioned Rockstar Bar Battle. Unlike at those battles however, the band played Viva La Battle as a quartet due to Josh Stephney's move to Brampton that summer, but Josh made a surprise return to The Bear Hunters at the Bam Margera show on December 13th, where the band debuted some new original songs in the process.
While Punch are now inactive, members Daniel Horton & Curtis McKenzie carried over their original songs ("By The Hand", "Road Rash", and the self-titled "Punch") to their primary band Haggith after they reunited the next spring. Haggith continued to play these songs live until their ultimate demise in mid-2015, and later included a studio version of "Road Rash" on their final EP "XIV".
While this was the first battle of the bands to take place at The Canadian Nightclub since the Kiss Battle of the Bands in November & December 2009, this was also the first metal/punk concert to be held at the Pim Street bar since their most recent major renovations following serious flooding during a major rainstorm last September. The new look features more of a rustic/garage motif, including a number of road signs on the nightclub's walls.
Though they didn't have to compete in that show's battle to get on, The Bear Hunters also played the 3 Inches of Blood show in July 2012, which saw the Battle For The Blood take place the previous month to find the opening band (which was won by Winkstinger.)
Along with being ballots for the Viva La Battle fan vote, everyone who voted was also entered for a prize package of merchandise from the pre-selected local openers of the next month's Bam Margera concert, Jack Spades & Destroilet. The winner of the draw was Christine Purvis.
Though they didn't win Viva La Battle, Punch members Steven Flint and Ben Boudreau did finish in second place with The Suicide Kings at the Rock N' Roar Battle of the Bands in Spanish, Ontario in April 2014, earning the right to open for Randy Bachman at the annual summer concert festival that August (though under the Beaumont Avenue moniker by that point.)
Surprisingly, this was the last local battle of the bands to be held in Sault Ontario until March 2015, when two battles of the bands were hosted, including the fan voted Speak Easy Battle of the Bands, and four-night-long, judged VM Radio Battle of the Bands, which was also held at The Canadian Nightclub. The Bear Hunters (sans Josh Stephney once again) competed in both battles, finishing in third in the former and two points out of first in the latter, losing both to post-punk quartet Gnaeus.
Punch's Curtis McKenzie and Daniel Horton spread their resources out to three different bands when competing in both of the local battles in March 2015. The pair played together with Haggith in the VM Radio Battle, finishing in second in their semifinal (but not advancing to the finals), while they each played in both battles with separate projects (Curt as Mike Haggith & The Din's then-guitarist, and Daniel as Project 421's bassist), but neither band placed in these battles of the bands.
Videos:
Sources/More Info:
Viva La Battle's official Facebook event page
SooToday's review & photo album from Viva La Battle
--------------------------------------------------------------------------------------
I hope you guys liked our newest Battle of the Bands Rewind Profile! Barring a mass information dump on an older un-profiled battle (like a non-2008 Case's Music Battle, or one of the old Bon Soo Battles), this series won't return until February
2016
, which will be a year removed from the Rednecks Saloon Battle early next year, but be sure to attend both of next year's battles to see what we'll profile in 2016! That's all for now, but stay tuned for more news and notes to come over the next week! Thanks everyone!