We have another news post for you guys this afternoon, but remember to read our memorial post to late J.A.B. guitarist Jean-Paul Fecteau below this post, as he suddenly passed away on Saturday. As of this writing, details of his arrangements have not been posted, but I'll let you guys know if I hear anything regarding them or any other tributes. In today's news post, we have new videos from acts on each side of the border, and some more recent news items, but first, here's a LOCAL CONCERT ALERT for next month in Sault Ontario, so here's what you need to know!
A new death metal concert is hitting
The Roosevelt Hotel
next month, though on a Saturday night (May 18th) for a change, and it'll be headlined by a different (yet familiar) band from Cambridge, Ontario named
Greber
! A sort of death/experimental metal duo, they feature bassist Marc Bourgon from Juno nominated Ottawa/Gatineau grindcore favourites
Fuck The Facts
, and he and Greber drummer Steve Vargas have a drum & bass-only set of metal originals in store for what should be an interesting concert which might call to mind two-person metal bands like Mares of Thrace or Sue Inside at older local shows! They'll be joined by a familiar lineup of local death metal bands, including melodic death metal quintet
The Bear Hunters
& grindcore trio
Shit Liver
, who are both no strangers to The Rosie! While this will likely be The Bear Hunters first show following their Rockstar Bar Battle of the Bands appearance(s?) later this month, it'll be Shit Liver's first public local concert in almost 3 months, following their headlining set at "Axed Theory Night" at The Rosie in February.
Shit Liver (who appear to be promoting this show) were also reportedly nearing completion of their debut EP last month, but could it possibly surface in some form on May 18th? This 19+ concert has a 9:00 PM start time, but admission prices have yet to be revealed. For more details, visit
the official Facebook event page
! This should be an interesting show, and it'll be good to see Marc back following the most recent Fuck The Facts dates, while the two local death metal bands are very well matched, and should provide ample & brutal support come next month! Stay tuned for show updates as they roll in!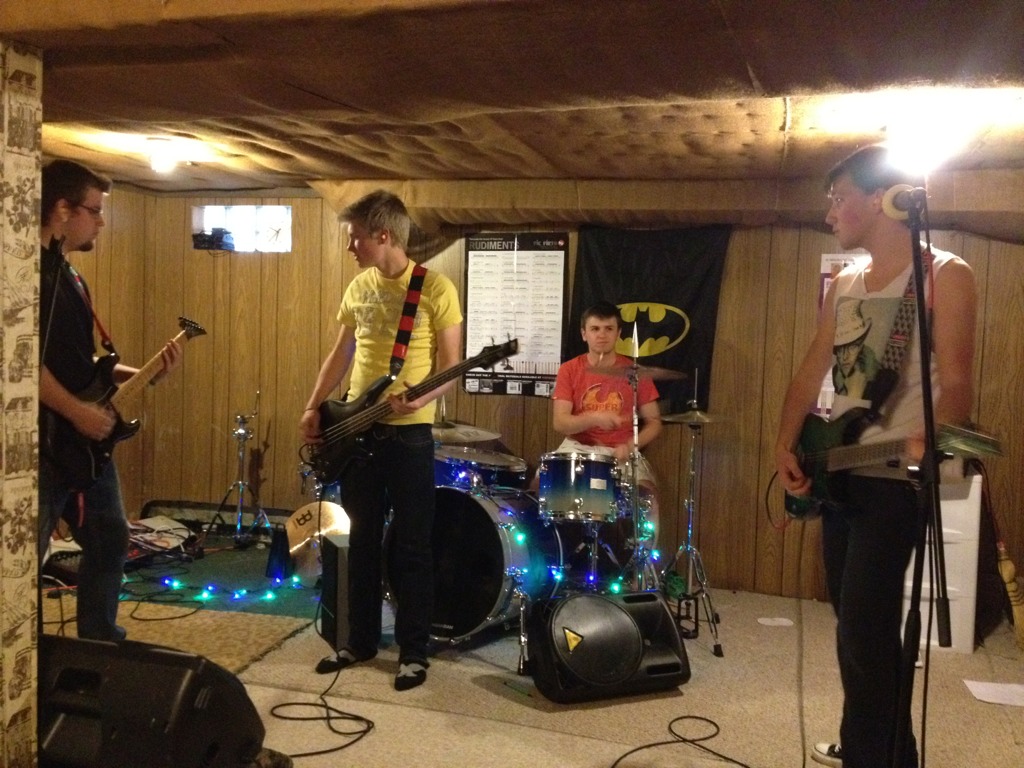 Next up, we have some new videos to share, starting with the latest video from Sault Michigan metal band
The Highest of Fives
! On Friday, a new 5 minute "short film" was posted onto member
Devin Anderson's YouTube channel
, which is similar in theme and composition to
their initial preview video
from December 2012, but what's in it? Well, I can confirm that drummer Mike Pascoe is back in the fold after a brief absence, with Devin (his old Free Refill bandmate) shifting back to guitar, a fact that's lampshaded in the video with some joking testimonials from members about why Mike left and related band tensions. The rest of the video includes numerous assorted clips of the members playing instruments (or pretending to play them), hype & promotion of their sound and their planned debut album "Bang!" (such as guitarist Marcel Grengs promoting album packages for amusingly high prices), a guest appearance from Marcel's former Analog Deficiency bandmate Cody Reed, and samples of two original songs (one improvised one named "Sweet Apple Pie", and one unknown studio track from the album.)
There are some genuinely amusing moments in this video (especially the interviews on Mike's departure and return), and this type of comedic video is something I'd like to see more local bands do! However, like their past previews, we see a lot without learning a lot in the process, and there's not a lot of samples of their original material there, but it sounds like they're slowly getting a lot done from what I can tell. I'm curious to see/hear more, so check out The Highest of Fives' newest short preview video below, and stay tuned for more Highest of Fives updates as they roll in!
Also in new videos, veteran Sault Ontario solo guitarist
Mike Cliffe
posted a new solo video for his original song "Dream of Insomnia" onto
his YouTube channel
yesterday, and it's a jazzy progressive hard rock instrumental that features inset videos of him playing the song overlayed with trippy visualizations, logos for his
AudioFumes
podcast, and even dancing stick men. It's well done and does sort of have a floating dream atmosphere at points, so give Mike's newest solo video a look/listen below!
Finally for today, here's three assorted shorter stories from the last little while, and as always, these are in alphabetical order by artist or promoter name:
If you're wondering where Sault Ontario horror punk/metal quintet Frightlight have been since their Halloween 2012 shows, they've been taking a break at least partly due to bassist Mike "Eddie Fright" Gingras' move to Toronto late last year, where he's currently back in college. Frightlight are still together, and we should see them back later this year, so keep an eye out for any news on their return!
Frightlight frontman/local concert promoter J.D. "Johnny Pints" Pearce is looking for bands to play a proposed all ages cancer fundraising concert later this year, with all proceeds going to the Canadian Cancer Society. There's already visible interest, but if you're want in, message J.D. at this link or reply to his post on the Musicians Wanted Facebook group from Friday!
Local solo guitarist Shane "The Shaner" Solomon posted three newer solo demos onto his Reverbnation page at some point late last year, including in-progress samples named "Toast Master", "Emo Hemophilia", and "Riftworn Take B", and while the former two are visibly unfinished and short, "Riftworn" has mid-tempo heavy promise and good riffing, so check out Shane's newest songs at the above links!
That's all for today, but stay tuned tomorrow morning for our preview of Wednesday's second night of the Rockstar Bar Battle of the Bands Semifinals! Which of this week's newer local rock bands will join Late & Loud in the finals? The preview's on it's way tomorrow! Thanks everyone!