After devoting our last two posts to rolling in the remaining active punk bands on the site, we're gonna touch on some backlogged news for a bit before adding defunct and inactive punk bands to our links, but I guarantee that they're coming soon! Today, we have some new jam session videos, assorted stories, and updates from a Sault Michigan band, but first, here's details on a recent demo release for you grindcore and death metal fans!
We'll start with the latest from local goregrind solo project
Crucify The Whore
, who quietly released their new full length demo "Welcome To Earth" last Tuesday! A 33 minute release with 15 songs, the front & back cover are both up on
their Facebook page
, but I won't embed the cover art here due to imagery that some may find offensive. Frontman Tyler "Ringsnaps" Gibson distributed some advance copies at his Touch of Death Festival appearance in Cochrane last month, though unless C.T.W. are playing somewhere before next month's Archspire show, you can only buy a hard copy directly through Tyler at the moment. A full YouTube upload is expected for the coming weeks, but as a preview, Tyler did upload the ninth song
"Gobbledeegook"
onto label
Blood Shed Productions' YouTube channel
on Monday, which is over half spoken word and samples before getting to usual goregrind and death metal action, and fans of existing C.T.W. originals will like this one also!
In honour of the release, Crucify The Whore also played a private release party with Tyler's duo project
Rotopsy
and local rapper
Phat Boii
last week, and a video from their set also made it to the Blood Shed YouTube channel two days later, which captures both an intense original song with Mike Kyle-esque screaming mixed in, and the unique sight of a pool noodle fight among attendees! The video quality's medium, but fans of the goregrind will want to watch this, so give it a look below, and contact Tyler above to buy a copy of "Welcome To Earth"!
Next up, here's the latest from Sault Michigan hard rock quartet
The Bottom Line
, as they've added former RamWagon/
Full Throttle
frontman Ryan Kitzmiller to their lineup, replacing Mitch Goetz, as per
their Facebook page
on Monday. The band cited having to "go in a different direction" for Mitch's exit, and while there was no bad blood, "it's just part of the business", leaving the reasons for the switch to be vague otherwise. Ryan's a solid addition, as fans will have seen from his prior local cover hard rock bands, but Mitch has always shown talent in his other bands (The Highest of Fives still among them), and best of luck to him for sure! Ryan will debut with The Bottom Line at the Music & Arts Dockside Festival in Hessel on July 20th at 2:30 PM, but there might not be much longer for them after that, as a related comment on Facebook said that they "will most likely be playing our last show in just over a month" due to bassist Jack Slater's out of town college commitments, and they want to send him out on the right note, though details on that set have yet to be revealed.
Though disappointing if true, it's not all that unexpected, as Jack's return to college also contributed to 415E's break last fall. Things look like they've been going well for the band despite what's came out recently, so stay tuned for updates on what's next (or left?) from The Bottom Line!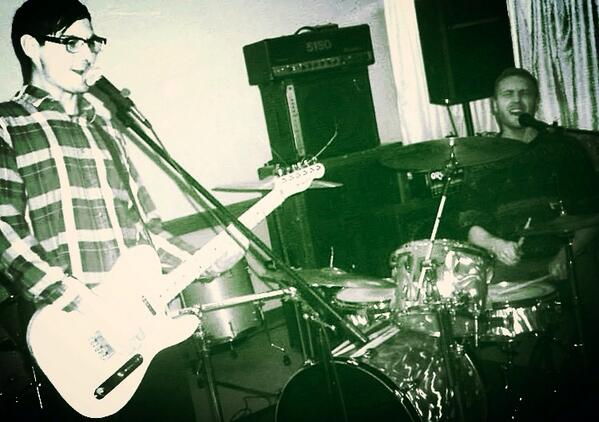 Also today, we have some new videos from Sault Ontario hardcore/grunge duo
Bad Back
to share on here! Courtesy of drummer
Nathan Sauve's new YouTube channel
(not
his old "suavij" one
), he's uploaded two videos there in the past month, including
this jam session clip
of the band playing their original "Number 1 Single" and improvisations afterward, though the camera is pointed only at Nathan without singer/guitarist Jamie Vincent caught in frame. Solid quality otherwise, but embedded below is a
51 minute
jam session clip from last month, so what should you know on this? Nathan actually listed the track order (including short jammed and solo asides) on the video's description, so
click here
for the full order, but you can see Bad Back playing originals like "Lung Bucket", "Two Tongues", and "Party Bus" along with cover jams ranging from Blink-182 to Limp Bizkit, and even their old local band Fuller!
Shot at a better angle to catch both guys, the video captures Bad Back in a looser and more carefree setting, and while it's not as polished as a formal concert, the high video quality helps, and it's fun to see a lot of new footage of Bad Back (I also like the concert poster collection on the wall!) Check out Nathan's new Bad Back videos above and below, and don't miss them opening for The Archaics at The New A next week!
Finally for today, here's three assorted shorter stories from the last few days, and as usual, these are in alphabetical order by artist name:
Thunder Bay grindcore trio Grindcorchestra have been added as co-headliners of the Archspire concert at The Oddfellows Hall on August 3rd, as per promoters Heavy North Entertainment on the Facebook event page on Monday, with the $10 admission price remaining unchanged. Solid addition, as Grindcorchestra's eclectic blend of death metal and jazz/progressive influences should lend themselves well to this all ages show! Hear more from them above!
Bear Hunters drummer Johnny Belanger is working on a new punk band project, which will cover bands like Guttermouth, NOFX, Rancid, and The Alkaline Trio. Unlike his recent solo punk sets, he will be drumming in this band, and he's looking for a singer and/or lead guitarist to round out their lineup. Sounds cool, it'd be nice to get some more punk bands in the area, so message him at this link or at his Musicians Wanted Facebook group post from last week for info!
Leading from our story on The Bottom Line, I regrettably have to delete inactive local hard rock cover band RamWagon from our band links due to the recent deletion of their Facebook page, which was also their only online page. The band (which splintered off from Full Throttle for assorted Kewadin gigs & last year's LemmaFest) were essentially replaced by new local classic rock/country band Highway 63 in March, with the new band originally sharing 3 RamWagon members. I wish bands wouldn't delete pages, but best of luck to everyone in what comes next!
That's all for today, but stay tuned for weekend concert previews, this month's Defunct Local Band Profile, and some new local bands in the next few days! Thanks everyone!