After a day off, we're back with some big news today, and while we're focusing mostly on Sault Michigan, there is a shorter note relating to a Sault Ontario band's upcoming t-shirt plans. Among others, we also have a new video to take note of, and first, some long overdue news and updates from a talented regional band, so here's what you need to know!
Remember how Sault Michigan classical metal band
Theatre of Night
have recently been overhauling their online pages, which coincided with a de-emphasis on older material and drummer Greg Giles' sudden departure? Well, there's more to outline now, so here's what's been going on in their camp! New Theatre of Night pages and websites don't include the past art styles used in their media, which were largely Greg's work, and he's now compiling and featuring them as part of his new artistic company
Giles Arts
. Surviving regional T.O.N. members Craig Harrison & Steve Giles remain hard at work with the band, remodeling
their website
again
, where they're readily referencing their "Christmas Night" and "The Dawn's Early Light" albums again, even offering
free downloads
of the latter! A release of their full song "The Killing" featuring Italian singer Ida Elena DeRazza is still planned (likely for this weekend), while their website now includes links to Craig & Steve's own artistic work, plus this interesting
"behind the music"
feature where Steve remarks on "The Dawn's Early Light".
Aside from retroactive mentions there and in their biography, the new website doesn't mention Greg too much, but he's staying busy with Giles Arts, which encompasses his work in photography, music, and other areas. Though his music work with
End of Existence
and Theatre of Night is acknowledged therein, Giles Arts (who are now in our "Other Local Metal Links") will also cover a new side project that Greg has yet to announce, so we'll have to see what comes of that! A new Theatre of Night E.P. is still in the works (likely still featuring Gaby Koss on vocals), while assorted newer songs have been posted on
their Reverbnation page
in recent days, including (but not limited to) the fast and heavy "Hellride", a "Metal Mozart" concerto, and a live version of the dramatic "The 11th Hour" with Craig and Steve's fellow I.S.O.M. alumnus Bart Rennels on guest drums. In terms of YouTube, it looks like all of the postings on
their YouTube channel
have sadly been either privatized or deleted (for what it's worth, the channel now links to Giles Arts rather than the band itself), but they now have
a new active channel
, so what's been uploaded there so far?
A mixture of things we've previously seen on Facebook and new uploads, but mostly surrounding recent studio sessions over the past month, so
click here
to give them a look! Mostly, these are straight jam session videos, with filming done by Electric Motor Fish alum Fran Blackwood, while
Sault Realism
's Eric Demaray is credited for guest appearances. Interesting fish-eye view of the sessions on most of these new clips, with the guys working well on these newer instrumental tracks, and it will be very interesting to see where things go from here! See above for Theatre of Night's newest uploads, and here's a 12 minute studio session video!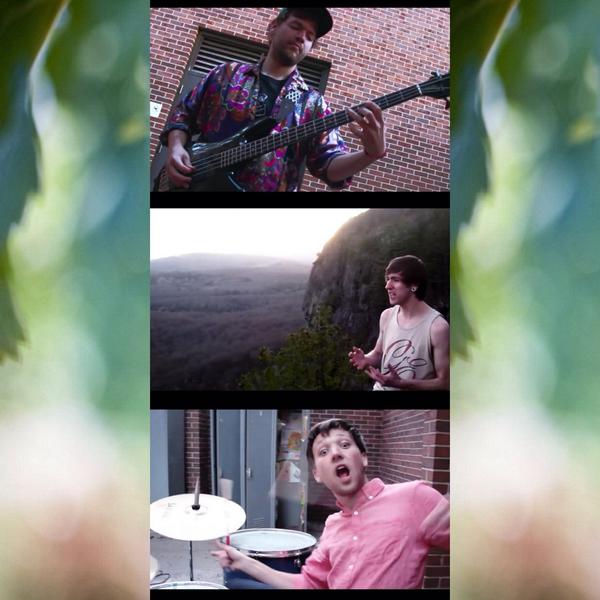 Also today, here's the newest video upload from Sault Michigan hard rock collective
The Highest of Fives
! In a short break from their recent "Bang!" short film postings, they posted this music video of their previously-uploaded song "Take My Time" from the upcoming "Bang!" album onto
their YouTube channel
, so what's to expect here? Directed by drummer Devin Anderson with singer Travis Theel receiving co-production credit, The Highest of Fives' in-video lineup features Devin alongside singer/guitarist Mitch Goetz (recently of The Bottom Line) and bassist Marcel Grengs (albeit out of his Crusty Puck character.) Like their other recent videos, this is very well shot, with performance footage, shots of Mitch singing in some very nice looking nature scenery, and even some interesting shots of what appear to be Chinese drummers (apologies if I labelled them wrong.) A light modern rock song with a nice melody, it's good to see the band continuing work on their upcoming album and original tracks, so check the full music video out below!
Finally for this post, here's three assorted shorter news stories from the last little while! As usual, these are in alphabetical order by artist name:
Sault Ontario death metal standouts The Bear Hunters are planning to release their first official band t-shirts as part of the early planning for their "Eternal Hibernation" CD release party, and with that, are looking for input as to what sizes to make for interested fans, specifically if they should make shirts smaller than medium or larger than extra large. Voice your opinion at this link!
Sault Michigan metal band One Hour Till Dawn (formerly The Eleventh Hour) have changed their name once again, this time to When All Fell Silent. A reason for this newest name change hasn't been revealed, but it quietly happened yesterday morning. We haven't heard from the guys (aside from the name change) since February, but hopefully they have some more news coming soon!
This is admittedly overdue, but I've promoted Sault Michigan concert venue The Savoy Bar & Nightclub to our active concert venue listings on the site, mainly due to their ongoing Summerfest series of concerts, featuring a number of regional hard rock bands (with that, I also updated their link to change it to their current active Facebook page.) Don't miss Plastic there this weekend!
That's all for today, but stay tuned for this month's Saultites In Out Of Town Bands Profile in our next post! Thanks everyone!