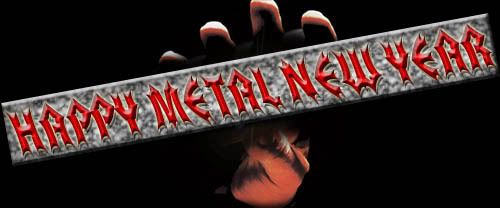 Happy New Year to all of our readers, and I hope you had a great celebration last night! As usual, we're kicking off 2015 with a special "preview at large" post, in order to outline what we know concerning new concerts, possible album releases, and more in the new year! This is, of course, incomplete and somewhat speculative, but 2015 is shaping up to be a big year once again, so here's what to look out for in the next 12 months!
In terms of concerts, the biggest currently announced show is arguably the local return of
Treble Charger
to Sault Ontario on February 6th, when they play at The Machine Shop at
Mill Square
as part of
Bon Soo
's opening festivities!
The Pixo Control
and
Frank Deresti & The Lake Effect
will open at this ALL AGES show, whose $40 advance tickets go on sale later this month. Also among currently announced concerts:
Beaumont Avenue
will play their second show of the holidays TOMORROW at
The Rockstar Bar
, with
Stiffler's Mom
returning to that same venue next Saturday, while
Tym Morrison
's ongoing weekly arrangement at
The Harp Bar & Grill
is scheduled to run through at least May 1st, as per
his website
. February 21st will also see
the house party event
at 130 Poplar Avenue which will serve as the release show for
Blood Shed Productions
' 11-way split demo, and while not yet announced locally, French death metal band
Benighted
are listing an Oddfellows Hall concert on March 7th on
their 2015 tour schedule
.
And yes, there are also at least
two
battles of the bands that are taking place this year too, including
the Twin City Sound Battle
at
The Rednecks Saloon
on February 20th (with bands to be officially confirmed), and
the Tidal Records Battle
at
The Canadian Nightclub
over all four Wednesdays in March, which has 8 bands publically confirmed as of this writing. Both battles are shaping up to be huge events, so message promoters A.S.A.P. for both if your band wants to sign up, and also visit the links for details on how to attend each! Beyond the above concerts, there are other potential and likely events to watch out for, so what could we expect? Look for heavier and punk bands to potentially rock
Rotaryfest
again (hopefully including a return of The Second Stage), plus potential returns of
The Emergency Festival
, the Sewer Swampstravganza,
the Soo Zombie Walk
, Toystock, and
J.D. Pearce
's annual Halloween party, among other big events to be announced in 2015!
Over in the Sault Michigan area,
The Sugar Island Music Festival
and
LemmaFest
are presumably on for the summer schedule, but might we finally see
Allstar Promotions
booking modern rock shows again too? As of this writing, we don't know of any 100% official hard rock concerts for across the river in 2015, but that should change in short order (especially when
Kewadin Casino
updates
their entertainment page
), so be on the lookout! As for new CD releases in 2015,
SweetKenny
's new album "Slobber" is tentatively planned for a release later this month, but who else has a CD in the works or possible for a 2015 release? As mentioned in our monthly "Where Are The New Albums?" series (which returns tomorrow), artists like The Apocalypse Afterparty, Beaumont Avenue,
Gates of Winter
,
Haggith
,
Mike Haggith
, The Pixo Control,
Redundant
,
The Revolution
,
The Sorrow Fields
, and
Telephone & Address
all have albums in progress, plus
415E
&
The Highest of Fives
in Sault Michigan, lots from Blood Shed Productions, and more surely to come!
2015 should be a great year for the local metal, hard rock, and punk scenes, so I hope you guys will come along for the ride over the next 12 months (and beyond), starting with this weekend's concert previews and the aforementioned "Where Are The New Albums?" post by tomorrow, with more news surely to follow! Thanks everyone, and happy New Year once again!