Before we dive into this weekend's concert previews, here's a new news post largely focusing on new videos, including long awaited concert footage, new jam session covers, and a new band's promotional clip, plus some assorted recent updates! Now, here's what you should know!
We'll start today with, at last, proper video from the
Treble Charger
concert at
The Machine Shop
this past Friday! Though I surprisingly haven't found any YouTube footage yet, the crew over at
Local2
were indeed filming at the Bon Soo opening night event, and while a possible Tuned episode is still to be announced, they did upload footage from the show at
this link
on Monday, so what lies within? The video (which is unembeddable here) runs for over 4 minutes, and features performance footage from the show at multiple camera angles, with soundboard audio from the show that captures everything nice and clear, albeit without crowd reactions. The opening half (set to "How She Died" & "Brand New Low") isn't entirely synched with the footage, but the second half is well lined up with their classic "American Psycho" and their set-ending jam with the local openers.
The video footage is great, and it captures the ambiance of The Machine Shop well, along with the enthusiasm of fans on the floor! No word yet on when/if we'll see more from the show, but give Local2's video a look at
this location
or above! Also, stay tuned for a commercial at video's end for Local2's upcoming webseries Bare, which will feature unique acoustic performances by members of local bands, and remember,
The Pixo Control
have teased being in an upcoming episode themselves!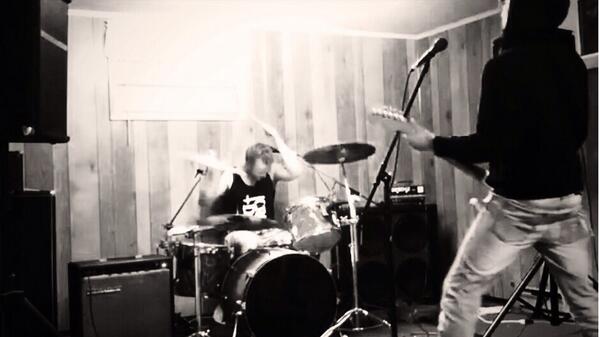 Next up, here's some embeddable videos, starting with new jam session footage from local grunge/hardcore duo
Bad Back
! Oddly credited as "Bad Jerk" on the video (which was uploaded to drummer
Nathan Sauve's YouTube channel
on Monday), you'll see the guys covering Green Day's "Basket Case" and NOFX's "Linoleum" together in a slowed down style, which Nathan self-deprecatingly noted were "destroyed" by them, also adding "every band ruins covers anyway." I wouldn't go as far as to say that they're ruined, just slowed down, almost like dirty lounge songs, but any version they did would sound a bit different given their two-man lineup. Well filmed and recorded, these are an interesting way to hear some punk favourites, so give Bad Back's new video a look below! (For reference, I don't have either of their quietly released demos yet.)
Also today, here's a new promotional video for new Sault Michigan hard rock quartet
Ten Kings
! This YouTube video was posted on Monday and created by
W.K. Media
, the new digital media company ran by
Wayne Kozeyah
, a local filmmaker who you may remember from his short LemmaFest documentary and various other projects. After a W.K. Media graphic, we get individual looks at the band members and their first group footage together, alongside their logo with other visual effects. The backing music is part of the song "Vicious" by the band Dyman, who aren't local, but it could be a sampling of how Ten Kings will sound when they debut at
The Rapids Lounge
at month's end! The video is well produced and serves as a quality teaser of this promising new band, so give it a look below, and though nothing's there yet, also like
their new YouTube channel
!
Finally for today, here's three assorted shorter items from the last while, and as usual, these are in alphabetical order by artist, album, or event name:
Despite the indefinite postponement of it's planned CD release party, the Blood Shed Productions 11-way split demo will come out as planned on February 21st, as per co-promoter and label head Tyler Gibson on the Facebook event page last week. If you want the split then, message him on Facebook, and we'll keep you posted when more on it comes out!
Local musician Rob O'Neil is looking for a bassist and drummer to round out his new hard alternative rock project , as per his post on the Musicians Wanted Facebook group yesterday. If things get rolling, he hopes to write original material, and there's already visible interest, but if you want to inquire further, message Rob above or at this link!
A new prize for next month's VM Radio Battle of the Bands has been announced, that being a Budweiser bar fridge cleverly disguised as a Marshall amplifier! That will go to the winner of a fan vote for the fan favourite band during the battle on each Wednesday in March at The Canadian Nightclub. Solid prize for sure, so check above for more info! Our source is promoter J.D. Pearce on the Facebook event page, and remember, there's still open band slots at last word if you want to register, so act A.S.A.P.!
That's all for now, but stay tuned for weekend concert previews (and more?) either tonight or tomorrow! Thanks everyone!