As promised, today's post is being led off by a preview of a rare Tuesday night punk/metal concert, but to round things out, we have some new videos, one of a local band shooting for a new milestone, and two from a recently reunited band's most recent concert! Here's what you should know!
A special Tuesday night concert goes down TONIGHT at
The New American Pub
, where three different touring bands will take the stage for a night of punk and metal intensity! The lineup will include headlining Calgary noise/experimental trio
If I Look Strong, You Look Strong
, a curiously named though very talented twosome who have some aggressive elements in their progressive sound, so don't bypass I.I.L.S.Y.L.S. tonight! Also playing at The New A are
Zaum
, the Moncton, New Brunswick "Middle Eastern mantra doom" outfit best known locally from headlining Haggith's final concert at The Rednecks Saloon back in May 2015. Good to see Zaum back in our area after over 2 years, so prepare for some dark chanting-laden originals from them also! The other touring duo tonight are Ottawa/Pembroke hardcore punk rockers
Flying Fortress
, who'll bring aggressive but also somewhat more accessible originals to the stage, so don't be late for their set either! Apologies for earlier promotion hyping the three above bands as being duos, the headliners have since confirmed that they're currently touring as a three-piece.
Tonight's local openers are new local indie/hard rock trio
Vol.
(featuring 2/3rds of The Pixo Control's mid-2015 lineup), who will get a very intriguing show to make their public concert debut with, so come early to hear how they sound! Promoted by
Six, Two, Oh.
, tonight's "Saul St Marie" stop has a 19+ age limit, 9:00 PM start time, and $7 cover charge. This is shaping up to be a nicely varied but constantly aggressive night of music, so visit
the official Facebook event page
for more details on tonight's concert, and here's If I Look Strong, You Look Strong live!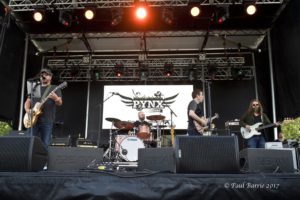 Next up, we have some new videos of local/Toronto indie/punk veterans
Treble Charger
to share on here, but
not
from last month's return show at LopLops! Though not visibly advertised on the band's few active online pages, they continued their teased tour run with a set at the third annual
WTFest
in Brantford on Saturday, July 29th, where they were among the openers for Our Lady Peace and Collective Soul at Lions Park. Looks like a solid event with a great turnout from what I've seen of WTFest, and hopefully their whole set was a hit! As best as I can tell, two YouTube users posted videos of Treble Charger's set, including
wisptubeify
, who filmed their rendition of "American Psycho" and posted it to his channel later that same day. The guys sound good on this punk-era classic of theirs, but they seem to be a bit restricted in movement given the stage setup, and the camera can have some blurry moments. Check it out below!
The other known YouTube video of Treble Charger's Brantford set last month comes via user
Dure Yeah
, who posted this video of their early hit song "Red" to his channel that same day as well. This softer Bill Priddle-sung original is very well done here, which will please fans of Treble Charger's first albums, and though the camera angle isn't as centered or close, it's actually clearer overall! Give it a look below as well, and see more from this year's WTFest at the above links, on YouTube, or via Brantford-area news media!
Finally for today, here's the latest from local alternative/hard rock trio
The Din
, so what have they been up to lately? Alongside continued studio demo recordings, a new photo shoot with
Josh Pace
, and a "HUGE surprise" relating to the impending one year anniversary of their debut studio album "Give In To The Din", the band has also been actively trying to reach 700 fans on
their Facebook page
. As part of that goal, this comedic new Facebook video was posted online on July 30th, and while I do apologize for the delay, at least it's still relevant to share, as they sit at 697 fans as of this writing. The nearly 6 minute-long video is a "field record", where drummer Brandan Glew proposes that, if the band launches rockets into
space
, that might be enough to push them over 700 fans. I won't spoil the details on the rockets, launches, or aftermath, but there is humour to be had throughout, plus a surprise ending! Give it a look below, and like The Din if you haven't already so you can help them shoot for 700!
That's all for today, but stay tuned for more news and notes this week, plus this month's Defunct Local Band Profile! Thanks everyone!