With the peak of the summer season now in the rear view mirror, here's our first post of August, and it's full of recent concert videos, assorted updates, and to kick things off, a LOCAL CONCERT ALERT for next month! With all of that said, here's what you should know!
Local alternative/hard rock trio
The Din
will return to
The Canadian Bushplane Heritage Center
on Sunday, September 10th as a featured musical act during this year's
"Loud & Proud"
family fun event to kick off the annual
Pridefest
! Of course, Pridefest is a festival celebrating, raising awareness for, and supporting LGBTQ people, and this family fun event next month will help jump-start everything with children's activities, special guests, local vendors, and more, so visit the official Facebook event page for current details! Fans may recognize the former Mike Haggith & The Din from one of the old Bushplane Musical Madness events in 2013, but that was back in their acid jam days, so keep their return with their current sound in mind during this great community event! Local actor, entertainer, and theatre director Tim Murphy will also perform on September 10th, though it's not clear whether he'll be singing, doing ventriloquism, one of his impersonations, or something else.
This is a FREE & ALL AGES community event, and it has an early run time from 12:00-4:00 PM on September 10th, so feel free to bring the kids! It's great to see The Din sign on to perform at this "Loud and Proud" event and show their pride in the process, so visit
the official Facebook event page
and the above links for more details on it and Pridefest, and stay tuned for more from The Din later this week!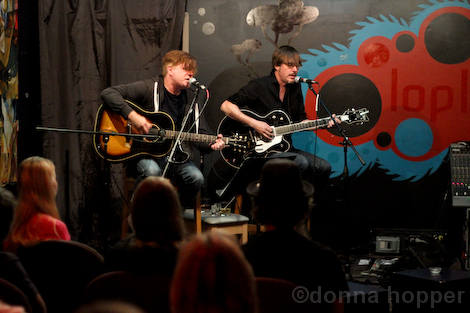 Next up, here's the last batch of recent concert videos from
Christopher Paci's excellent YouTube channel
, as he was on hand for this past Thursday's
Treble Charger
return show at
LopLops Lounge
! Chris was hard at work with the camera for the local indie/punk veterans' set, filming eight songs across seven videos, and they include their songs
"How She Died"
,
"Brand New Low"
,
"Where Is My Mind"
,
"Drive"
,
"Red"
,
"American Psycho"
, and as embedded below, two songs from their latest CD "Detox", namely
"Hole In Your Head"
and
"Hundred Million"
. If you thought there were a lot of fans in camera view for Chris' videos from Mike Mikus' farewell show, then prepare yourself for these, as this was a sold out concert and it easily shows. The camera can be jittery, and you can only really see band members' heads, but the audio's fine, and Treble Charger sounded great in their first public show in two years, so give Chris' videos from Thursday a look above & below, and stay tuned for more!
Chris also filmed opening alt-punk quartet
A Dire Setback
playing two of their songs, namely
their self-titled track
and, as embedded below, "Catastrophe", so if you wanted to actually
see
the guys playing this song on Thursday (unlike in
their soundcheck video
where the camera fell over), here's your chance! These videos actually have better visuals than Treble Charger's, owing partly due to a smaller crowd on the floor prior to the headliners, though the camera sometimes pans upward a little too much during the performance. Still solid, and quite an event for A.D.S. to kick off, so give their videos a look above and below too!
Finally for today, here's three assorted shorter news items from the last while, and as usual, these are in alphabetical order by artist or venue name:
In some maintenance to our listings of Sault Ontario concert venues, we have moved Cafe Natura, Coch's Corner, The Grand Theater, The Harp Bar & Grill, The Moose Lodge, and The Speak Easy to our inactive venue links, as none has hosted a public hard rock/punk concert in the past year that we know of (open mic nights don't count.) All are still active venues, and hopefully some SMS-coverable shows return to each location down the road!
Local power pop/hard rock quartet The Noochin' Lanterns have re-emerged in the past month by playing some outdoor pop-up concert sets, including at The Bellevue Park Bandshell on July 22nd (source here) and out at Harmony Beach on July 29th (source here.) Given their intentionally impromptu nature, we haven't been able to cover them here, but if this is a deliberate strategy to draw attention & word of mouth, hopefully it's working to their advantage! No word though on if recent Facebook page teasers involving jamming with guitarist Sarah Jackson mean that she's joined the band full time.
Downtown bar and country-leaning concert venue Reggie's Place was damaged in a fire in the apartments above the building on Sunday, which you can read more about at this link. Thankfully, no one was hurt, but the fire forced evacuation of upstairs residents, and the bar will have to be closed a few days for repairs. The downtown Reggie's is best known to SMS readers as a frequent concert venue for Soundcheck and predecessor band Mourning Wood, though it's not yet known if the fire will impact any Soundcheck gigs there. Keep tabs with local news media for more on the fire!
That's all for today, but stay tuned for this month's "Where Are The New Albums?" post next! Thanks everyone!