(Updated at 8:42 PM)
I wasn't planning a news post today, but when I realized that there was a SHORT NOTICE LOCAL CONCERT ALERT for an annual festival this weekend featuring an established hard rock band, I couldn't knowingly ignore it! To round things out, we have news on a surprising move to our inactive band links, a new cover video, and some assorted recent updates, so here's what you should knowon this rainy Friday!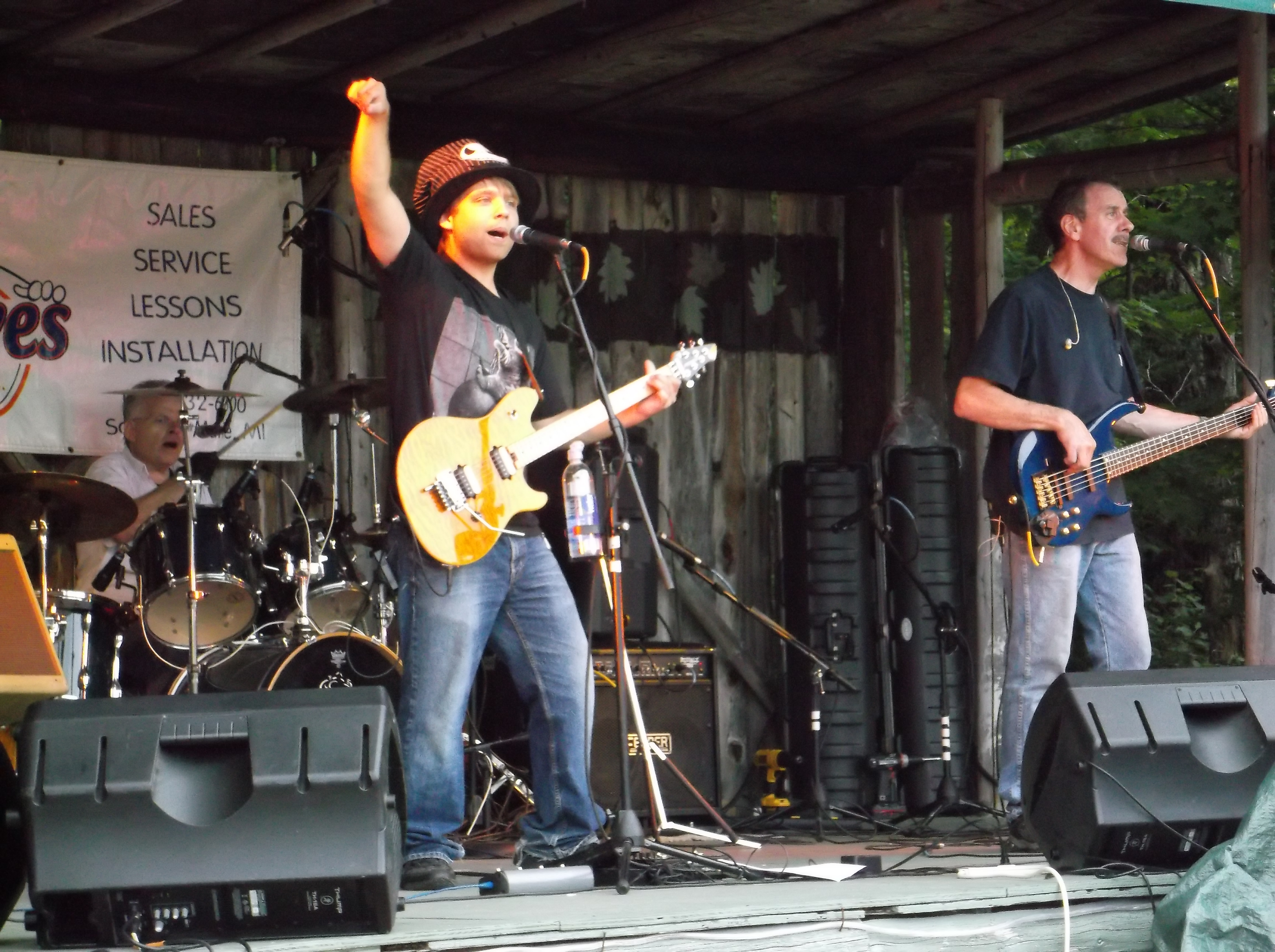 Kinross, Michigan classic/hard rock cover trio
Banned
will return to
The Sugar Island Music Festival
in nearby Sugar Island (of course) for shows once again TONIGHT & TOMORROW NIGHT! Profuse apologies for the short notice, Banned only acknowledged their return to the annual festival on
their Facebook page
today, and while the lineup was previously listed at some point after June 20th on
the festival's newly redesigned website
, I can't confirm how soon that was. Either way, I should have checked in advance! Banned's sets this year are as the headliners TONIGHT at 9:30 PM and as the 9th of 13 bands at 6:30 PM TOMORROW, and as usual, the lineup is largely comprised of country and folk acts without online pages. Save for Jack Grim & Friends,
all
of TONIGHT'S acts are playing TOMORROW, so keep that in mind as well! Look for recent regular bands 3-Zip, All Arms, 3½ Men, and 2¢ both nights, plus Grassholes17 opening both lineups, and Gary's Driving as headliners TOMORROW, among many other performers!
Click here
for full schedule details, including on the largely different lineup of Sunday musicians. TODAY'S lineup started at 5:00 PM, remaining days start at 11:00 AM, this is an ALL AGES event with $10 admission for attendees over 12 years old (kids are FREE with an adult), and there are no single day passes. Admission buttons are available at at
Crooked Music
in the Soo, or at
The Hilltop Bar
, Ed's Bayview Store, and the Westshore Convenience Store on Sugar Island, and
click here
for info on additional camping and vendor fees. Hopefully the weather cooperates TONIGHT & TOMORROW, so keep the festival in mind for you Yooper readers, and here's Banned at the fest!
Next up, this post originally had a note regarding local hardcore punk quintet
Destroilet
being moved to our inactive band links due to the deletion of
their Facebook page
, but reports of their demise are premature! Drummer Matt Waples revealed on a post there that the page unpublished itself for one reason or another, hence it's apparent removal, and they confirmed that they are still active, just in the midst of jam space renovations, and will be back "later, rather than sooner." Crisis averted, it's great to see that they're alive, so they're back with Facebook page in our active links, and apologies for any inconvenience this write-up caused!
Also, here's
a new YouTube channel
upload from prolific local hard rock guitarist and
Audiofumes
podcast host
Mike Cliffe
! A cover of Nine Inch Nails' "Hurt" (specifically the more famous Johnny Cash version), this features Mike on both guitar &
piano
alongside Swedish singer Karin Beckerus and bassist Stuart Geary, who you may recognize from prior Audiofumes collaborations of Mike's posted to YouTube, like
this Stranglers cover
from 2014. The vocals seem a little tersely worded, but it's a well done cover that preserves the Cash version's mood, so give it a listen below!
Finally for today, here's three assorted shorter news items from the last while, and as usual, these are in alphabetical order by artist name:
Local punk/country quintet The Billy Bastards will reunite for a set at Destroilet guitarist Christian Foisy's stag & doe on October 21st at The Croatian Hall! We don't cover stag & does as public concerts on the site, given their personal nature, but it's great to see The Billys back together after 2 years away, so keep this event in mind if you know Christian & Katlyn! Unless public confirmation comes out to say otherwise, we're currently treating this as a one-off reunion.
Local hard rock quintet Skeyes of Seven have been added to the lineup of the Eye of Horus concert at The Canadian Nightclub on August 27th, as per the official Facebook event page on August 1st! This will be Skeyes of Seven's first concert since June 2015, their Live705 debut, and their first gig with new second guitarist Kyle Sweet. It has been way too long to see Skeyes of Seven rock a local stage again, so keep their return in mind for in two weeks! Note as well that the show's lineup order is newly finalized, with The Bear Hunters headlining and the touring bands playing second & fourth for unannounced reasons.
Curious for more details on Slumshine, the new band playing the Oh!No 2017 Music Festival in Leeburn on September 9th? Well, as it turns out, they're the new (solo?) project from former Detroit/Maximum RNR frontman and Lion Ride bassist Brenton Ellis, and you can hear him/them before the festival when Slumshine opens for Montreal folk act The Ghostly Hounds at The Gore Street Cafe the week before! This scheduling suggests to me that Slumshine aren't a heavier or punk project (at least, not an electric one), but if we hear anything to the contrary, we'll let you know. Either way, it's great to see Brent back in a new musical act!
That's all for today, but stay tuned for more news and updates on the SMS in the coming days! Thanks everyone!