In our latest SMS post, we have two special concert previews for mid-week shows that you punk and alt/hard rock fans will want to take notice of, but to round things out, we have news on a reunited local band and a local solo artist's recent recording sessions. Here's what you should know!
We'll start with a preview of a big show taking place TOMORROW NIGHT, as Montreal ska-punk quintet
K-Man & The 45s
will return to Sault Ontario for a headlining concert at
LopLops Lounge
! Marking their sixth local concert appearance since 2013 (and fifth consecutive fall season date here), the change in venue from prior years shouldn't affect what should be an entertaining evening of reggae-influenced punk originals and "Ska-mones" covers, and if you've seen them live before, you'll know how entertaining their live show is! Joining them are Saskatoon noise/punk duo
The Faps
in their first local date since headlining here back in 2014, so expect more hard hitting minimalist action from them in their Soo encore tomorrow night! Local indie/hard rock quartet
Bizotic
(who opened for K-Man & company here in March) will reprise that role tomorrow with more creative originals, while local DJ
The Dub Selectah
will also be on hand to spin ska and reggae tunes between bands.
Intriguing yet familiar lineup all around, so don't miss out tomorrow night! A rare LopLops date from promoters
Six, Two, Oh.
(who put on the last four K-Man shows & 2014's Faps concert), this show unfortunately has a higher cover charge of $10 compared to their prior shows here, but you can knock the price to $8 by buying advance tickets at
The Rad Zone
,
Case's Music
,
Big Guns Barbershop
,
The Vape Escape
, and possibly the venue if you're early enough. This concert is at 9:00 PM with a 19+ age limit, so visit
the official Facebook event page
for more details, and here's K-Man & The 45s live!
Next up, here's another mid-week concert preview that's
also
regarding a LopLops Lounge event taking place THIS WEDNESDAY NIGHT, as local alternative/hard rock trio
The Din
will play their penultimate local concert set and final set as an opening band when they open for Niagara Falls indie/pop rock trio
James Blonde
! While not their final LopLops appearance (that's
their finale/CD release
on October 21st), time is running out to see Mike, Tammy, and Brandan's skilled alt-rock originals on the local stage, and this should be another solid night of older and newer original material & select covers, so don't miss this one on Wednesday if you can help it! As for James Blonde, they're touring in support of their new self-titled album, and their folk-influenced but modern pop rock sound is a solid fit for LopLops, so if you're a genre fan, definitely give them a listen to see what you think! Like the K-Man show tomorrow, this is a 19+ event at 9:00 PM, and I would expect a cover charge of at least $5.
In any event,
LopLops' website
does
not
have pages or online ticket sales posted for either of these mid-week events, but they are both good to go, and definitely consider a trip there on Wednesday for The Din's second-to-last show opening for James Blonde! Visit
the official Facebook event page
for more details, and here's The Din live!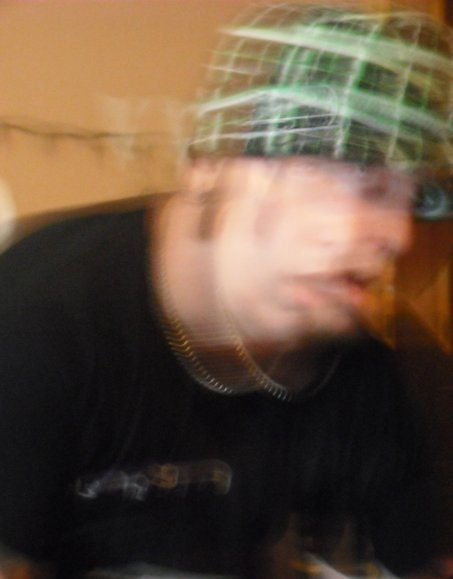 Also today, here's the latest from former Bear Hunters guitarist & Skull After Betrayl frontman
Mike Vincent
's revived solo project, so what's new from his camp? Well, he posted two more songs from his debut solo album to
his Bandcamp page
last week, including "Chapter 2: Glow of the Dark" and a "bonus/single" named "Ultimate Chaos". As per Mike's personal Facebook page, recording sessions are compete for the album, which will also be called "Ultimate Chaos", with the previously teased EPs ("Six, Six, Six" & "We're Of Nothing") now considered it's first & second halves. With that said, the album is not (yet?) for sale in a full album format, but Mike signalled in his personal post that he already is planning work on a second solo album. I have no idea if he plans to formally package "Ultimate Chaos" into even a proper Bandcamp album with a price, cover art, track listing and all that, but pending a formal sale, I'll hold comment on the new songs.
That said, if Mike does properly release the album in a sale format, it would be eligible for a CD review on the SMS, and fans of his existing solo music should enjoy these instrumentals, so check the above links for more on Mike's recent solo work, and stay tuned for more from him!
Finally for today, here's three assorted shorter news items from the last while, and as usual, these are in alphabetical order by band or event name:
Local hardcore punk group Programmed To Fail quietly reunited last fall, as per their new Facebook page, and have enlisted former Northern Tragedy bassist Corry Rideout into their lineup! That's the extent of their new updates, with nothing else new to speak of beyond 2016 posts, but it's great to see Corry back in a local band after a few years away! Stay tuned for more from Programmed to Fail when it rolls in, and they're back in our active band links!
As of September 26th, promoters Maxx Entertainment (or Choose Maxx) were still looking for musical performers for this year's sixth annual Toystock charity concert at The Northern Grand Gardens on November 26th. Full bands, duos, and solo acts of "pretty much any genre" can apply to perform, so message them at their Facebook page if you're interested in performing at Toystock VI next month! For what it's worth, comments there implied interest in sets from Soundcheck and a returning The Peace Vibe.
In a post on the Musicians Wanted Facebook group on Friday, Vol. frontman Steve Edwards noted that he's looking for practice space and willing to pay rent for "a 4 piece alt-rock group" that would practice 2-4 times a week in the lead-up to a concert. He didn't directly specify if the intended band is for Vol. or not, but if it is, their apparent expansion to a quartet is news to me. If he meant Vol., stay tuned for word on their new member, and message Steve at this link or above if you can help out the band in question!
That's all for today, but stay tuned for more news and previews on the site as the week rolls along! Thanks everyone!