After a couple of days of convalescence due to a major cold, we are back with this month's YouTube Channel Profiles, our ongoing monthly feature series spotlighting 1-3 YouTube channels whose content is at least half devoted to local metal, hard rock, or punk artists and concerts. This month's
randomly selected
channels reflect a major concert from over a decade ago and a veteran musician in Sault Ontario, so here's what you should know!
----------------------------------------------------------------------------------------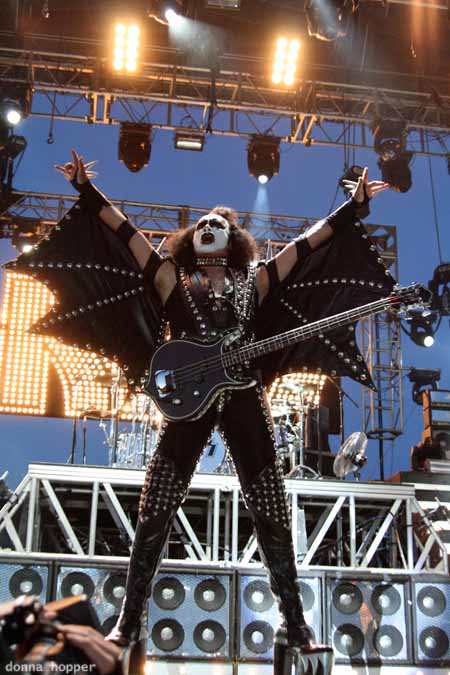 Luoto Family (http://www.youtube.com/tokenfinn)
Owner:
YouTube user and Eastern Upper Peninsula resident Cory Luoto, though the channel name credits it to his whole family
Channel Timeline:
Launched on November 11th, 2006; Videos posted from July 22nd, 2007 through October 16th, 2017
Channel Summary:
Half of Cory's eight videos come from New York hard rock legends
Kiss
' outdoor concert at
Kewadin Casino
in Sault Michigan on July 20th, 2007, filming them playing their songs
"Let Me Go Rock 'n Roll"
,
"All American Man"
, and with a channel-topping
53,000+ views
, their opener "Detroit Rock City", plus a short clip of
Gene Simmons breathing fire
on stage. Though the now-11 year old videos aren't very clear in retrospect, the audio holds up well enough via Cory's footage, and Kiss Army diehards definitely loved this concert, as shown with their raucous reception, and this remains one of the better-stacked channels for footage from this show! Cory's last four uploads are personally geared without a musical tie, and they include
a firefighting boat landing
,
a NBC 7&4 news clip
,
singing Samoan firefighters
, and
a kindergarten class graduation
, with no channel activity visible in almost a year.
----------------------------------------------------------------------------------------
Tony Marcello (http://www.youtube.com/channel/UCTSDBcGummoIxw-3rFyzk1Q/)
Owner:
Killer Hooks
singer/guitarist Tony Marcello, also previously known from bands like
Gsis Murphy
, Midpoint, The Hellfish Bonanza, and Your Mother, among others
Channel Timeline:
Launched on March 16th, 2014; Videos posted from that day through September 17th, 2017
Channel Summary:
In it's sporadic usage, Tony has focused his channel around some of his local music work, including one video of his old band Midpoint and two of his current band The Killer Hooks.
Why You Should Watch
:
This will be of the most interest to fans of The Killer Hooks, especially as this could be considered their de facto official channel, while the Midpoint video will definitely pique the interest of local music scene followers from 3 decades back! However, this channel hasn't seen visible usage in the past year, and despite the archive posting of one of Tony's old bands, there's no footage of any of his other former projects, in case that changes your mind on subscribing.
Our Recommended Videos To Check Out
Mr Crowley by Ozzy Osbourne performed by Midpoint
:
Tony's most popular and first video is of his old local hard rock band Midpoint, who were filmed on tour in Thompson, Manitoba for a local TV show there named "The Pit" back in 1991. Midpoint are represented here by Tony alongside guitarists Keith Davis & Rob Struk, bassist Steve Batenchuk, and drummer Mark Webster. Though the opening is cut off, the cover is well done with very solid guitar (and keytar!) work, but the vocals don't quite have the optimal range compared to the original. Still, seeing rare Midpoint footage is worth a click, let alone out of province! Tony, Keith, and Steve would later collaborate on 1998's "Local Steel" compilation, while Keith would later join Tony in Gsis Murphy.
Dead or Alive As Performed by The Killer Hooks and Crowd
:
The other two videos on Tony's channel are of his current pop rock cover band The Killer Hooks live late last year, though neither exceeds 70 seconds in length. One is a cover of The Beatles'
"A Hard Day's Night"
at a private event, but featured here is their cover of Bon Jovi's "Wanted Dead or Alive" at
The Rockstar Bar
. The Killer Hooks are represented here by Tony and Midpoint bandmate Rob Struk alongside bassist Tony Rota (Touch of Class) and drummer Paolo Erme (Glory Days.) Filmed by a friend of the band named Gillian, this better captures the crowd singing the opening verse than anything, partially due to the vertical camera angle and red lighting, but the performance sounds good overall! However, there are more substantial videos of the band online.
-----------------------------------------------------------------------------------
I hope you guys liked this month's YouTube Channel Profiles! This series will return on or around October 26th with another multi-band month, as the first channel that we
randomly selected
only had one surviving video, and the second only had 5 videos (all from the same set), so we're tripling up next time! As such, we'll be looking at the YouTube channels of inactive Sault Michigan hard rock band
The Highest of Fives
,
Cary Orsborne
(featuring videos from a Half A Man concert in 2013), and
6Immortal6Fears6
(featuring Woods of Ypres' debut EP.) Look for these next month, and for more news and weekend concert previews(?) next! Thanks everyone!