Here's our second of three weekend concert preview posts on this annual busy stretch, and be sure to check out our previews of this weekend's Wyld Stallyns and Alex Traynor shows in the post below this one from this morning! We'll get to Stage 2, Tym Morrison, Re:Born, and Highway 63 on Friday morning, I promise! Today's post is focused around this year's
Rotaryfest
, as Sault Ontario's annual summer festival is back for three more days of wide ranging family entertainment, but of course, we focus on the music, and a wide array of local talent will take the main Clergue Park stage this year! In honour of the 50th anniversary of the Woodstock festival, this year's Stage 1 is themed as such, but will bands cover Woodstock and/or 1960s acts across the board? In any event, last year's Rewind theme clearly did well, as four original-centric acts will take the big stage this year in a reversion of past norms, so if you've ever disliked the past covers-only mandate, here you go!
In fact, only
five
of this year's Stage 1 bands are four time veterans of this stage since 2006, so there's a lot of new blood to take in this weekend! Starting with TONIGHT'S opening slate, Stage 1 will shake things up from the past "Jazz in the Park" and 1950s-leaning lineups, including having a rare hard rock band on the Thursday bill, as local classic/hard rock cover quartet
Soundcheck
will headline at 10:00 PM! After debuting at Rotaryfest in 2017, these veteran rockers should deliver a strong set of hard hitting fan favourites tonight, so don't miss Terry, Travis, Paul(?), and Glen then! Classic/pop rock cover band
Encore
are co-headlining tonight at 9:00 PM, with a one-off Beatles tribute band named Beatles '69 in the middle 8:00 PM slot, featuring many familiar faces throwing back to these music icons for the occasion. 3/4ths of defunct classic rockers The Peace Vibe will join forces with Griphook drummer Tony Fabiano in the debuting SideFX (no relation to
the old local hard rock band
) at 7:00 PM.
Lastly, folk/country mainstays The Algo Rhythms will open the day's musical festivities at 6:00 PM. This should be a strong lineup for classic rock fans in particular, and with Soundcheck, Encore,
and
The Algo Rhythms all returning to Stage 1 after a year's absence, hopefully they make new and attract old fans alike tonight! I just hope the weather holds up. As always, today's music is FREE & ALL AGES, so visit the above links (or
the official Rotaryfest program
) for more details, and here's Soundcheck live!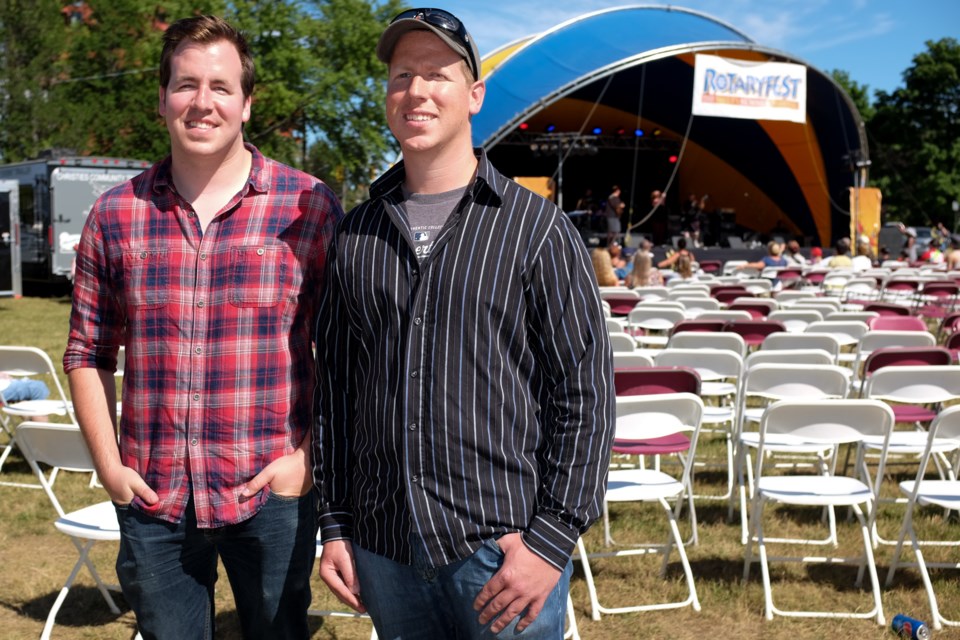 TOMORROW'S Stage 1 lineup will feature a slightly expanded 6 band lineup, including a couple of hard rock bands, but your headliners are country rock veterans
Bone Yard
in their sixth Stage 1 set and first since closing the festival two years ago. Indie rock solo musician
Jesse Merineau
and his band (including Caroline Divine & Electric Church alumni) will join the small group of acts to play both Rotaryfest stages when they debut on Stage 1 at 9:00 PM, while inactive hard rock trio
Sailor's Tongue
will reunite for the first time since rocking Stage 2 in 2013 at 8:00 PM. It's great to see the McKey brothers and Jeff back after far too long, and while this is ostensibly a one-off reunion, look for their entertaining originals back on home soil tomorrow night. CD review coming this month too, maybe? Jam rock veterans
Odd Man Out
will ride the momentum of their recent CD release when they play Stage 1 for a second straight year at 7:00 PM, while hard rock quartet
Griphook
will take the stage at 6:00 PM.
Playing their fifth Stage 1 set since their debut, it's great to see Griphook back on the big stage after a 2 year absence, and hopefully there's more to come from their camp! Tomorrow's bill will be opened by classic rock mainstays
Mid Life Crysis
in their first Stage 1 set since 2016, and (at least) 7th total. Another talented lineup, if more varied than tonight's, is in store for Clergue Park patrons, so don't miss out on all of the action tomorrow! Again, this is free and all ages, as usual. See above for more details, and here's Sailor's Tongue live on the Second Stage!
Finally, the all-day lineup THIS SATURDAY is full of talent, including Toronto-based Creedence Clearwater Revival tribute
Green River Revival
(
not
the C.C.R. tribute who played here in May) as the featured attraction at 8:30 PM. Of course, C.C.R. were at Woodstock, so this fits the theme nicely! However, the advertised headliners are
not
closing the festival for a fifth straight year, as local Celtic punk quintet
Dustin Jones & The Rising Tide
will wrap things up at 10:30 PM in their second straight Stage 1 set. Hopefully The Tide deliver an entertaining (and drier) set on Saturday night! Sailor's Tongue frontman Kyle McKey will also perform twice on Saturday in bands from his current Pembroke homebase, including his blues rock cover band The Emtees at 7:30 PM (in their local debut) and with his girlfriend KT Antler in the pop/country cover band KT & Kyle at 5:00 PM, a spiritual sequel to their past Stage 1 gigs as KT, Kyle, and The Pocket.
Kyle's sets bookend a special Woodstock tribute set from the huge one-off tribute band The Woodstock Show at 6:00 PM, with many festival performers to be covered therein, so flower children will want to take notice! After covering Garth Brooks two years ago, local country musician
Mark Tarantini
will pay tribute to John Denver in the 4:00 PM slot alongside many familiar faces in his backing band, while past Thursday regulars The Northern Jazz Ensemble will play Stage 1 for a second straight year at 3:00 PM. Young pop/alternative rock band L!me will make their Rotaryfest debut at 2:00 PM, while Rotaryfest regulars
Obsession
will bring their classic rock attack back for their 10th Stage 1 set since 2008 as the surprising 1:00 PM openers. Notably, this year's Rotaryfest does
not
feature such recent regular bands as Crossroad, Flathead Ford, The Reptiles, and (most surprisingly of all) Mustang Heart, but if you want new faces and select original content, this year's may deliver the goods you want, so don't miss out this weekend!
Saturday's lineup is full of high profile acts, 1960s tributes, and local talent, with a dash of punk to close out the night, so don't miss out on the whole day's music then! As usual, this and every day of Stage 1 action at Clergue Park is FREE & ALL AGES. Visit the above links for more details, and here's Dustin & The Tide live and outdoors a few years back!
That's all for today, but stay tuned for more of this weekend's concert previews tomorrow morning, and I fear this weekend's previews may have to stretch into
four
posts, so keep tabs for all of that! Thanks everyone!