Before we dive into this weekend's concert previews, here's an all-video post from last week's
Rotaryfest
music lineups, as
Christopher Paci's excellent YouTube channel
features video of bands from all three days on both Clergue Park stages! Thanks to him for getting this footage, he's far too kind, especially in the muggy heat this past weekend! Yes, we have some local news media fallout to get to also, but that won't make the site until at least Friday. In chronological order, Chris started his channel's new content by filming local classic/hard rock cover quartet Soundcheck covering Styx's "Too Much Time On My Hands" during their headlining set on Thursday! Featuring Travis Sharpe on lead vocals, the cover is well handled with nice melodic vocals, though the visuals are not ideal. The angle's good, but between the distant zoom, overexposed lighting, and heads of fans in closer rows, this isn't the optimal view of Soundcheck. Musically though, the video works great, so give it a look below!
Next up, Chris returned on Friday to film a song from hard rock band
Sailor's Tongue
's one-off reunion set, capturing them playing their fan favourite original song "BootScattered"! For clarification, their 2019 trio lineup saw veteran local musician brothers Kyle & Dean McKey back home on vocals/guitar and drums alongside ex-Turner Up bassist Jeff Brown. Early 2010s guitarists Blake Jackson and Liam Seymour were not present, despite Liam's heavy involvement in other Rotaryfest bands this year. Again, Chris' angle of the performance is sadly too distant, but the daytime lighting and lack of fans right in front of him mean that the visuals are improved on this clip. While lacking in rhythm guitar, Sailor's Tongue sound as good & catchy as ever, so fans who've miss them in the mid-late 2010s will want to take notice, and you can check their video out below! Hopefully we see them again soon!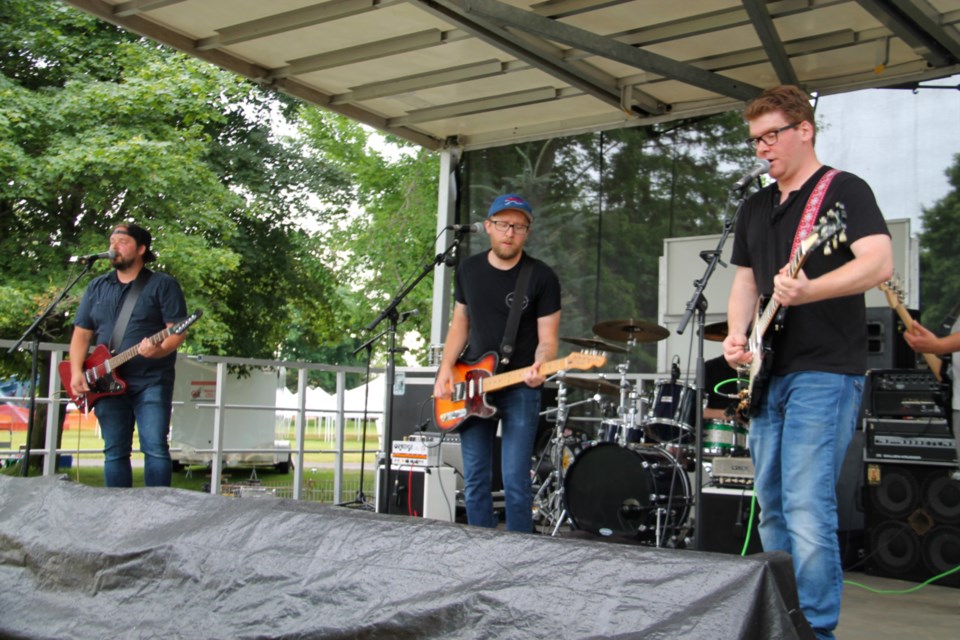 Chris also filmed two videos of local indie rock solo musician
Jesse Merineau
and his band playing
"She Knows"
and
an untitled original
on Friday from a sharper angle, and hopefully these are good to stay online, as they're solid performances featuring many familiar faces! The remaining videos on Chris' channel come from Saturday, including from a pair of Stage 2 bands, such as headlining indie rock quartet
K.I.C.K.
playing their songs
"Burning Desire"
&
"Dirty Shoe"
, which were the opening songs from their self-titled debut album. I wish the crowd was more filled up closer to the stage, but the Keep It Cool Kids are firmly in their musical element here, and have a nice smooth sound! Embedded below is footage from the set from local indie/punk quintet Northwest, whose video features them playing their songs
"True North"
and
"Hangover Habits"
, which were the back half of their new EP "Songs From 2015-2017."
Filmed at a similar angle (and crowd volume, sadly) as K.I.C.K.'s videos, you still get Northwest at the top of their game, and between the folksier first song and their more punk-based second, you get the best of both worlds from what Chris shot! Give his footage from Stage 2 a look above & below!
We'll close today by heading back to Stage 1, where Chris filmed the last two bands, including this year's featured touring attraction, Toronto-based Creedence Clearwater Revival tribute band
Green River Revival
, who are seen tackling the C.C.R. classics
"Hey Tonight"
,
"Up Around The Bend"
, and
"Fortunate Son"
(which Chris accidentally mistitled.) Filmed from the opposite stage angle from his Jesse Merineau videos, G.R.R. have the sound down well on these classic roots rock renditions, but the singer doesn't perfectly nail down John Fogerty's very distinctive voice (admittedly, few can.) Embedded here though is this year's closing act at Rotaryfest, namely local Celtic punk quintet
Dustin Jones & The Rising Tide
, who he filmed playing
a short song I can't immediately name
,
another I can't title
, and as embedded below, their set-opening and self-titled song "Rising Tide", as preceded by their traditional opening performance of the allegro movement from Mozart's "Eine Kleine Nachtmusik, K. 525".
No word on if the other two songs are from their forthcoming album or just me not doing a great job of researching the lyrics, but I am overdue to review another Rising Tide CD on here. Chris got closer for these videos, which have a nice sound and a less exposed lighting to them compared to his Soundcheck video, but a zoomed in angle would have helped. Give Chris' Rising Tide videos a look above and below!
That's all for today, but stay tuned for this weekend's concert previews on the site next! Thanks everyone!