With less than one week until Christmas, I've got lots of presents lined up for the week leading up to Santa's arrival, mostly in the vein of new song postings onto our YouTube channel, and each new post over the next week or so will have at least one new song to share with the world. And yes, news and updates as usual are planned as well, which will start today's post, including some more interesting classic concert videos & this week's classic video, so let's kick things off!
Half A Man
drummer
Mikey Bishop
has a long history from his various bands in both the Sault Michigan area and in the Lower Peninsula, and more proof of that comes courtesy of a new video that he posted onto
his YouTube channel
. This is of one of his old local metal bands named Dry Rott, who I don't know much about on their own, except that Mikey drummed for them, they were active in the late 1990s, and they opened for
Alice Cooper
at The Dreammaker's Theater at
Kewadin Casino
for his shows there in August 1998! How's that for a huge opportunity? The video that Mikey posted on Saturday was of Dry Rott covering Black Sabbath's "Electric Funeral" at one of the Alice Cooper shows, and all things considered, the video quality isn't bad! The stage angle and zoom is good, the band sound nice and heavy, and they put a darker spin on this Sabbath classic! Good stuff overall, and kudos to Mikey for posting this! Check out Dry Rott at Kewadin Casino below, and I wonder if he has any more material from the archives to show us?
Keeping in the vein of old school video uploads, BeeFMoutH/Nullified Youth alum Kevin Campbell has posted some interesting videos from an early 2000s concert at
Foggy Notions
(now
Feedback
) onto
his YouTube channel
yesterday of a defunct local band named Barred 4 Life. I'm not familiar with them either (curse my young age), but this comes from a concert that they played between 2000 and 2003, and they were joined on guest vocals by Dave Stokes at this concert. The posted videos include Barred 4 Life covering
The Dwarves' "Backseat of My Car"
and (most metal of all) "Evil God Hater" by an earlier local band named Fistmagnet. Nowadays, you may know "Evil God Hater" as a frequent setlist addition by local old school hardcore quintet
Destroilet
, and judging by both band's covers of it, I wouldn't be surprised if both bands shared at least one member, but I can't tell off hand if that is indeed the case. The quality is decent for the video itself, but the intensity and reaction ensure it's a nice sample of the local scene from a decade or so ago, so definitely give Kevin's uploads of Barred 4 Life in action a look above & below!
Now to some Christmas surprises for you guys, and first, here's this week's classic video! The penultimate weekly upload of this weekly series for 2011, I wanted to tie in this week's video more with the holiday season than a specific band, and I've found a nice combination of metal and a festive ambiance in the form of this
Winkstinger
video from last year! Not long after their live debut, Winkstinger opened for
Garden of Bedlam
at the former Foggy Notions on December 18th, 2010 as part of the party in honour of Foggy's one year anniversary since their re-opening. The Christmas ties come from the very visible Christmas lights and the bright and colourful lighting on the stage, but as for the music, it's sheer brutality, as they played their original song "From Bullshit To Buzz (Lies=Weed)" in this video! The title may be incorrect, I'm just going by what it's credited as on
this audio upload
of the same track. The visibility isn't great (very smoky & there's fans in the way), but the audio quality makes up for it, and even in their first months of concerts, they sound devastating in a good way! This video was uploaded by drummer Jonas Gasperas onto Facebook a few days after the concert, and you can see the original video at
http://www.facebook.com/photo.php?v=1749216698162
.
NO COPYRIGHT INFRINGEMENT IS INTENDED!! All credit for this video goes to Winkstinger & the original filmer, I'm just sharing this video with a wider audience like it deserves! It's nice to finally feature Winkstinger in this weekly series on the SMS, and it's a solid video with a seasonal flair, so definitely check it out below, and stay tuned early next week for our last classic video of the year! Which band will it be of? Well, who's playing locally on the 26th?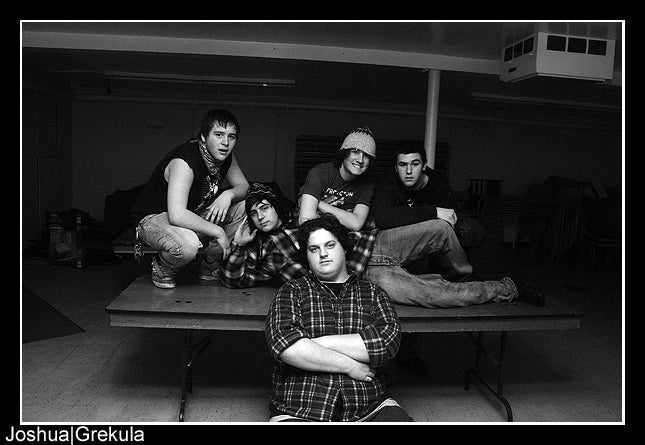 And finally, here's our first Christmas song upload of the season, and it's sort of reluctantly that I put this up, as I would rather post it paired with four other tracks. If you're a fan of local hardcore quintet
As It Stands
, you'll know that they've released two EPs in the past, those being 2006's "The Re-Occuring Nightmare" and 2007's "Kill The Music, Save The Children". Both EPs are long since out of print, and material from them is no longer part of their live setlists, but I've been hunting for both for review/archival purposes for a while now, to no avail. While their first EP is from their emo days and not as essential to find for SMS purposes (though I'd still like to track it down), their second EP in particular has been hard to even find songs from. All I've found is the opening track, "Bush Raids", which was posted onto
As It Stands' Reverbnation page
that year, presumably as a preview track. Now, while I still would rather post this with the other songs from "KTMSTC", and their newest songs are arguably much better and more proficient than their 2006-2008 material, I though I'd upload "Bush Raids" for old AIS fans, for archival purposes (until I get my hands on the rest of their early material), and as a little Christmas present for you SMS readers! It's a solid and underrated hardcore song that shows real promise, even if their current work outshines it!
NO COPYRIGHT INFRINGEMENT IS INTENDED!! All credit for this song goes to As It Stands and the former
Lucky Limb Studios
, I'm just sharing it with a wider audience like it deserves! The EP's out of print and extremely hard to find anyway, I mean no harm! Check out "Bush Raids" below, and if anyone has or know someone who definitively has either of As It Stands' EPs or the mp3s from them,
please

let me know
!
That's all for today, but stay tuned for more news, Christmas surprises, concert previews, and our next YouTube Channel Profiles this week! Thanks everyone!