One more post before we review last night's Hydra's Teeth-headlined concert at The Algonquin Pub, so what's in store? We've got a new video from a Sault Michigan band, a handful of other recent news and notes, and first, here's some LOCAL CONCERT ALERTS for next month and TONIGHT!
Toronto hard rock quartet
Riding Shotgun
will return to Sault Ontario TONIGHT for a show at
The Rockstar Bar
! Apologies for the short notice, I only just heard about this show via advertising at the venue when I was there last night, but it's been public through band sources since last month. You may remember Riding Shotgun from their headlining gig at The Canadian Nightclub last August (ironically, one I also learned about first through physical posters), but they have a solid and radio friendly hard rock sound and great guitar work that should carry them to another popular set tonight! Fellow Toronto hard rockers Last Bullet will open tonight's show with their own attitude fueled blend of originals, and I like the groove in their videos, so don't miss out on their set either! Tonight's show should have a 10:00 PM-ish start time and a 19+ age limit, while I've heard nothing about a special entry fee, so bring around $5. For more details,
click here
! Even though this concert completely slipped me by until last night, I won't pass judgement as to why, I'm just glad to see more out of town hard rock action in the Soo!
If you've got nothing else planned for this Saturday, be at The Rockstar Bar for the return of Riding Shotgun (plus Last Bullet), as this should be a great show! For a preview, here's Riding Shotgun live earlier this spring!
Next up, Kinross hard rockers
Banned
will return to
Dondee Lanes
in Sault Michigan for a full weekend on October 4th & 5th! Announced on their Facebook page last night, these are currently their only announced regional "jobs" prior to November, and they'll also be their first live appearances inside this local bowling alley & concert venue in almost 7 months. Banned's prolific stage show and mix of hard rock covers and originals should be another fun sight at the Dondee in two weeks, so don't miss these shows if you can help it! Both nights have earlier start times of 8:00 PM, 21+ age limits, and no announced cover charge. For more details, visit the above links! With their Grand Rapids show coming next weekend, it'll be nice to have the Traynors and company back on regional turf for their Dondee return next month, so keep those shows in mind for next month, and stay tuned for more from Banned!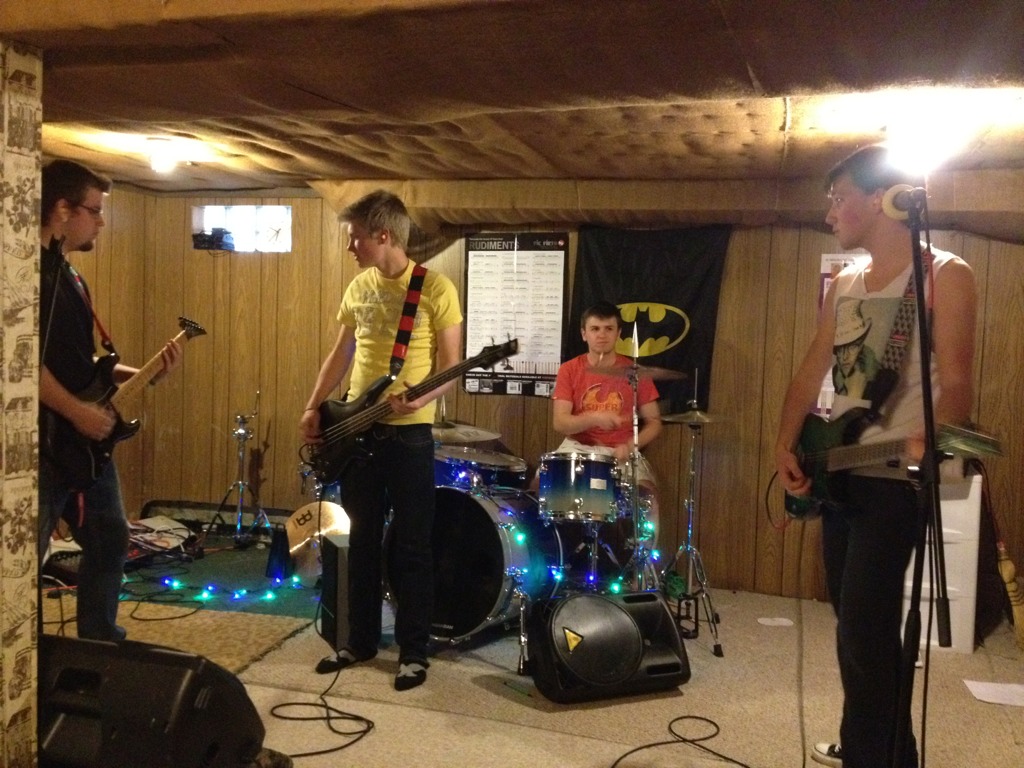 Also today, here's the latest video from Sault Michigan hard rock band
The Highest of Fives
! This is a new trailer for their long gestating independent short film "Bang!" (also the name of their planned debut album), and it was uploaded to
their YouTube channel
on Wednesday. This gives us our best glimpse yet as to the plot and tone of the film, which seems to center around guitarist Marcel "Crusty Puck" Grengs being kicked out of home and moving in with drummer Mike Pascoe, and havoc occurs in the process. It's definitely still a comedy, and there's a likability present, so we'll have to see what comes of this when it finally get released in full! At least one song of theirs is sampled in the video, but we still don't have a major glimpse at their music independent of the film (though all members but Jack Slater have recently been playing more general rock with local solo musician
Travis Theel
, which you can check out at
this link
.) For now, give The Highest of Fives' newest trailer a look below, and keep an eye out for more updates!
Finally, here's three assorted shorter news stories from the last little while, and as usual, these are in alphabetical order by artist or venue name:
If you were curious on a timeframe for The Canadian Nightclub's planned re-opening from the flood damages, it looks like it'll take longer than the 2011 renovations did. On Tuesday, Canadian DJ Jay Perron said in response to a query on their Facebook group about where fans should go now, "Give it a few months.. We'll keep ya's posted." That would imply it will be closed through at least mid-November, but nothing more specific is out publically. Stay tuned in case we hear anything!
Even though they just debuted last night at The Algonquin Pub, new all female rock quartet The Danger Cats are already exploring adding a new drummer, with Kate Kougar moving to guitar and/or vocals if they secured one. To fit the band's theme, they would prefer female candidates, and if you're interested in trying out, message the band at this link! Thanks to Jamie Jaguar (via my mom) for the heads-up!
In their first major updates since the Airbourne concert, local hard rock quartet The Suicide Kings revealed on their Facebook page yesterday that they're self-recording some songs & are hoping to have enough to release a full debut CD rather than one of EP length, and while they've been busy in studio lately, they hope to have more to reveal soon, while also sharing a Facebook-only video of them (and guest bassist Brandon Uhl) covering Rev Theory's "Hell Yeah" at Rotaryfest. Solid video, and it's great to hear they're hard at work, so stay tuned for updates!
That's all for now, but stay tuned for our review of last night's Hydra's Teeth/Haggith/Danger Cats show later today! Thanks everyone!