Before we get to our review of last night's Late & Loud reunion concert, we have a new news post to get to as we slowly clear out our news cache! For reference, I've postponed this month's YouTube Channel Profile to
tomorrow
to help keep the news rolling, so I would expect that and another news post then! Now, we have a bunch of updates & a new video from a rising Sault Michigan outfit and LOCAL CONCERT ALERTS for next weekend and this summer, so here's what you need to know!
Local funk/metal trio
The Strange Coyotes
will apparently be heading north to play at
Slopefest 2014
, a freestyle skiing & snowboarding/music festival at
the Searchmont Resort
on Saturday, March 1st (one week from tomorrow!) An official confirmation of the full performer lineup has yet to be made beyond
the Facebook event page
confirming that local indie/punk quintet Northwest will be playing (along with "support"), but Strange Coyotes drummer Mike Haggith confirmed the band's participation on the event page on Thursday. The music stage will be outdoors at the base of the mountain, and while the outdoor winter setting is similar to The Marquee at Bon Soo, I assume there will be a lot more people for Slopefest, which has open registration for interested skiiers and snowboarders to compete for $300 in first prize cash in their events! For all non-musical details, check the above links, and while I assume this is all ages, I have not heard of a spectator entry fee (though the listed event timeframe is 10:00 AM-4:00 PM.)
I'm very curious to hear the full lineup, but Northwest have the veteran skill to provide a solid punk set, and The Strange Coyotes have been making steady fans since their fall launch, so keep your eyes peeled for Slopefest updates, as this could be a very exciting event for sports and music fans if all goes well!
Next up, and rounding out yesterday's new hard rock show announcements from
Kewadin Casino's concert calendar
, Kinross hard/classic rock trio
Banned
will return to The Rapids Lounge at
the Sault Michigan branch
for an additional weekend on Friday, August 22nd & Saturday, August 23rd! Coming over 4 months after their next Soo Kewadin dates, these add to Alex, Jim, and Don's surely busy slate of regional concerts in 2014, which should reassure fans who haven't heard of any pre-April dates on the horizon! Their diverse and often heavy covers & originals will be on display that weekend at 9:00 PM each night, you must be 21 to attend, and there's no announced cover charges. For more details, check the above links! It's nice to get lots of advance word for these upcoming Banned concerts, and hopefully they're a blast, so stay tuned for updates from their camp as they roll in!
Lastly for this post, here's a long awaited new video from Sault Michigan hard rockers
The Highest of Fives
! Posted to guitarist/drummer
Devin Anderson's YouTube channel
last week, it's a music video for their original "The U.P. Song" (as composed by members Travis Theel & Marcel Grengs), and Devin has asked me to include this press release on the SMS, so read on below for official direct word from the band on this new song & video:
Hello, friends. Travis Theel, Mitch Goetz, Marcel Grengs, and Devin Anderson are proud to present their newest original material from their debut album, BANG. This song is a tribute to our roots here in Northern Michigan.

Travis, Mitch, Marcel, and Devin are currently the main lineup of The Highest of Fives, but there are many more members. In the coming months, you'll see the group collaborating with various members including stars of the upcoming BANG film: Crusty Puck, Jack Slater, and Mike Pascoe. So think of The Highest of Fives not as a band but as more of a production collective.

In addition to "The U.P. Song," another single from BANG called "Take My Time" will be released to iTunes on Valentines Day.

Make sure to follow @HighestFives

on Twitter and subscribe to

our Youtube channel

to stay in the loop. ENJOY.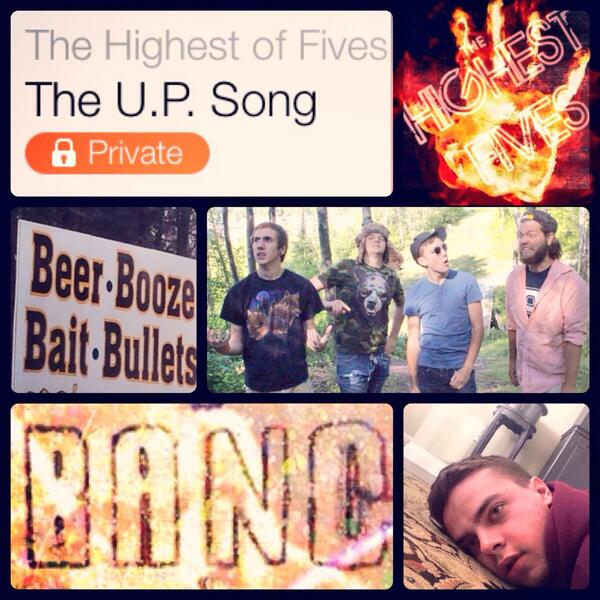 Thanks to Devin for the above information! In terms of the video, it's self-described as "a farcical interpretation of our homeland", and it includes numerous amusing clips of the group members in such activities as frisbee golf, and while the audio sync isn't perfect, it has a likable quality and easy going nature! Assuming we'll be reviewing "Bang!" upon it's release, I won't comment too much on the song itself, but it has more of a rock base than some of Travis' earlier solo songs, though it remains to be seen how many of the clips in the video will be expanded on for the teased "Bang!" short film. It's also interesting to see that The Highest of Fives are identifying themselves more as a collective, but the fluidity of membership should be interesting for diversity, and hopefully we hear Mike and Jack on some new songs too (and remember that Crusty Puck is an alter ego of Marcel's.) As for the teased "Take My Time" iTunes release, the Valentine's Day plans don't appear to have went through, but you can stream the song above, and give "The U.P." song a look below! It's well done, hopefully they keep up the good work!
That's all for now, but stay tuned later today for our review of last night's Late & Loud reunion show! Thanks everyone!