In this surprise Friday morning post, we have some assorted recent items to get to, and to start off, SHORT NOTICE LOCAL CONCERT ALERTS for THIS WEEKEND and some more new shows relating to the Bon Soo carnival next week, so here's what you need to know!
Sault Ontario alternative/hard rock cover quartet
Lucky 13
will return to
The Rockstar Bar
TONIGHT AND TOMORROW NIGHT! Apologies for the short notice, the band just launched
a Facebook event page
for these shows yesterday. This weekend's shows actually see Ed, Jeremey, Jeff, and Roger return to The Rockstar Bar for a second straight weekend following their gig their last Saturday, which isn't typical for most local cover rock bands, so I wonder if they're a late replacement? Regardless, Lucky 13 should entertain in their returns to the Algonquin Hotel's upstairs pub this weekend, so if you're up for it, head there TONIGHT OR TOMORROW! A $5 cover charge is likely for both nights, you must be 19 to attend, and there's a 10:30 PM start time. For more details, check the above links, don't miss Lucky 13's late notice shows this weekend, and here's some 2012 covers from their live debut!
Also in upcoming new shows, remember The Marquee, the outdoor live concert series that
the Bon Soo Winter Carnival
that was launched last year? Well, this year's run of live bands (from tomorrow through next Sunday) has a much larger hard rock quotient to take in, to go along with a bigger stage at The Roberta Bondar Pavilion this time around, so who do we know that's playing? Well, local hard rock quartet
The Suicide Kings
will be among the performers on Wednesday at 7:00 PM, marking the Rockstar Bar Battle winners' first Pavilion concert (that I know of), and they should put in a great set next week! No word on other performers that day or a full schedule, but we'll let you guys know when & if one turns up. The Suicide Kings' set (which will include originals, unlike Rotaryfest) is one of many perks with your Bon Soo admission (via a $7 button purchase,
click here
for details), and like other Bon Soo events, this is ALL AGES. Visit
the official Facebook event page
for more, and don't miss The Suicide Kings live at The Marquee on Wednesday evening!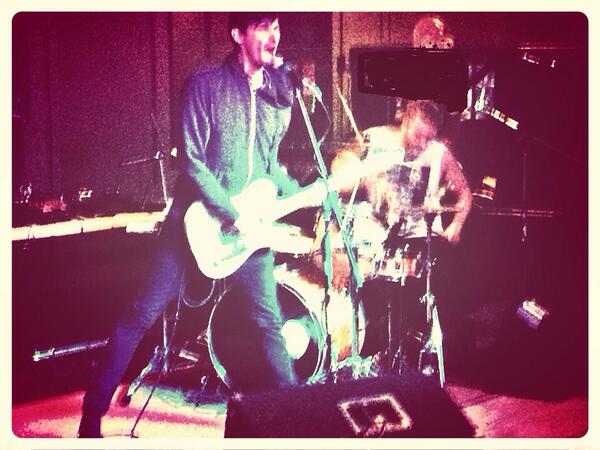 The only other confirmed bands that I know of as of this writing are all playing on Saturday, February 15th, as local grunge/hardcore duo
Bad Back
and local punk trios
Redundant
and
The Northern Tragedy
have all announced their own participation in that day's Marquee lineup! For Bad Back, this will be Jamie & Nathan's first live show since opening for Biipiigwan last fall, but according to
their Twitter page
(where they announced their Marquee set on Monday), they've been busy recording lately, so might we hear some new material? Redundant & The Northern Tragedy are also making their 2014 debuts (as per their respective Facebook pages), with Redundant ending their 6 month hiatus next weekend via their Marquee set, so don't miss their high impact punk originals at The Roberta Bondar Pavilion either! Like The Suicide Kings, a $7 Bon Soo button is all you need to get in next Saturday, it's definitely ALL AGES, and while The Northern Tragedy confirmed that they'll be on at 4:30 PM, both Bad Back and Redundant cited their time slot as 7:00 PM, so one is likely incorrect.
I will note that much of the expanded Marquee lineup (including more alternative bands) are partly thanks to local concert promoter J.D. Pearce, who revealed three additional bands (one debuting) to me in Facebook conversations, but without a public announcement of a schedule or date from either said bands or Marquee organizers, I'm not at liberty to go into details beyond what's above as of yet. Very promising start though, and The Marquee definitely looks bigger and more diverse than last year, so stay tuned for updates as they roll in!
Finally for today, here's three shorter assorted news items from the last while, and as usual, these are in alphabetical order by artist name:
Reunited local acid jam/hard rock trio Mike Haggith & The Din's lineup for their late notice return set at The Oddfellows Hall on January 24th saw existing singer/guitarist Mike Haggith and drummer Daniel Horton joined by temporary bassist & Crucify The Whore mainman Tyler "Ringsnaps" Gibson (replacing the departed Curtis McKenzie.) Interesting to be sure, but best of luck to Curtis with Project 421 & Punch, and we'll keep you posted on The Din! My source is this link.
Former State of Misery drummer Nick Kainula (most recently of Unbound) is looking to get back to jamming and playing concerts, as per his post on the Musicians Wanted Facebook group on January 26th. He's a solid drummer, so if you're interested in playing with him or trying him out, message him at this link or above!
Joining recent news of an Earache Records re-release of "Woods III", the prominent metal label has indicated on their Instagram page that they plan to reissue defunct local doom metal quartet Woods of Ypres' 2012 Juno winning final CD "Woods V: Grey Skies & Electric Light" in a "full dynamic range" format on March 24th, which means the music will be clearer, more dynamic, and not forcibly louder. Sounds like a good idea, stay tuned for updates!
That's all for now, but stay tuned for my review of last night's first installment of Heavy Thursdays at The Rosie either tonight or tomorrow! Thanks everyone!