One year ago today was the final round of the biggest Sault Ontario battle of the bands since 2009, so as promised, we have the newest installment of our Battle of the Bands Rewind series today! As in past profiles, we're taking a look at the background, events, results, and aftermath of this battle of the bands, as a way to look back on it and the competitors a year after the fact! Like in our other battle profiles, personal opinions are kept to a minimum (especially given our involvement in promotion and judging of it), so this profile will take on an informational & trivia focus. Without any further adieu, read on below for our newest Battle of the Bands profile at the SMS!
(Updated on February 13th, 2016)
----------------------------------------------------------------------------------------
The Rockstar Bar Battle of the Bands (April 3rd-24th, 2013)
Background:
For every Wednesday in the month of April 2013,
The Rockstar Bar
(in association with
Case's Music
,
The Rad Zone
, local concert promoter J.D. Pearce, and The Sault Metal Scene) hosted a well advertised battle of the bands, where nine bands competed for big prizes in a staggered weekly battle format not seen in Sault Ontario in many years. On the first three nights of the battle (April 3rd, 10th, and 17th), three bands played on each night, where judges chose one winner to move on to the finals on April 24th, while the second place band with the most points on the judges' scorecards would also join them as a wild card band. Judges scored the bands on aspects of their musical ability, chemistry, stage presence, and crowd engagement (among other factors) for a total score out of 300 each night, or 100 points a judge.
Prizes:
The first place band would win $1,000, 5 hours of recording time at Case's Music, and first place trophies, while the second place band got $200 and a $50 Rad Zone gift card, and the third place band won $100. Each finalist band also received framed certificates for their participation in the battle (that doubled as 20%-off coupons at Case's Music), and the second and third place bands both won individual medals for their placements. As well, the top 3 bands were guaranteed opening slots at one of J.D. Pearce's upcoming concerts, though they were decided on after the battle and were not tied to a specific event.
Competitors:
The bands competing on April 3rd were local grunge/alternative quartet
Haggith
, classic metal notables (and defending Humane Society Battle winners)
Late & Loud
, and local ska-punk quartet
Sarah's Valley
, who were essentially a reunited Free Beer under a new name. The April 10th competitors were local punk trio
The Northern Tragedy
, indie/jazz quartet
The Pesto Shirts
, and hard rock favourites
The Suicide Kings
, while the heaviest lineup of the semifinal rounds took place on April 17th, which included local death metal quintet
The Bear Hunters
, newer doom/death quartet
Giwakwa
, and alternative hard/blues rock veterans
Sykotyk Rampage
.
Results:
Each semifinal round was won respectively by Late & Loud, The Suicide Kings, and The Bear Hunters, while the planned wild card slot went to both Haggith & The Pesto Shirts due to their runner-up scores being tied, resulting in an expanded five band final round on April 24th. Giwakwa were the second place band on April 17st, and Sarah's Valley, The Northern Tragedy, and Sykotyk Rampage all finished third for their semifinal appearances, though individual scores and placement were not elaborated on further publically. In the finals, The Suicide Kings claimed first place honours, while Haggith & The Pesto Shirts rose above their wild card status to claim second and third place respectively, and Late & Loud and The Bear Hunters fell short of the podium.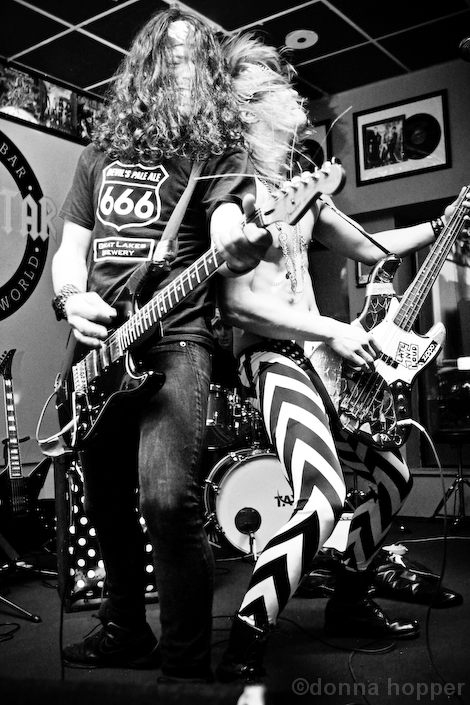 Aftermath:
The Suicide Kings (later known as Beaumont Avenue) continued to rock local concert venues until their sudden demise in July 2015, but made many high profile appearances during their last years together! Aside from an early 2014 hiatus, Haggith remained active in varying incarnations with numerous local shows and multiple CD releases before they too broke up in mid-2015. The Pesto Shirts (now known as The Wild Iris) and The Bear Hunters have continued with more notable Sault-area shows and original releases since the battle, while Late & Loud broke up after the battle due to frontman Jon Tiberi moving out of town, though they would play two 2014 reunion gigs. Sykotyk Rampage have stayed active with numerous shows and original material releases since, while The Northern Tragedy released a couple of EPs and played live more before going inactive in 2015, Giwakwa went dormant after singer Josh Stephney moved out of town later that year, and Sarah's Valley quietly disbanded that same summer after only a handful of non-battle gigs.
Some Notable Performers' Newer Bands

(Metal/hard rock in

italics

, ex-members noted with an *):
The Din (Mike Haggith & Curtis McKenzie* from Haggith)
Eclipse (Curtis McKenzie & Daniel Horton from Haggith, and Chris Thompson from Giwakwa)
Heavy Head (Mike Gaetano from The Suicide Kings, Daniel Horton from Haggith, and Johnny Belanger from The Bear Hunters)
Infinity Grinder (Terrence Gomes from The Northern Tragedy)
Jack Spades (Justin Lam & Johnny Belanger from The Bear Hunters)
Jon & His Friends (Jonathan Tiberi from Late & Loud; Based out of Hamilton)
Machines Dream
(Jake Rendell from The Pesto Shirts)
Mourning Wood (Steven Flint from The Suicide Kings)
The Pixo Control (Dustin Goodall from Sarah's Valley)
Project 421 (Curtis McKenzie & Daniel Horton from Haggith, and Chris Thomspon from Giwakwa)
Trivia:
Judges for the duration of The Rockstar Bar Battle of the Bands were Case's Music owner and prolific local musician Jay Case, then-Rad Zone mainstay & local rock guitarist Len Ward, and Sault Metal Scene owner Rob Figures, all of which had judged recent prior battles (Jay at the late 2000s' Case's Music battles, Len at 2010's Downtown Showdown, and Rob at the Humane Society battle in 2012.) Jay also was the MC for the battle and announced each night's bands, rules, and winners.
To coincide with the battle finals on April 24th, Late & Loud released an expanded re-issue of their EP "Heavy Rockin' Hard Metal" that night. Subtitled "Still Hard", the nine song disc featured two re-recorded songs and two brand new original tracks. Despite not making the podium, a copy of this EP (plus Benn Garside's smashed bass from the finals) are now on display at The Rockstar Bar.
The Pesto Shirts' semifinal appearance on April 10th was notable as their first live concert set with new drummer Jake Rendell, after playing all of their past gigs as a trio in largely acoustic settings.
Haggith's sets at this battle were their last public dates with frontman Curtis McKenzie playing rhythm guitar on most songs. After the battle, he began phasing out his guitar work and soon served as just their singer.
Among the different visual trappings from performers at the battle: Late & Loud debuted a new stage banner for their finals set inspired by Japan's Rising Sun flag, The Bear Hunters increased their hunting themes by dressing in camouflage and using a similar motif on their speakers, and fans of The Suicide Kings brought signs in support of them for the finals.
Unlike the battle's other competitors, Sarah's Valley's involvement was done with a level of secrecy, with no public postings being made to elaborate on their lineup or sound until they took the stage on April 7th, when it was revealed that they were a reunited and renamed Free Beer. Similar secrecy occurred with Keep It Lit at Viva La Battle that fall, but they dropped out of that event before showtime.
Two performers at this battle played in two separate competing bands, those being Giwakwa frontman Josh Stephney and Suicide Kings bassist Mitch Sirie, who both played guitar with The Bear Hunters. Adding to the double bookings, Josh's bands both played at the April 17th semifinal, both of Mitch's bands played in the final round, and Mitch performed on all nights of the battle but April 3rd.
In an ironic coincidence, finalists (and semifinal #2 competitors) The Suicide Kings & The Pesto Shirts both changed their names the following summer. The Suicide Kings became Beaumont Avenue after negative personal events necessitated the change, though they only remained active for a year under that name, and were largely on hiatus while drummer Ben Boudreau attended school out of town. As for The Pesto Shirts, they became The Wild Iris after finding that their original name (which was initially decided on as a joke) didn't match their sound anymore, and they still play live under the new name.
The Bear Hunters finally won their first battle of the bands that November when they won Viva La Battle, a fan-voted event at The Canadian Nightclub that was also promoted by J.D. Pearce. Though they won that battle sans guitarist Josh Stephney (who moved out of town in the summer), he came back to play with them at the Bam Margera/Fuckface Unstoppable concert in December, which was this battle's first place prize. As well, Punch (the then-new supergroup featuring two members each of The Suicide Kings & Haggith) finished in third place at this battle.
Though not a local battle, The Suicide Kings experienced similar success in April 2014 when they finished second out of 15 Northern Ontario bands at the Rock N' Roar Battle of the Bands in Spanish, Ontario, earning the right to open for Randy Bachman at the annual Rock N' Roar festival that August, then under their Beaumont Avenue name. Bear Hunters drummer Johnny Belanger also took the trip for the next year's battle as a guest drummer with The Elements, but they didn't place last year.
Almost two years following the Rockstar Bar Battle, J.D. Pearce and many of the same sponsors hosted The VM Radio Battle of the Bands at The Canadian Nightclub on Wednesdays in March 2015, which saw a similar round structure and judging criteria, expanded 11-band lineup, similar prizes, one returning judge (Rob Figures), and greatly expanded media coverage through Village Media's local news websites. This spiritual successor event was a success, and will be followed by a second VM Radio Battle in March 2016.
The Bear Hunters improved on their Rockstar Bar Battle performance at the aforementioned VM Radio Battle (albeit sans Josh again) by finishing in second place, losing to winners Gnaeus by just two points, while Haggith (then with Jordan Leach on bass in place of Caleb Cachagee) finished in second place in their close semifinal, and did not advance to the final round. As well, Haggith alums participated in the third semifinal in then-side project bands (Mike Haggith & Curtis McKenzie in Mike Haggith & The Din, and Daniel Horton with Project 421), but those bands didn't advance to the finals either.
A second battle of the bands, hosted at The Speak Easy at Algoma University, was held just a day after the first semifinal round of March 2015's VM Radio Battle, and was also won by Gnaeus. In that fan voted event, The Bear Hunters (minus Josh) took $100 for finishing in third place, while the aforementioned Mike Haggith & The Din and Project 421 did not place in the top 3 (neither did Infinity Grinder, the new hard rock duo featuring Northern Tragedy singer/drummer Terrence Gomes.)
Videos:
The Northern Tragedy playing "3 2 4" at the semifinals on April 10th
Giwakwa's first two songs on April 17th
Sault Metal Scene videos of the heavier competing bands from each night
Pesto Shirts & Northern Tragedy videos from all of their nights
Sources/More Info:
Official Facebook event page
SooToday's coverage of the April 7th semifinal
----------------------------------------------------------------------------------------
I hope you guys liked our newest Battle of the Bands Rewind profile! Barring a mass information dump for an older battle that we didn't feature in this series, we'll next take a look at last fall's Viva La Battle, with that scheduled to make the site in November, so look out for it then, and for most of the weekend's concert previews later today! Thanks everyone!