With some big recent news hitting our desk, I thought a second post was in order for today! Lying ahead, we have a SHORT NOTICE preview of a fan favourite event TOMORROW, the first public details on a big returning event for next month, and first, a LOCAL CONCERT ALERT for next month, so here's what you should know!
Local alternative/hard rock trio The Din (formerly Mike Haggith & The Din) and local pop punk quartet Stereo North will join forces for their first ever acoustic concert on Friday, March 4th at The Gore Street Cafe during the upcoming Fishbowl Festival of Community, Arts, and Culture! As previously hinted, this is the second announced hard rock-leaning show during this month-long arts festival at The Gore Street Cafe (joining this month's Like A Pisces show), and while the laundromat/venue isn't an exclusively acoustic location, this will mark a rare chance to see both The Din and Stereo North going unplugged, and it should be very interesting to hear how both do in this setting! An early 7:30 PM start time is in effect for this show, which has no announced age limit, and while there is a $5 cover charge, admission is free if you buy a $25 pass at the cafe for the whole festival, and click here for full details on the Fishbowl Festival's other announced events!
This should be an intriguing concert, especially for fans unfamiliar with The Din & Stereo North's softer sides, and it's a nice addition to the Fishbowl Festival schedule next month! Of course, if you want to hear The Din go unplugged, they performed their newer original "Hex" on the 7L podcast last month in an acoustic style, so give that a listen! Stay tuned for more on this show and the Fishbowl Festival, and click here for more on this concert!
Next up, the second annual VM Radio Battle of the Bands has officially been announced, so what should you know? Overall, it's structure is very similar to last year's, with The Canadian Nightclub hosting four nights of action scheduled for the first four Wednesdays in March, with semifinals planned for March 2nd, 9th, and 16th, and the finals taking place on March 23rd. Presented by VM Radio and Tidal Records once again (with additional sponsors including Case's Music, The Rad Zone, Labatt Breweries, Maxx Graphix, and The Canadian itself), there will be at least 10 slots for bands this year, perhaps up to 12, but five are already reserved, and while no one has been officially announced yet, last year's runners-up The Bear Hunters have strongly indicated that they'll be competing again, which would mark their first live concert since October. Like last year, the registration fee is $100, but your packages will again include ten $15 ticket passes to sell, so you'll make your money back (plus) if you sell them all!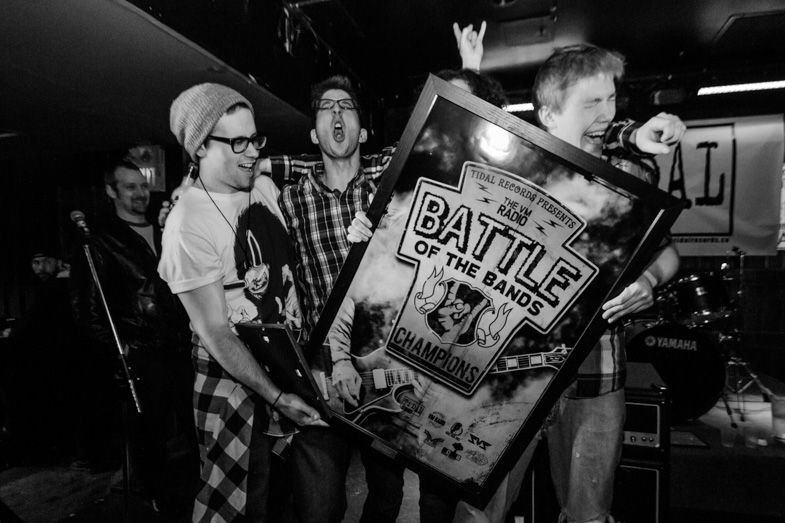 The event page notes that there will be multiple returning acts from last year, and while we await confirmation of competitors, note that Gnaeus (pictured) edged The Bear Hunters by two points to win last year's VM Radio Battle, Mannapool & The Apocalypse Afterparty were the other finalists, the other semifinal competitors were The Din, Honest Job, Infamous, Project 421, Stereo North, and the now-defunct Danger Cats & Haggith, and The Pixo Control played the first semifinal as a guest band out of competition. Other battle details, including individual prizes, time slots, judges, and more are to be revealed, but we'll definitely keep you posted when things are announced! It's great to see the VM Radio Battle back for a second year (third if you count 2013's very similar Rockstar Bar Battle), and it'll be very interesting to see the full lineup and details come in, but remember to sign up A.S.A.P. if you're in a band and are interested in competing, so message promoter J.D. Pearce (Johnny Pints) A.S.A.P. at this link or above for full details on how you can compete!
Remember, you WILL get the $100 entry fee back once you sell even 7 of the 10 ticket packages that you'll receive, so don't let the entry fee scare you! For prospective attendees, the admission fee hasn't been announced yet either for individual nights, but if last year's rates maintain, they'll be $5 a night for the three semifinals and $10 for the finals on March 23rd, so a $15 package for the full battle will save you $10 from buying for individual nights! 8:00 PM nightly start times are likely from last year as well, and this battle is 19+ once again. Visit this link for full details, and stay tuned for much more on this year's VM Radio Battle of the Bands as it rolls in!
Finally for today, here's a SHORT NOTICE alert for you punk and/or bingo fans, as Six, Two, Oh's third local installment of punk rock bingo goes down TOMORROW NIGHT at The New American Pub! Apologies for the short notice, promoters only announced it on the Facebook event page yesterday. Over a month removed from the last installment, this fan favourite union of punk rock and oddball prizes with bingo will return with a "Die, Winter, Die" theme, so attendees are encouraged to wear summer-themed and Hawaiian clothing for the occasion, which is fun! Like in December, there will be live music for a second time, this time courtesy of Boxes of Boom's Sam Decter and unannounced "friends", so while this won't be "punk", be prepared for some creative fusion originals, and perhaps a preview of his Like a Pisces involvement at the Fishbowl Festival? Admission is FREE at 9:00 PM TOMORROW NIGHT, and while bingo cards will cost, look for prizes ranging from CDs and movies to art and skateboard decks!
Though not a full punk concert like in December, this should be a fun event, despite the very late notice, so if you love bingo, punk, or a combination therein, be at The New A TOMORROW, and don't bypass Sam's music, he's very talented! Check the above links for more details, and stay tuned for weekend concert previews and more news shortly! Thanks everyone!