For our second weekend concert preview post (barring any super-late notice concert announcements), we're touching on two big shows going down in the Sault Michigan area tomorrow, but to round things out, we also have some assorted recent updates, and a LOCAL CONCERT ALERT for Sault Ontario later this year, so here's what you should know!
Local alternative hard rock trio
The Din
will headline a launch party for their long awaited debut CD "Give In To The Din" on Friday, August 12th at the auditorium at
The Tech
! After months of anticipation, their debut studio album will finally go on sale at this show taking place at the former St. Mary's College, which may seem like an unusual spot for the release, but remember that The Din previously played there at the Sky's The Limit benefit show, so they have experience there. Local post punk/garage rock quartet
Gnaeus
will make their Tech debut as openers on August 12th, with their friends at
Tidal Records
apparently providing some promotional support as well, and they should provide excellent support for the release show! This ALL AGES event will have admission via $5 ticket purchases, which you can get at the venue's box office and/or members of both bands (and presumably at the door), while there is a group rate of $15 for a group of 5. In any event, as this is being held in the auditorium, there is assigned seating, so get yours early for the best seat!
Doors will open at 6:45 PM for this concert, and while there will be albums and other Din merchandise on sale, the band has yet to elaborate on prices for the CD. With a full two months of promotion and hype ahead, this should be a huge show for The Din as they launch their CD, and with Gnaeus in tow as well, fans won't want to miss out on the action! Visit
the official Facebook event page
for more details, and stay tuned as updates roll in!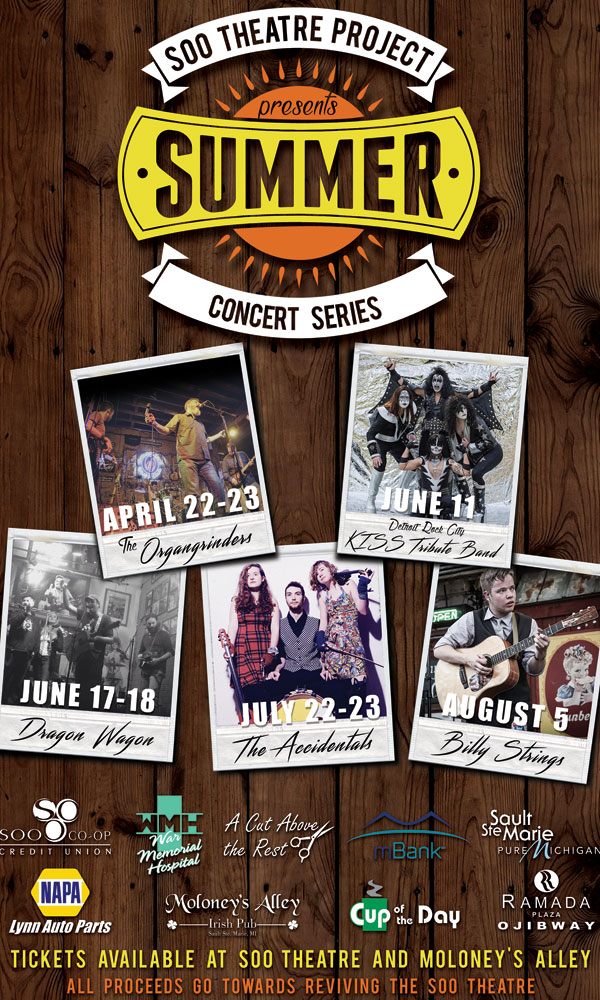 Next up, here's this weekend's known Sault Michigan-area concert previews, starting with the local debut of Detroit-based Kiss tribute band
Detroit Rock City
when they headline at
The Soo Theater
TOMORROW NIGHT during the venue's
Raise The Roof Summer Concert Series
! Our first hard rock concert preview there in many years, Detroit Rock City are the second of five bands (and only heavier act) playing at the Ashmun Street theater during this concert series, where The Soo Theater, in association with Moloney's Alley, are putting all proceeds towards reviving the theater as a year-round events & concert venue. Obviously, these are big stakes, so hopefully all of the series' concerts were/are huge hits to help get The Soo Theater in full for both historical and entertainment reasons! As for Detroit Rock City themselves, they'll bring an authentic stge show and sound that Kiss fans will surely enjoy, so if you want to enjoy the next best thing to Gene and company, be at The Soo Theater tomorrow night!
Admission for this and all other Raise the Roof series events is $15, and while advance ticket sales are no longer available online, you can still apparently buy tickets locally at the theatre or at Moloney's Alley for this and the other shows in the series, which lean toward Michigan indie and folk acts. Sadly, this is a 21+ event, but doors open at 7:00 PM tomorrow. This should be a fun concert for fans of Kiss and Soo Theater restoration supporters, so don't miss the action, and here's Detroit Rock City live last year!
Also for weekend concert previews, local hard/blues rock quartet
Project 906
will return to
Pickles Bar & Grill
in Brimley TOMORROW NIGHT! This one-nighter is the band's first show there since last year's Bay Mills Bands Together fundraiser, and first anywhere since their trip to Strongs two weeks ago. The Ten Kings successors have been on a strong streak in recent months, and I'm sure they'll have another big night of hard hitting covers in store for fans tomorrow in Brimley, so keep this show in mind for after the Detroit Rock City show in the Soo! And remember, Project 906 will be back there for another one-nighter next month on July 16th. There's a 10:00 PM start time for this 21+ show, which has no announced cover charge. Curiously, there's
two
Facebook event pages, so
click here
&
here
for full details, and here's Project 906 live at Pickles!
Finally, here's three assorted shorter news items from the last while, and as usual, these are in alphabetical order by artist name:
New local death metal quintet Kaepora Gaebora have been added as the final opening band for the Foam-headlined concert at The New American Pub on June 19th, as per the official Facebook event page earlier this week. Solid choices to kick off this show, so don't miss them, Twistory, and Foam a The New A one week from Sunday!
We have moved local punk/classic rock trio Leaked to our inactive band links due to a year's inactivity. Featuring The Din's Tammy Hill on guitar, Leaked played a handful of Korah Collegiate events in mid-2015, but haven't updated their Facebook (and only online) page since sharing a concert video on June 6th of last year. Leaked were a talented rising band, and hopefully we see them again at some point, but don't miss Tammy with The Din!
According to personal Facebook postings, local classic metal quintet Project 421 played their set at last weekend's Redneck Rock Bash 2 sans frontman Curtis McKenzie due to illness. As a result, the band played with guitarist Blair Burch on lead vocals for most songs (a'la their original gigs), but Tym Morrison, Mourning Wood's Terry Eaton, and ex-Amethyst drummer Phil Temperao all provided guest vocals for at least one song each. While it's disappointing that Curt had to miss the show, this would be a nice surprise for attendees, and hopefully someone got some videos!
That's all for today, but stay tuned for more news and notes soon! Thanks everyone!