Before we begin this post, I wanted to apologize for missing two shows from Sault Michigan-area blues/hard rock quartet
Project 906
for coverage on here, as they played at
Pickles Bar & Grill
in Brimley on August 27th and then at
The Strongs Motel & Tavern
this past Saturday
. The band only plugged each show once via
their Facebook page
, but regardless, I should have found out about them at the time, so I profusely apologize for not plugging them here. I'll try to make sure that doesn't happen again, and hopefully the shows were great! Now, this post features some interesting album notes and new videos, so let's get things rolling!
Remember how Sault Ontario rap/metal project
The Apocalypse Afterparty
were ramping up teasers & postings regarding their debut EP "Bufflesnort"? Well, we can confirm much more on it now, as I was delivered a premium press kit yesterday by the band. How premium are we talking? Well, how about having the EP contained in a floor tom drum that was played by ex-drummer Steve Mozarowski (a.k.a. X) at last year's VM Radio Battle of the Bands semifinals!? Lying under the drum skin was a Blackberry Bold 9900 phone with charging cable, earplugs (presumably for my protection), plus a piece of paper detailing how to access the "Bufflesnort" EP on the phone. On this basis alone, The Apocalypse Afterparty get a 20 out of 10 for creativity! Apparently, the band are distributing the album in four formats: Online file downloads, USB sticks (in lieu of CDs), standalone cell phones, and a "premium phone" (a nicer cell phone with special packaging), which is what I received. The phone copies are on a limited basis to friends, diehard fans, and media, as far as I know.
Similarly to the setlists & manifestos distributed to judges at last year's battle, my Blackberry included a creative text document explaining the band's aims, sound, and influences, along with instructions on how to import the EP to your computer from the phone. The document says not to share, presumably to maintain it's secrecy, but if you get a phone with said file, it's a fun read! I had to import the EP to my computer via Bluetooth as it wouldn't recognize the phone via USB, but I have them now, so what can I confirm about the tracks? "Bufflesnort" contains four songs, including the previously revealed cover of Saul Williams' "Reparations (List of Demands)" with the new title
"Better Than The Hives Did It"
, but the three originals are entitled
"4th Liner"
, ".500 Hockey", and "Lace 'Em Up", maintaining the hockey theme from the five album covers. It should be noted that songs from The Apocalypse Afterparty's predecessor band The Fury like "Rebel Scum" & "The Crowd" are
not
on this EP, even though they played them live, and "The Crowd" was recorded for the EP in it's early stages.
As for the band's drummer position, I might as well note that tracks on the EP were performed by frontman Z, ex-drummer Amber McKay, and someone named "Sven" (full identity unclear), but it's not clear who is on what song. "Bufflesnort" hasn't been officially released yet, but this unique release method and pre-promotion definitely has fans talking, and I definitely have never received an album inside of a concert-used drum before! "4th Liner" is the second publically revealed song from The Apocalypse Afterparty's social media pages, so check it out via the above links and "songwriter"
Paul Stanghetta's YouTube channel
below, and stay tuned for more from them!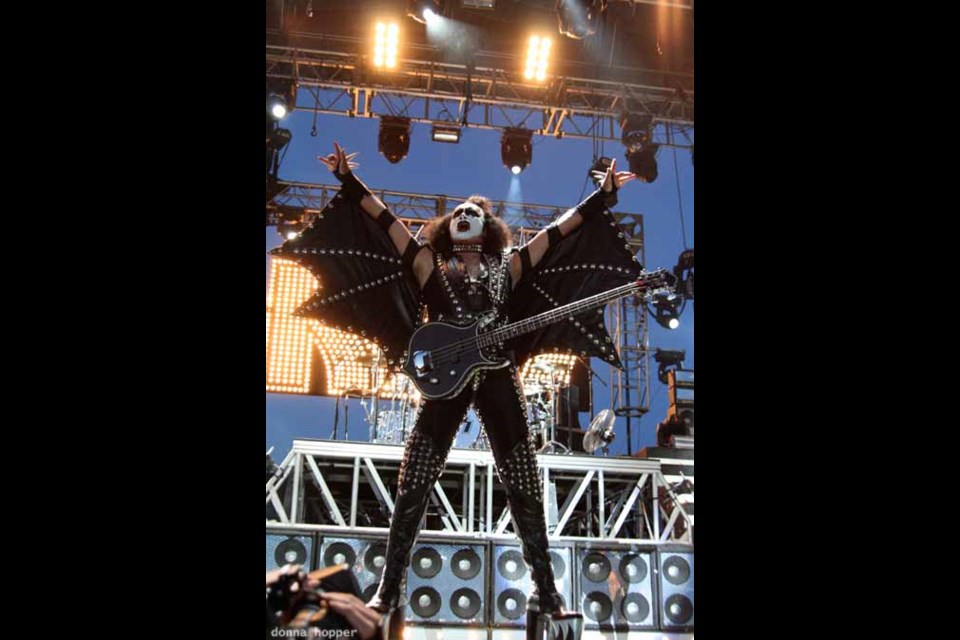 Next up, here's a new concert video find from
Kiss
' outdoor headlining show at
Kewadin Casino
in Sault Michigan in July 2007! I have double checked, this is neither a video we covered on the SMS before, or a re-posting of a currently available YouTube upload, so if you're a fan of the New York hard rock legends, don't bypass this video! Uploaded by YouTube user
Spacemanacelive
last month as part of numerous other Kiss tour video postings, this was filmed right near the front of the stage, and it features Kiss playing their first three songs of that show (
"Detroit Rock City"
,
"Deuce"
, and
"Makin' Love"
), so visit each individual song title to see a specific track. Though the video is fairly shaky at points, the audio is nice and clear, and it's great to see this footage at last! Watch out for the explosions during "Detroit Rock City" though, especially if listening with headphones. You wanted the best, you got the best, so enjoy the best below, and hopefully more videos turn up from their Soo dates!
Finally, here's a new concert video find from newer Sault Ontario death metal quintet
Kaepora Gaebora
! Filmed at
The New American Pub
on June 19th when they opened for Foam, bassist Jeph Brown uploaded this video of the band playing their original song "Misinterpreting the Deity" to his personal Facebook page, then shared it to
the band's Facebook page
afterward. Though unfortunately filmed on the vertical cell phone camera angle, it's a solid little clip that captures Kaepora Gaebora in good & brutal form! I'm unsure where they've been in the past 3 months (they never even plugged this show on Facebook), but check out their newest video footage below!
That's all for today, but stay tuned for more news and notes this week! Thanks everyone!