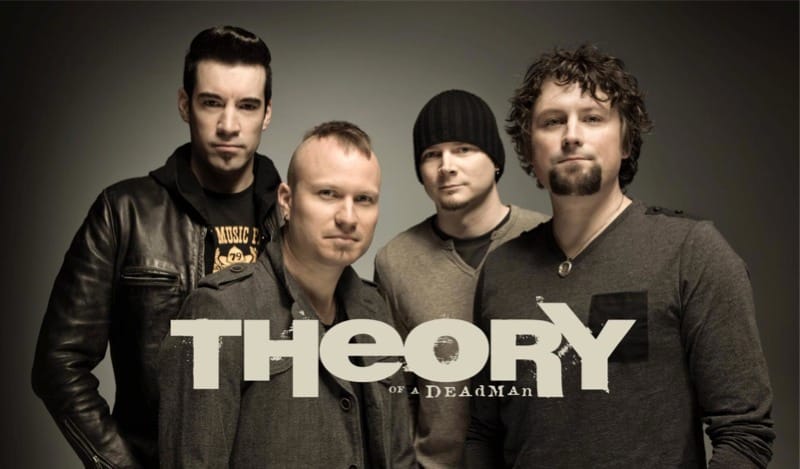 After an admittedly slow weekend, we're back with what should be an active week on the SMS, starting with this all-video post! One video is from this side of the border, but we'll start with a trifecta of videos from YouTube user
Dwayne Lehn's channel
, all belated uploads from early-2010s concerts at The Dreammaker's Theater at
the Sault Michigan Kewadin Casino
. You may recall Dwayne from filming a pair of videos from Shinedown's concert at Kewadin in 2013, but for one reason or another, these three videos didn't make it online until yesterday. Better late than never, so kudos to Dwayne for finally putting these up! First is a video of British Columbia hard rock/post-grunge quartet
Theory of a Deadman
playing their song "Lowlife" at the casino in November 2012 (it's definitely not from their 2015 show here), and this might be the best video I've seen from one of their local concerts!
Dwayne was front row center or very close to there, with frontman Tyler Connolly in prime view, and the band handle this hit song of theirs nicely! If you're a fan of Theory of a Deadman, this is well worth your time, whether you were at this concert or not, so give this video a look below!
Next up, Dwayne posted this video of former Skid Row frontman
Sebastian Bach
covering his old band's classic "18 & Life" during his headlining show at the Soo Kewadin in January 2013! Unlike the Theory of a Deadman clip, this is filmed side-stage, and while Sebastian and band sound good, the audio has staticy bass. Give this belated but entertaining ballad a look below!
Finally for Dwayne's "new" Dreammaker's Theater video postings, we're going even older with a video of Sacramento hair metal legends
Tesla
playing their ballad "Love Song" in Sault Michigan in June 2010! While Tesla did play here in 2013 (closer to when Dwayne filmed his other local concert videos), this is absolutely from the 2010 show, their third of four here. Again, this is a side-stage video, which does no favours to the dark mood lighting, but Tesla sound fine here, and Jeff Keith even makes his way to Dwayne's end of the theater for a spell! Check out his Tesla video below, and see more above!
Finally for today, here's a new video of the one-off
Bin Hawdon & The Taliband
reunion set from last month's Guy Thiffault tribute concert at
The Rockstar Bar
! Filmed by attendee Amber Sharp with a GoPro camera, this was uploaded to frontman
Mikey Hawdon's new YouTube channel
(which apparently succeeded
his old mykawdon channel
) on Friday. A cover of Diesel Boy's "Titty Twister" (that's it's name, don't shoot the messenger), this is a solid video with a nice angle from Mikey's side of the stage, complete with some fans singing along, but the audio is somewhat muffled. Give this new Bin Hawdon & The Taliband video a look below, and hopefully it's not another 8 years for their next concert!
That's all for today, but stay tuned for more news and this month's Defunct Local Band Profile next! Thanks everyone!