There may not be a battle of the bands this month, but we haven't forgotten about our Battle of the Bands Rewind Profile Series, which finally returns today with a somewhat overdue look at one of last March's battles! As in our past profiles of recent local battles, this serves as an informational feature to look back at the events, setup, results, and trivia of this battle, and features
no
personal criticism or reviews of the competing bands or their future activity. This was a fun event with lots of talented musicians throughout, so read on below for our first profile of last year's battles!
----------------------------------------------------------------------------------------
The 2016 VM Radio Battle of the Bands (March 9th-23th, 2016)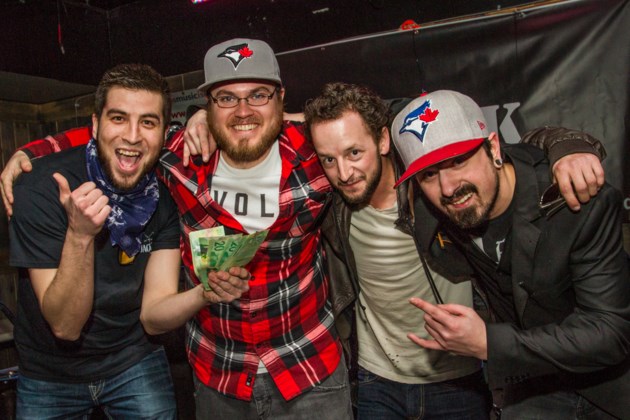 Background:
Following the success of the inaugural VM Radio Battle of the Bands in March 2015, local concert promoter J.D. Pearce came together once again with
VM Radio
(and parent company
Village Media
),
Tidal Records
, and sponsors
Case's Music
,
The Rad Zone
,
Maxx Graphics
, and
Labatt Breweries
to hold a second installment of the multi-night battle of the bands, originally intended four consecutive Wednesdays again at
The Canadian Nightclub
. Unfortunately, only 5 bands (down from 11 in 2015) officially registered to compete, forcing the removal of a planned March 2nd semifinal, but the format of the battle was the same as in year #1, with the winner of the March 9th & 16th semifinals (plus the highest scoring runner-up band as a wild card) returning for the finals on the 23rd. Judging criteria was the same as the previous year and 2013's Rockstar Bar Battle, with scoring based on musical ability, chemistry, stage presence, and crowd engagement (among others) for out of 100 points a judge, 300 total, plus additional individual awards metered out based on category.
Prizes:
The first place band received $500, while no specific additional prizes were announced in terms of band ranking, unlike in 2015. A $100 Rad Zone gift card awaited the winner of the Best Vocal Performance award, while Case's Music prize packages went to the Best Guitar and Bass winners, and the Best Drummer would receive a custom drum skin from Maxx Graphix. As for the Best Song, the winning band would receive recording time at Tidal Records' own
Mission Control Studios
.
Competitors:
The March 9th semifinal saw the battle's only returning bands from 2015, namely alternative/hard rock trio
The Din
(who had since dropped "Mike Haggith &" from their name) and punk quartet
Stereo North
, who competed against new hard/pop rock supergroup
Heavy Head
. March 16th's semifinal round was a head to head affair between hard rock quartet
Eclipse
and indie rock quartet
K.I.C.K.
, with prominent punk/metal quintet
Jack Spades
performing a guest set to round out the evening's lineup.
Results:
The two semifinals were won by The Din & K.I.C.K., while Eclipse were the highest scoring non-winners & moved on to the finals as the wild card. Stereo North finished in second on the 9th, with Heavy Head in third, but specific nightly scores were not announced. In the finals on the March 23rd, the Keep It Cool Kids won a closely contested final, edging out The Din for second place by just
three points
, averaging out to one point per judge, while Eclipse weren't far behind to round out the podium. Individual awards went to Eclipse's Curtis McKenzie for Best Vocal Performance, The Din's Tammy Hill for Best Guitar, Eclipse's Fred Dunn for Best Bass, and his brother Aaron Dunn of K.I.C.K. for Best Drummer. Meanwhile, K.I.C.K. claimed Best Song for their original "Wanted".
Aftermath:

K.I.C.K. have remained steadily active since their battle win, playing at numerous concerts as headliners and openers, such as Rotaryfest and the Northern Vibe Festival, and have recently been working on their debut EP at Mission Control Studios, presumably using time won at the battle. The Din released their debut studio album "Give Into The Din" that summer, and have found their own profile rising with many concerts of their own, even heading out to Toronto for a gig in January. Eclipse were a frequent sight locally through October 2015 before suddenly breaking up, though they have reunited after four months and will return to the stage in a few weeks. Stereo North only played live a few more times that spring before going on an indefinite hiatus in June partly due to guitarist Matthew Anich becoming a father, while Heavy Head played sporadically into the summer, but haven't issued a public update in months.

Some Notable Performers' Newer Bands

(Metal/hard rock in

italics

):

Andrew Pucci

(Andrew Pucci from Stereo North)

The Bear Hunters (Johnny Belanger from Heavy Head & Justin Lam from guests Jack Spades) The Elements (Jesse Cook from Heavy Head)

Handsome Sandwich

(Jesse Cook & Johnny Belanger from Heavy Head) Project 421 (Curtis McKenzie, Daniel Horton, and Chris Thompson from Eclipse) The Steeltown Girls

(Tammy Hill from The Din)

Stegadeth (Bill Bennett from Stereo North & Tiffany Stocco from guests Jack Spades) Winkstinger (Jesse Cook from Heavy Head)

Trivia:
The judges for last year's VM Radio Battle of the Bands were all returnees from 2015, including Tidal Records owner & Rising Tide frontman Dustin Jones, Elements frontman & Village Media repesentative Rob Speers, and Sault Metal Scene owner Rob Figures, while Id Iota frontman, Shaw TV personality, and Tidal Records skate team member Christian Lemay was a late fill-in for Dustin as guest judge for the second semifinal. Promoter J.D. Pearce again served as MC for the duration of the battle.
Despite battling a cold during his appearances, Eclipse frontman Curtis McKenzie won the Best Vocal Performance award for a second straight year, after previously winning as Haggith's frontman in 2015, making him the only repeat winner of an individual award. In another coincidental note, Tammy Hill (who replaced him in The Din the previous year) won the Best Guitar award that same night.
This battle did not see a return of three awards handed out in 2015, namely for Most Energetic Band, Most Enthusiastic Fan, and Fan Favourite Band. The latter was planned to be given out in 2016, but with a virtual tie among the bands in that regard, the award wasn't given out at all.
At least two bands debuted new original songs at the battle, including Eclipse ("Crywolf") in the semifinals, and The Din ("Differences") in the finals. Both bands also played songs familiar to fans of members' past projects, with Eclipse playing some Punch and later Haggith originals, and The Din playing a handful of songs from frontman Mike Haggith's solo career.
Though no award existed for Most Improved Band, The Din would have won it had it existed, as the band didn't even finish second in their 2015 semifinal, but improved and overcame in the following year to finish just three points out of first place a year later. Though they didn't make the finals again, Stereo North also improved their standing from 2015, as did 3/5ths of Project 421 in Eclipse.
Notable among the night's performers was Heavy Head, a new supergroup union of Suicide Kings, Bear Hunters, Haggith, and Winkstinger alumni, all of which being bands that won or placed second at recent local battles. Despite their impressive pedigree, their set received mixed responses, and they dropped out of the next day's Speak Easy Battle (though keep in mind that the VM Radio Battle was just their second public concert together.)
Jack Spades' guest set during night #2 of the battle mirrored that of The Pixo Control's in 2015, serving to even out the band lineup due to uneven nightly totals. Jack Spades couldn't compete themselves due to frontman J.D. Pearce's promotional duties, but members Jesse Cook & Johnny Belanger did compete as part of Heavy Head. Jack Spades remained a frequent sight at local concerts through September, though 3/5th of the band left the group throughout the year, and a teased return with a new lineup is forthcoming.
Despite the expanded coverage and video features for 2015's VM Radio Battle, SooToday didn't give the same attention to the 2016's battle, possibly due to the lower band totals, with only this article on K.I.C.K.'s win substantially covering the event. Plans for a third VM Radio Battle did not come to fruition for March 2017, though it's not clear if it's done for good or being retooled.
Conspicuous by their absence last year were 2015 battle winners Gnaeus, believed to be at least partly due to the departure of drummer Brendan Garlick from the band following their last show with him in December 2015. The post-punk quartet did not publically confirm Alex Proulx as his replacement until April 2016, debuting with them during their Ontario tour run that month.
As they had done in 2015, Algoma University hosted the second annual Speak Easy Battle of the Bands on March 10th, 2016, just one day after night #1 of the VM Radio Battle once again. The Din, Eclipse, and VM Radio Battle guest performers Jack Spades all competed in the Speak Easy Battle, with The Din and Eclipse placing second & third in that event as well, winning $200 & $100 respectively. The fan voted event was won by indie rock musician Jesse Merineau, with backing from Caroline Divine.
Stereo North frontman Andrew Pucci (who has been focusing on solo music during their hiatus) competed in a Tidal Records-sponsored songwriters competition at LopLops Lounge on October 15th, where he and 9 other solo artists played two originals and a cover for a chance to get recording time at Mission Control Studios and a digital release package. The winner of that event was Thin Ice frontman Nathan Albidone, and it's unclear where Andrew placed.
Though not advertised as a "battle of the bands", The Din played at Landmark Events' Showcase Festival in Toronto in January, with music industry executives judging bands and choosing select acts to win music development grants. Though The Din visibly praised the event, it's not publically clear how they did compared to other performers of if they moved forward in the showcase.
Videos:
The Din playing "In Search of The Perfect Moment" in the finals
Eclipse covering two songs in the semifinals
The Din's promotional videos for their sets
The Sault Metal Scene's videos of each band's opening songs
Sources/More Info:
Official Facebook event page
SooToday's coverage from the finals
----------------------------------------------------------------------------------------
I hope you guys liked this profile of last year's VM Radio Battle, and we will profile last year's Speak Easy Battle in the coming days, so stay tuned for that and more news and updates soon! Thanks everyone!