On this Friday evening, we have a new video to share, but first, let's tackle two recent LOCAL CONCERT ALERTS featuring notable American headlining bands, including one in particular that's gotten tons of local buzz since it was announced yesterday! Here's what you need to know!
Pennsylvania alt-metal trio
CKY
will make their local concert debut at
The Canadian Nightclub
on Thursday, June 8th! Yes, the band best known for songs like "96 Quite Bitter Beings", "Flesh Into Gear", and "Familiar Realm" will rock the Soo in a few short months, and even without longtime frontman Deron Miller in their current lineup, their energetic punk-influenced originals are sure to get a huge reception in their local debut! After all, they're the namesake of and a huge part of the old CKY DVDs that begat the Jackass series, so keep that angle in mind too! A stacked local openers lineup will include the return of hardcore quintet
As It Stands
to the stage for the first time since
2012
on June 8th. Though A.I.S. only formally broke up in 2014, we've been waiting well over 4 years for a new show from the guys, and with John Mignacca back home, they're primed to reclaim their spot in the local scene! Also slated to open are punk/metal favourites
Jack Spades
, in the public debut of their new lineup!
No word yet on who's joining J.D. and Justin in their new lineup, but this will mark Jack Spades' first show since opening for SNFU in September, and this will be a great way to welcome them back after over 8 months away! The current opener lineup is rounded out by newer alt-punk quartet
A Dire Setback
, who should be in fine form following their own recent Canadian gigs, so don't be late for their set either! Notably, this is the first announced concert promoted by Jack Spades frontman J.D. Pearce since his annual Halloween party last year, but what a way to get back into the swing of things, and keep posted in case he has anything sooner to announce! This 19+ show currently lists an unusually early start time of 6:00 PM, and tickets are now on sale at
this link
for $20, though in-person local availability has not been publically noted as of press time. As a long-time fan of anything to do with the CKY name, this is a huge deal, and it will be awesome to have Chad, Matt, and Jess in the Soo come June 8th!
J.D. has noted that this show has seen the fastest online sales on the first day of any of his promoted concerts, so get your tickets A.S.A.P. just in case by clicking here, as who knows when and where they'll be available in person, especially with As It Stands and Jack Spades both returning that same night! Stay tuned for continued updates as they roll in, and As It Stands are back in our active band links, hopefully this isn't a one-off!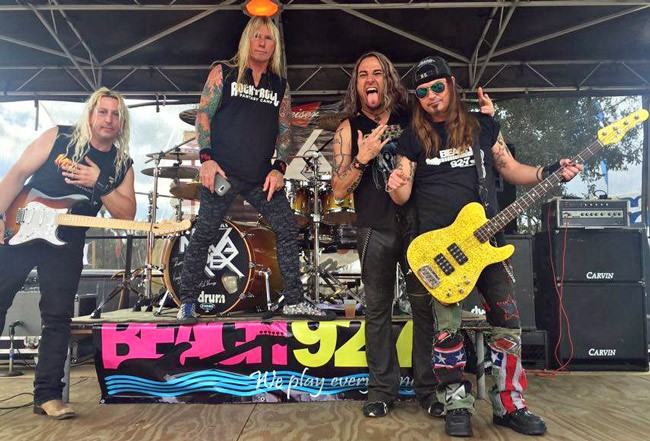 Next up, here's one more new show announcement for later this year, as
Florida
-based hair metal veterans
Nova Rex
will hit
The Rockstar Bar
for a headlining concert on Wednesday, August 30th! A familiar band to glam metal diehards, Nova Rex have been active since the mid-1980s, and while they never achieved the mainstream superstardom of other contemporary acts, they have a solid following that carried them to their own Netflix documentary in 2011, and they should light things up at The Rockstar Bar to help send out the summer! Returning local classic rock cover quartet
Nikkfitt
(featuring Browbeat and Redundant alumni) will open this show, and this will be a nice showcase for this talented local outfit who don't play live often enough, so keep them in mind as well! Admission for this 19+ event is $8, with advance tickets likely to be available at The Algonquin Hotel's front desk, and an oddly early start time of 8:00 PM is advertised. Visit
the official Facebook event page
for more details, and stay tuned for updates on this Hair Scare-worthy concert!
Finally, we were going to close with a new Facebook video from the aforementioned A Dire Setback, but that video was quietly deleted today for unannounced reasons, so we'll cover it if it's re-posted later. Instead, here's the latest clip from local alternative hard rock trio
The Din
, as uploaded to
their Facebook page
yesterday! Another in The Din's long line of comedic Facebook videos, this is a "public service announcement" on how not to headbang, a direct nod to
Quiet Riot
, who will no doubt play "Bang Your Head (Metal Health)" on THURSDAY at
The Machine Shop
, with The Din opening the night's lineup! Needless to say, the headbanging demonstrations in the video aren't "traditional", and while the guys recuperate, drummer Brandan Glew hypes up the Quiet Riot show, especially as tickets are almost sold out.
Click here
for full ticket details while they last, and give The Din's new video a look below, as it is funny, and sound effects may be employed!
That's all for today, but stay tuned for more news and notes over the weekend! Thanks everyone!