On this Monday afternoon, let's tackle some new stories and updates found and reported over the last few days! Today, you'll find assorted shorter topics, a new commercial for a prominent former band's album re-release, and first, some fallout and footage from a recent charity concert, so here's what you should know!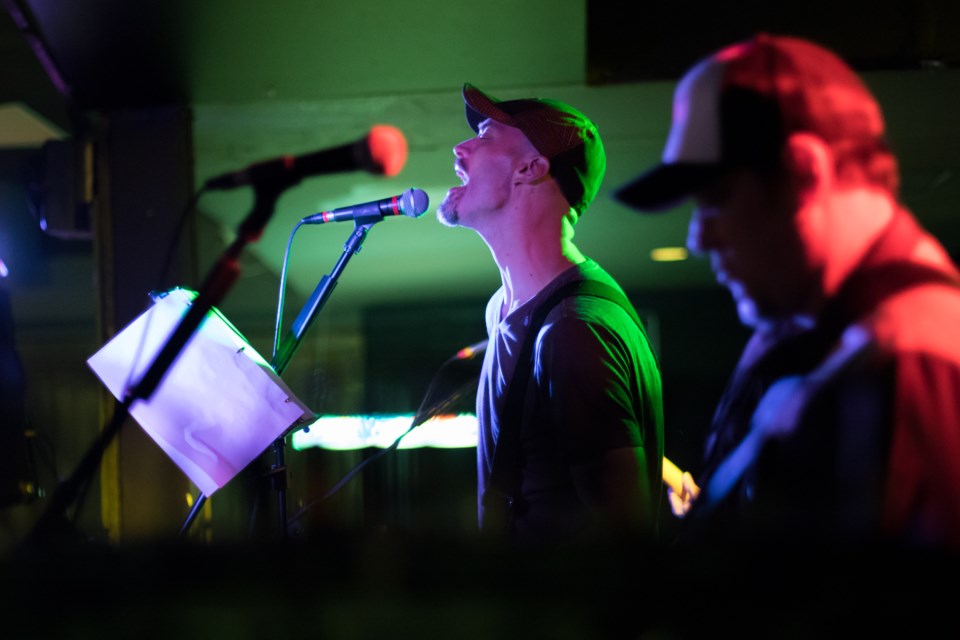 As you may remember, Saturday night saw the Rock 4 Autism fundraiser concert take place at
The Canadian Nightclub
, and based on social media accounts, it was a hit, with $1,000 expected to be raised total, and plans to hold a sequel event next year are already being teased on
the Algoma Ride For Autism Facebook page
!
SooToday
's Jeff Klassen was also on hand, posting
this article
from the show on Monday, which also features five photos of
The 3 Day Millionaires
' set and one of a fan (sadly, the other bands weren't captured.) The photos he did get were solid though! As for videos, Algoma Ride For Autism live streamed three videos from the show onto their Facebook page on Saturday, including one of country rock cover headliners
Bone Yard
covering The Marshall Tucker Band's
"Can't You See"
. This is a fine rendition for genre fans, but the audio is unusually crackly, which somehow didn't afflict the other videos from Saturday night.
The aforementioned 3 Day Millionaires were filmed covering Ugly Kid Joe's "Everything About You", and the classic/hard rock cover quartet handled this song well, as fans of their regular live sets have become accustomed to! Unfortunately, this is just 63 seconds long, is filmed on the vertical cell phone camera angle, and is shot at a far angle from the stage until the last 20 seconds, when the filmer got closer, so keep all of that in mind. Check out this new Millionaires video below, and stay tuned for word on their next concert, coming sooner than you think!
Lastly from this concert, punk trio
Redundant
's original "That December" was filmed on Saturday as well, curiously appearing to be a solo acoustic rendition from frontman Justin Langlois, with no apparent input from the White brothers (a personal Facebook photo also features Justin alone performing on stage.) No word on where James and Rick were, but Justin sounds good on this familiar original, though the filmer took this from a very far table in the corner of The Canadian, so Justin and the stage are barely visible in the background. Give Justin's solo clip a look/listen below!
Also today, here's a new commercial for the vinyl re-release of defunct local doom/black metal band
Woods of Ypres
' final album "Woods V: Grey Skies & Electric Light"! It's not every day when a new "official" Woods video makes it's way online, but this comes straight from label
Earache Records' YouTube channel
on March 3rd to hype what they're calling their "most requested vinyl repress in recent years", with new copies again going on sale last month to go along with existing CD stock. The video features an Earache representative displaying and opening up a vinyl copy of "Woods 5", with "Career Suicide (Is Not Real Suicide)" as the backing track, select lyrics on screen, and video clips from their music video for "I Was Buried In Mount Pleasant Cemetery" scattered within, before noting the pre-order link and closing with "R.I.P. David Gold". The vinyl copies of the album cost $18.59 (including taxes), and you can order your own copy by visiting
this link
!
We've now crossed 5 years since losing David, so it's great to see that Earache is still supporting and selling Woods of Ypres albums, and if there's the extra demand to get "Woods V" on vinyl once again, you know that's a good sign for their fanbase and legacy! Also, before anyone nitpicks that they used the video for a "Woods IV" song in the "Woods V" promotional clip, remember that they only made two music videos, and this one at least features David, Joel, and the doom metal ambiance. Give this new video a look below, and buy Woods of Ypres albums on vinyl or CD above!
Finally, here's three assorted shorter news items from the last while, and as usual, these are in alphabetical order by artist name:
Ticket details are now out for the Diamond Head concert at The Rockstar Bar on September 2nd, and they went on sale online at this link for $22.50 (minus service fees) this morning, though a website issue was ongoing at press time. No word on in person local availability yet, but get your tickets A.S.A.P. when you can, especially as this will reportedly be the most intimate venue on the NWOBHM pioneers' upcoming tour! For what it's worth, prior listings of a third local opening band to be announced have been removed from the Facebook event page.
Curious for information on debuting "drone/noise/psych" trio Pointless ahead of their first set at FRIDAY'S Soo Art Rocks concert? Though they still lack an online page or media, promoters Live705 revealed on the Facebook event page yesterday that their lineup consists of Treble Charger guitarist Bill Priddle, Pillory/Peach Thieves bassist Jordan Leach, and former Ashes To Dust drummer David Peredun. Intriguing lineup, but how will they sound? Find out Friday at The Canadian, and stay tuned for our preview!
This is just a clarification note, but if you've seen physical posters around town advertising reunited punk quartet Talk Shit as the openers for next week's Alberta Intrusion concert at The New American Pub, note that they are old posters, and Stegadeth replaced them before the show had it's first public announcement online (a personal Facebook video from early March featuring this poster came weeks prior to the event page's launch.). If you haven't seen the posters listing Talk Shit, a tiny one is on the bulletin board at the Food Basics on Pine Street. Don't miss this trifecta of Alberta punk bands and Stegadeth next week!
That's all for today, but stay tuned for more news and updates as the week rolls along! Thanks everyone!