Here at last are this month's YouTube Channel Profiles! Once again, we're taking a look at 1-3 YouTube channels (2 this month) with at least 50% of their content relating to local metal, hard rock, or punk musicians and/or concerts, in order to spotlight their material and media for current readers and encourage subscriptions therein! This month, our
random selections
have taken us to a major local concert from a decade ago, and a local band's solid run of shows a couple of years back, so here's what you should know!
----------------------------------------------------------------------------------------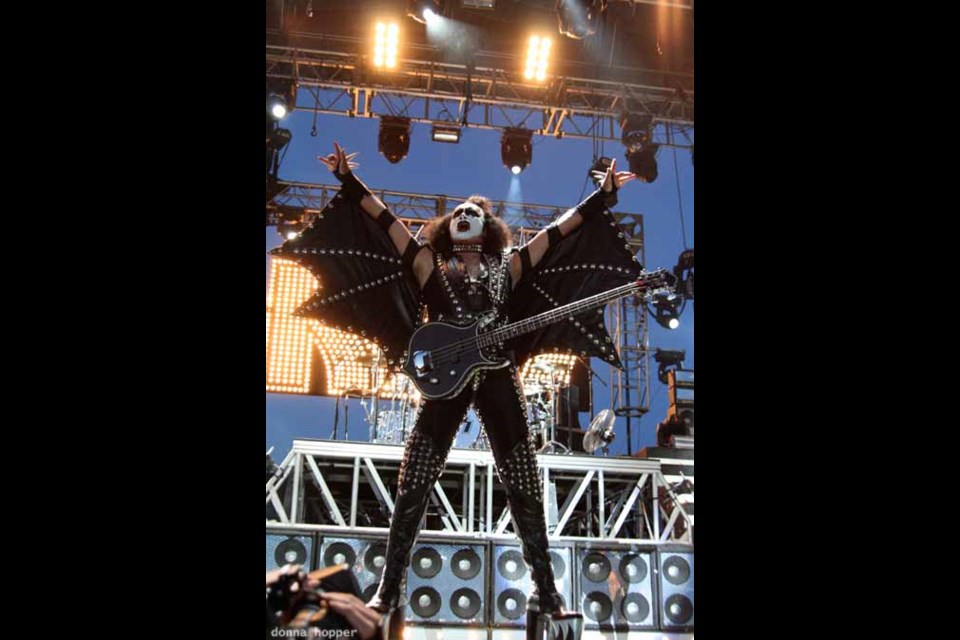 lukera81's Channel
(
http://www.youtube.com/lukera81
)
Owner:
YouTube user lukera81 (real identity unknown, but his first name may be Luke)
Channel Timeline:
Launched on August 23rd, 2007; Only video uploaded that same day
Channel Summary:
The only video on this channel is of New York hard rock legends
Kiss
playing their classic song "I Love It Loud" during their outdoor headlining concert at
Kewadin Casino
in Sault Michigan on July 20th, 2007. Filmed at a sharp angle to the stage, the video still has a good angle of the band and video monitor, but scratchy audio is ever present, and the "ultimate drunk Kiss fan" turns up at times to sing along (no word on if that's lukera81 or not.) Though not the best footage of this concert, it's worth checking out for Kiss fans even a decade later, but note that this channel hasn't been visibly updated since.
----------------------------------------------------------------------------------------
THE ELEMENTS sault
(
http://www.youtube.com/channel/UC2sX8uKsYq4S0xoQfCb0j4A
)
Owner:
A member of local funk/hard rock band
The Elements
(exact identity unknown)
Channel Timeline:
Launched on October 23rd, 2015; Videos posted from that day until November 1st of that year.
Channel Summary:
The official YouTube channel for The Elements, four videos were posted there in the fall of 2015, as culled from two separate Algonquin Pub concerts from that season.
Why You Should Watch:
Check this channel out for the only proven official YouTube channel from this talented hard rock/ska/funk fusion outfit, who are still playing live to this day! However, note that this channel hasn't been visibly updated since these uploads, and therefore does not have any content from 2016 and beyond, including their recent concerts with (de facto?) drummer Jonas Gasperas.
Our Recommended Videos To Check Out
Wynona's Big Brown Beaver cover by The Elements
:
The Elements' first and most popular video comes from their set at a Soup Kitchen benefit concert at The Algonquin Pub earlier in October 2015, with the video featuring them covering Primus' "Wynonna's Big Brown Beaver" Featuring their original lineup of singer Rob Speers, Handsome Sandwich bandmates Jesse Cook & James White on guitar & bass, and ex-Changing Waves drummer Alex Hagerman, the cover is suitably lively & funky, but the blur effect added in post production (in combination with the dark lighting) can be very distracting. For an alternate take of this cover, watch the end of
the Tuned with Donna Hopper episode
on this benefit from SooToday, which was co-produced and partially filmed by the aforementioned Rob Speers!
The Elements Halloween 2015
:
This channel's other three videos all come from their set at J.D. Pearce's annual Halloween Party at the same venue later that month, where the guys welcomed Josh Norling as a guest saxophonist for a block of (with one exception) Sublime covers. One video is of their rendition of
"Wrong Way"
, while
a longer set-closing video
features their versions of
"Saw Red"
(with an unidentified female guest singer),
"Same In The End"
, and their own original
"G20"
, though an unusually high side-stage camera angle & lengthy dead air don't help matters. Embedded below is this clip of The Elements covering
"Badfish"
and
"5446 That's My Number/Ball & Chain"
from an identical angle to the "Wrong Way" clip, and you get a nice and close look at the largely costumed band paying homage to the ska punk legends! Note that their multi-song videos share the same title.
----------------------------------------------------------------------------------------
I hope you guys liked this month's YouTube Channel Profiles! Next month in this series, we will again look at multiple YouTube channels, as the first
random
selection only has one SMS-relevant video, and so did the second, so we're tripling up for June! With that said, next month's profile will be on Life's Eclipse singer
David Mills' YouTube channel
(featuring one instrumental song), YouTube user
LudwigVaanArthans's channel
(featuring one Woods of Ypres song), and
meshayeah's channel
(featuring two Shit Liver videos from a 2014 private event), so look for these profiles on or around June 26th, and stay tuned for more news and note soon! Thanks everyone!