Before we begin our final post before our 10th anniversary (tomorrow!), here's a note regarding Sault Michigan classic/hard rock cover quartet
Highway 63
, who revealed on
their Facebook page
on Sunday that they are playing live
tonight
in De Tour Village at the pavilion there, possibly as entertainment after their
Independence Day 5K run
. We're not formally covering the show here as De Tour Village is outside of our coverage range (being 75 minutes from the Soo), but hopefully the show goes well as they end their spring break and finally signal the "travelling" they had teased!
Now, today's all-Sault Michigan post is on with some recent concert videos and a SHORT NOTICE LOCAL CONCERT ALERTS, so let's get things rolling with that new show, as local hard rock quartet
Project 906
will play a special Fourth of July concert TOMORROW NIGHT at...
the Kings Club Casino
in Brimley?! Apologies for the short notice, the band only announced this show via
it's Facebook event page
on Thursday. While no strangers to Bay Mills Resort & Casino (who also own Kings Club), this will be
Project 906
's first publically advertised trip a mile up West Lakeshore Drive to Kings Club, which was actually the first tribally owned casino in the United States, so there's history there! As per the event page, Project 906's set will be on this casino's back patio, though I can't confirm whether it connects to Chum's Cafe or not. It's great to see Project 906 back on a
public
stage after over a month away, so don't miss them at the other Brimley casino TOMORROW NIGHT!
An early 7:00 PM start time is in effect for this 21+ show, which has no announced cover charge. Check the above links for more details, and for a preview, here's some new videos from their private Sault Area High School class of 1997 reunion gig at
Moloney's Alley
last month! All shared via
the downtown bar's Facebook page
last week, two videos are of the fireworks in honour of the 20th anniversary celebrations (nice precursor to the July holidays), with one featuring guitarist Joe Jenkins' rendition of
"The Star Spangled Banner"
, before starting The Foo Fighters' "Everlong", while the other video contains more of
"Everlong"
, though the latter is only 15 seconds and focuses on the fireworks over the band. The fireworks looked good, the reunion committee didn't skimp on them! Embedded below is Project 906 covering Poison's "Nothin' But A Good Time", and though this is also abbreviated (only capturing the solo and final chorus.)
Solid videos overall, despite not being optimal views of Project 906, but remember, the reunion and fireworks are the stars of these videos moreso than the band. Still nice to see some new footage, let alone at a venue we rarely cover on the SMS, so give Project 906's new videos a look above & below, and don't miss them at Kings Club Casino in Brimley TOMORROW!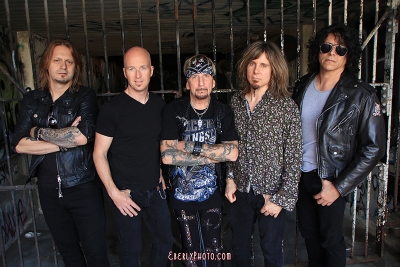 Finally for today, here's some new videos from
Jack Russell's Great White
's late notice opening set outside of
the Kewadin Shores Casino
in St. Ignace last month! Filmed by YouTube user spiritinthesky blue and uploaded to
her YouTube channel
on Tuesday, she had some backstage access of some kind to the outdoor concert, so in her concert videos, you'll see some different and unique angles than you might otherwise see, rather than sticking to one static location. Spirit (I guess you'd call her?) filmed this version of Great White covering Ian Hunter's
"Once Bitten, Twice Shy"
and Led Zeppelin's
"Immigrant Song"
, as well as playing their originals
"Save Your Love"
,
"Lady Red Light"
, and
"Call It Rock 'N Roll"
, plus
this pre-set video
where the band are practicing and setting up, and she remarks on what to expect and being backstage for the show. Embedded here is a two song, 12 minute video of Jack and company so can you find in this clip?
Here, you'll see the band playing
"Mista Bone"
(with Jimi Hendrix "Voodoo Child" interlude) and
"Rock Me"
, so click each song name to hear the individual song. Overall, these videos are solid quality and capture Jack Russell's Great White in fine form, even though with the nightfall, there's still no obvious way to tell that this was an outdoor concert! The alternate camera angles are a nice touch to see more of the stage from angles you wouldn't expect, so keep all of them in mind above & below! Note however that she didn't upload anything from Lita Ford's headlining set.
There is one more video from this channel that I'll show separately just to spread things out, but here's a final video to close, as "Spirit" informally interviewed frontman Jack Russell backstage for one of her YouTube uploads! The video features Jack being questioned about the meet & greet to come, his upcoming autobiography, and some general praise for himself and his talents. Loose and candid, it's a nice look at the show and Jack's open and friendly nature before their set, so give it a look below as well!
That's all for today, but stay tuned for a special post TOMORROW to commemorate our 10th anniversary! Thanks everyone!