Here's another new post for your Thursday morning, and while we're mostly tackling this weekend's final slate of hard rock concert previews for 2017, we also have a new album release and a new video upload to round things out! Note that we are holding our preview of Soundcheck's New Year's Eve concert at The Esquire Club for our next news post due to it's Sunday night placement, so we can cover it closer to showtime. Now, here's what you should know for this weekend's concerts before the 31st!
We'll start with the final regular weekly concerts of 2017 for former Caveman Morrison frontman
Tym Morrison
, who will return to
Gliss Steak & Seafood
for another matinee trifecta TONIGHT, TOMORROW, and SATURDAY! A continually reliable sight over a fairly quiet weekend to end the year (at least for hard rock shows in the area), Tym's skilled and well-tested brand of acoustic hard rock covers should provide another entertaining weekend of music over the next few evenings! Note that there isn't a Facebook event page for these shows as of this writing, but the shows are advertised on
SooToday's event calendar
. Also, while Gliss is holding
a New Year's party
again on Sunday night, the musical performer for that will be The Paul Dellavedova Band for a third straight year, so keep that in mind if you want to end 2017 with the blues! As for Tym's threepeat of unplugged shows from tonight through Saturday, expect 6:00 PM start times, no announced cover charge, and no age limit. See above for details, and here's Tym live!
Next up, let's head to the E.U.P. for the final major original hard rock show in the area for 2017, as British Columbia hard rock/post-grunge quartet
Theory of a Deadman
will return to The Dreammaker's Theater at
the Sault Michigan Kewadin Casino
THIS SATURDAY NIGHT! Previously seen at this venue with headlining dates in 2012 & 2015, this platinum selling band (alternately known just as Theory in recent materials) are touring in support of their softer new album "Wake Up Call", and with familiar songs like "Lowlife", "Santa Monica", and "Rx (Medicate)", there should be something for fans across their run on Saturday! The openers will be Munising hard rock quartet
Infathom
(featuring former Soo resident Dillion Semasky on vocals), in their first concert appearance in the E.U.P. since playing in Brimley last March. Huge opportunity for Infathom, and hopefully they make a big impression on the big stage in a couple of nights' time! This show is presented once again by
Allstar Promotions
, so kudos for getting them back here!
Tickets for this show were $34.50, but the show is advertised as being
sold out
, so I'd recommend calling
1-800-KEWADIN
in case anything opens up in the next few days. The concert proper starts at 7:00 PM on Saturday, and there are no announced age limits. While I'm admittedly not a huge Theory (of a Deadman) fan, I appreciate them taking a risk with a more original sound on this new album, and hopefully it's as big of a hit as the sold-out tickets imply! Visit
the official Facebook event page
for more details, and here's Theory live earlier this year!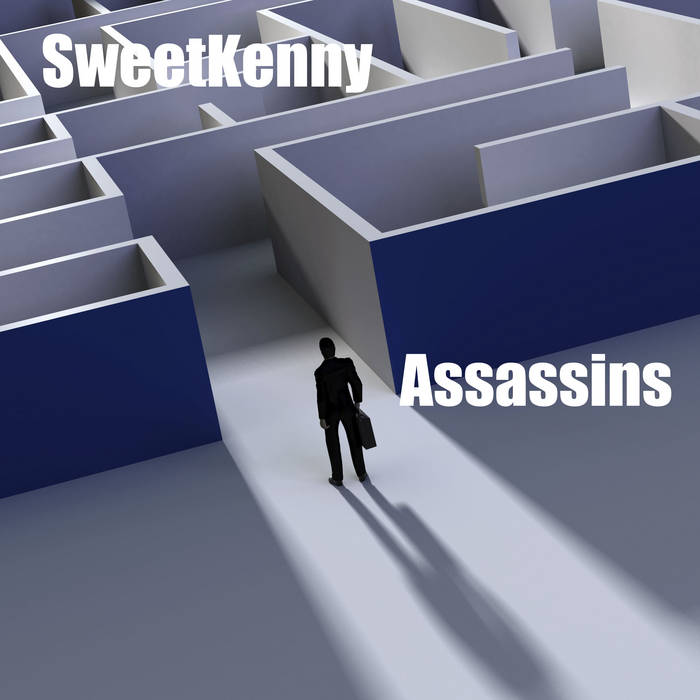 Also today, here's a surprise new album release, as Dafter hard rock singer/guitarist Ken
"SweetKenny"
Sutton quietly released his 23rd solo album
"Assassins"
on December 11th! His first solo album since August's
"The Dogs Are Watching"
(which curiously still isn't on
his Bandcamp page
), this album is his
tenth
to primarily function as a score for use in movies, TV, or video games, so fans hoping for a true follow-up to his last traditional album "In Your Face" will have to look to 2018 for the next one, maybe. Ken describes the album as being about the title characters being sent to kill a girl who knows too much about them, and whose father is also a former colleague of theirs, which contrasts the album's peculiar subtitle on
Sweetkenny's website
(
"A Comedy Album"
?!) You can buy "Assassins" digitally for $7 on Bandcamp, among other sources for varying prices seen at the above links. I'll hold comments on the album towards a potential album review, but fans of his scores will want to give "Assassins" a listen at the above links!
In terms of a SweetKenny album review... if you're wondering why we didn't review "The Dogs Are Watching" in November given the end of our 6 month anti-bias buffer (post-"Epic"), it's because I honestly forgot about it. To make up for that, I
will
review a SweetKenny album on the site to start 2017, and I am going to stick with "The Dogs Are Watching", due to it's still recent release, and it being slightly heavier than both "Assassins' & his
next
album
"Escape of the Desert Rat"
, which can be streamed on his website in advance of it's January 10th release. Stay tuned for more on that album next month, plus our next SweetKenny CD review!
Finally for today, here's a new video from Sault Ontario hard rock solo artist
Mike McCleary's YouTube channel
, as uploaded last week! A nicely edited music video for his song "Be The One", this features lots of interesting visuals that allude to the lyrics (displayed on screen), this has a gritty yet upbeat sound that showcases his musical diversity well, so give it a look below, and stay tuned for more from Mike's solo project!
That's all for now, but stay tuned for our review of last night's Guy Thiffault memorial concert on the site next! Thanks everyone!