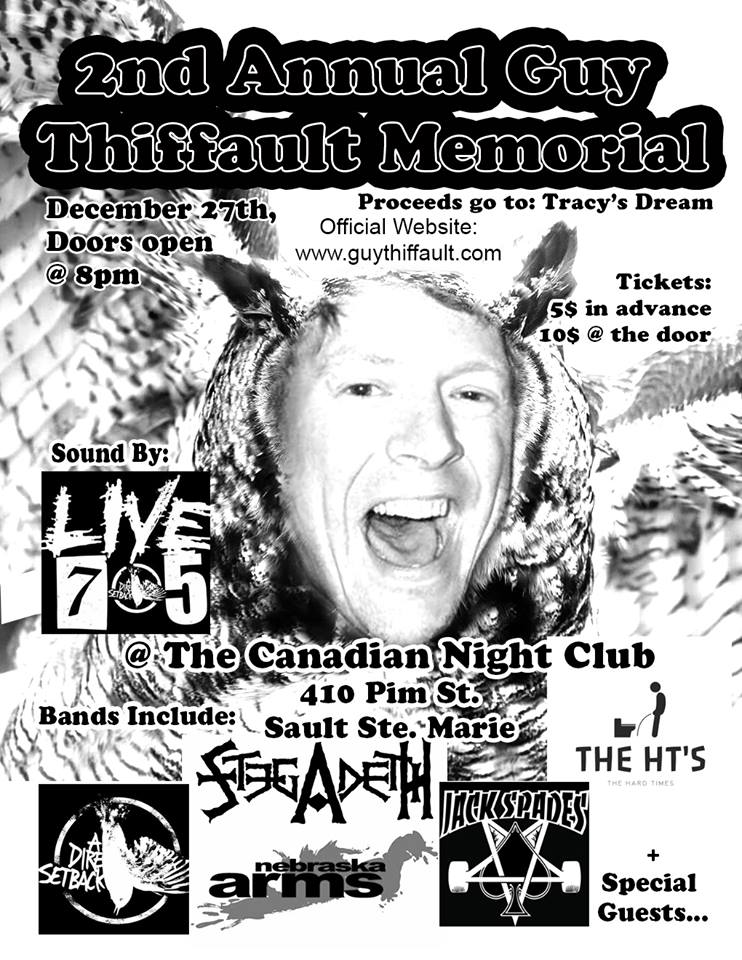 Hey everyone, it's finally time for our review of Wednesday night's second annual Guy Thiffault Memorial Concert! Moving to
The Canadian Nightclub
this year after rocking The Rockstar Bar last year, I am pleased to report that parking lot renovations aren't as widespread as they were a few months ago, as patrons could get through the normal entrance to the downstairs venue, though actual parking space was still limited. Solid turnout, especially in time for the final 2 or 3 bands, with loads of familiar faces seen for both recent local music fans and veterans alike, and it's great to see that over the holiday season! This is also the first time I've been at The Canadian for a show with
Northern Axperts
' ax throwing cage open for business concurrently, and while it does eat up floor space, there wasn't any massive distraction from hearing axes hitting their target, so that worked out in and of itself!
Live705
were on hand to provide sound, and like last year, Slumshine frontman Brenton Ellis raffled off another original painting for the cause.
Jack Spades frontman J.D. Pearce even brought an SNES Classic and TV for people to play, which was a nice touch during breaks! And before we get into the bands, just a note that advertised DJs
The Dub Selectah
and Manskirt solely provided the house music beside the stage and did not have a Seith-esque formal DJ set during the night. I'm not a massive reggae fan, but the jams seemed to go over well in between bands!
Opening Wednesday night's festivities were local punk cover quartet Talk Shit in their first public concert set since last year's Guy memorial, and while I don't know where they've been in 2017, they kicked things into gear with a solid set to start the night off! Covering a range of punk bands like NOFX, SNFU, and Teenage Bottlerocket, this online page-less band seemed as energetic and carefree as they did last year, and despite their recent dormancy, I think they may have been a little tighter than before, with Marc Lafrance and Steve Shaw especially rocking out well on guitar! The biggest difference was that bassist Ian Robinson was back in the Talk Shit fold after missing last year's memorial (Mark Rand filled in that night), and he slid in nicely with some solid grooves! This time around, the guys roughly divided up lead vocal duties between the entire band, and while everyone sounded good, Ian had a welcome ferocious bite that metalheads would appreciate! Solid return for Talk Shit, and hopefully we see them more often in the new year!
Next was local punk trio
Stegadeth
in their first public concert appearance since Bear Hunters drummer Johnny Belanger took over for the departed Daniel MacDonald, so how did he fit in with his new band? Well, if you're familiar with his and guitarist Tiffany Stocco's prior (and beyond...) chemistry in Jack Spades, plus his existing skill level, you'll know he fit in nicely! If anything has been added, it's increased backing vocals, as Johnny helped give some extra vocal harmonies that didn't hurt the proceedings at all! Playing originals like "Kingdom of Ashes" and covers of everyone from Bad Religion to The Ramones to GG Allin, Stegadeth were on point from where I saw them last year, and while Tiffany still needs to seem more confident in her vocal delivery, Bill Bennett's snarl and aggression were in full force! Their set was poignantly capped off (post-delay) by a cover of SNFU's "Fate" in Guy's memory, as Stegadeth had done last winter as well, and hopefully we'll see much more from Stegadeth in 2018!
Now, I have to address a shocking incident that took place late in Stegadeth's set, as an attendee abruptly decided to
leap into the drumkit
during their version of "She Banged The Mayor". As a result, Stegadeth's set was cut short by 3 songs, and there was a 20+ minute delay for repairs to the kit (owned & provided by A Dire Setback's Nick Kainula), while the attendee was removed by security and the police were called down over the incident. I won't go deeper here, but there is a video and lots of discussion on social media if you know where to look. Unfortunate and needless all around, but at least the show was able to go on, and hopefully everything is resolved!
Once Nick's drumkit was operational again, his band
A Dire Setback
took the stage for their first set since the departure of original singer Larry Babic this fall, so how did the alt-punk band sound in their first outing as a trio? As I surmised at the time, guitarist Chris Nielsen is now A.D.S.' lead singer, and given his prior work as their backing vocalist, he was a fine choice to take over the role! He has a good punk tone to his singing, and while more reserved than his scream-peppered backing vocals may lead you to think, he should grow into the role in the ensuing months! Bassist Matt Quinn took over backing vocals, and while he needs to bump up the energy a little bit, is it off base to note that I was reminded of Serj Tankian when he projected his voice? Aside from their opening song (labelled as "Endless" on their setlist), A Dire Setback stuck to established originals like "Forget This Memory" & "Kicking & Screaming", and the music held up nicely, but there is room to develop the band's new vocal attack when we see them live next!
Local punk/metal quintet
Jack Spades
took the stage next, and as previously teased in Christmas photos on
their Facebook page
, they had two lineup reversions to reveal on Wednesday, as they have welcomed back Stegadeth's Tiffany Stocco & Johnny Belanger on rhythm guitar & drums, replacing their initial replacements, Anthony Orazietti and Chris Thompson. Reasons for Tony and Chris' departures have not been publically announced, but hopefully nothing bad happened, and don't miss Chris with Eclipse! This brings Johnny and founding member Tiffany back to the band for the first time since their departures last year, and it's great to see them back in the fold! As for the set proper, it went over very well for fans of any Jack Spades lineup permutation, with originals like "Rise", "Crossroads", and their newest "Cenobites" on full display alongside covers of bands like Turbonegro and The Ripcordz, and everyone held up their end of the bargain!
Daniel Horton shone on lead guitar in particular, bassist Rob Speers (in repurposed Frightlight vest) is coming into his own, and J.D. Pearce remains a commanding presence on vocals, be it on stage or mingling with fans on the floor! In a lineup that's now a hybrid of their classic era and late 2017 manifestation, it'll be interesting to see how Jack Spades does in the coming months! After Jack Spades' set, fans were surprised to see former Bankshot guitarist Christian Pasiak take the stage for an unadvertised solo set. This lined up with some personal Facebook plugs that implied that his Ottawa-based indie/pop rock trio
Sleepy & The Noise
would be making their local debut on Wednesday, so I presume this mini-set was what was being alluded to. I'm not highly familiar with Sleepy & The Noise, so I don't know if the songs he played were from that band, but he has a good voice for the softer music on display! All I'll add is that I think an acoustic guitar would have meshed with the songs better.
The advertised headline act was next, that being a one-off reunion of Guy Thiffault's old indie punk band
Nebraska Arms
, though playing a full 7 song set rather than their brief 2 song turn last year! As you may recall, the band played with guest bassist Mark Rand last year while guitarist Wayne Watkins handled lead vocals, but both roles went to Wayne's former Northwest bandmate Clint Wilson (recently of Late Shift) this time around, though Wayne did sing lead on their penultimate track. Clint's bass ability is no secret, but this was the first time that I can recall him fronting a band, and he was more than capable in this guest appearance, even seeming to channel Guy at times vocally! Playing familiar songs like "New Jersey Kneecap" and "Art of Science" plus a Hot Water Music cover, it was great to see Wayne, Dave, and Adam back together again for the occasion, and they hadn't lost the energetic spark that radiated through Nebraska Arms shows circa 2009!
Nebraska Arms' set closed with a rendition of "I Was A Writer" where they were joined by Clint's HTs bandmate (and this concert's promoter) Lucas "Sal Velinus" Schmiedendorf on vocals, foreshadowing their upcoming set together. Lucas was relying on a lyric sheet, so his performance wasn't as loose as it may have otherwise been, but he acquitted himself well to help close out their set, and kudos to him for putting this show on!
Surprisingly, the show closed with Lucas & Clint's new local punk band The HTs in just their second live concert appearance, but before their set proper could begin.... remember how event advertising listed an act named "BS" as special guests? My educated guess going in was that they meant Guy's last major band The
B
usiness
S
uit Trappers, who also played two songs last year, but I should have been thinking over a decade earlier, as "BS" stood for
Bankshot
, the acclaimed late 1990s local punk band! Yes, we got a partial Bankshot reunion to kick off The HTs set, with Lucas and Clint joined by the aforementioned Christian Pasiak, though unfortunately, neither singer Ron Pelletier or bassist Neil Vallee were able to participate. In their place, Christian took over lead vocals, while HTs bassist Ryan Disano filled in for their songs. Bankshot's run was before my time locally (I was 11 when they disbanded), but you can tell that it was a thrill for fans to see them live again, and for the guys to play their songs again, if only for a few minutes!
Outside of the "Angst For The Memories" CD, I don't have any memories of Bankshot as they were in their heyday, but their performance was fun, and Christian's vocals suited what they played! Ryan was tucked in the back a little too much and didn't seem to show a lot of energy, but as a passive younger observer, it looked like the reunion delivered, and if only Guy could be here to see it! When their mini-set ended, Christian traded places with regular HTs guitarist Andre LeBlanc, so what can be said about The HTs for our first time seeing them in a non-tribute band setting? There's room for some polish, but they are a new band, and they delivered a fun selection of punk classics and local throwbacks to close the night! Alongside renditions of NOFX and Rancid songs, they threw in some renditions of old Hangdowns classics like "Self Bortrait", "Bunch of Jerks", and (of course) "Fire Ban", which is a great gesture to Guy's memory for his family & friends!
Lucas sang lead capably and with attitude during their set, as fans of his old bands will expect, Andre's guitar work was a solid compliment, and Ryan showed more life and enthusiasm for the HTs set proper, and while they can tighten things up a little and engage the crowd a little more, you couldn't ask for a bigger first show (not counting Halloween), and hopefully we hear much more from The HTs in the new year! Overall, while there were some hang-ups during the night (the drumkit incident primary among them), this was a fun show and a great way to remember Guy and help raise funds for the Tracy's Dream charity, and hopefully everyone had a great time! It's interesting to note that every band that played on Wednesday (besides The HTs) was playing with a different lineup than when we last saw them, so for me at least, an intriguing hook was how each band would sound, and everyone delivered in different ways, be it permanent or with guests!
Hopefully plans remain in place to hold a third memorial show for Guy in 2018, and while I didn't know him that well, I hope he'd have enjoyed and been honoured by Wednesday night's entertainment! You can check out our photos and videos from the show at
this link
or at
our Facebook page
, but just as a disclaimer, I was forced to film every band after Stegadeth with my tablet's camera due to my normal concert camera having very untimely SD card read errors prior to A Dire Setback's set. Any connection to the drumkit incident is coincidental, I was as shocked as everyone else! This was my first time ever extensively using my tablet for photography or concert videos (I brought it to take notes with), so I apologize if the quality is inferior to our usual work, this will not become a common occurrence. I have already discarded the faulty camera, and have better cameras here to use next time! As for our videos, here's Talk Shit covering Bigwig's "Flavor Ice", Stegadeth playing "The Wire",...
...A Dire Setback playing "Faded", Jack Spades covering The Inner City Surfers' "Ten Commandments", Christian Pasiak playing a song whose name I didn't get
(can you help title it?
), Nebraska Arms playing "Lighthouses", Bankshot playing "Friendly Foe", and The HTs covering Cat Stevens' "Wild World"! No, Christian's video isn't sideways, that's a thumbnail error.
That's all for today, but stay tuned for more news and our 2017 retrospective post soon! Thanks everyone!