In what I project to be our last news post before Christmas Day, we're devoting things solely to two big concerts taking place just after Santa's big voyage, with new notes on each to touch on, including a new video find! Now, here's what you should know for your post-Christmas concert plans!
(Updated on December 26th)
We'll start our special post-Christmas concert previews with the CD release show for former Pixo Control frontman
Mike Mikus
THIS TUESDAY NIGHT at
LopLops Lounge
, featuring alternative/hard rock quartet
Id Iota
as one of the opening bands! After an over 5 month hiatus from the local stage since moving to Montreal, Mike came home for the holidays with a well received acoustic show at The Rad Zone this weekend, and will break out the full electric live experience on Boxing Day, so fans of his alt/pop rock-styled solo material should definitely consider a trip to LopLops to see him again and buy his self-titled debut solo album! For reference, prior solo and Pixo Control bandmates Dustin Goodall and Keeghan Rosso will return to back him up alongside guest keyboardist Chloe Moore (as cited at
this link
.) Also, for fans of The Pixo Control, the new CD includes a pair of songs intended for that band's unreleased second album, which are "Electric Fetus" & "Plastic Veggies", so you'll get a few heavier songs on Boxing Day!
Id Iota (featuring Dustin Goodall again) will themselves be returning to the stage for the first time in 5 months with new material of their own, while indie/pop duo
All Us Others
(who played with both acts at Rotaryfest Stage 2 this year) will open the show, so come early for their rising sound! This special concert has a 19+ age limit, 10:00 PM start time, and $10 admission fee, or $5 if you have student ID (add $5 for a digital download copy of Mike's album!) It's great to have Mike and Id Iota back for the holidays, and hopefully the release party's a blast, so visit
the official Facebook event page
for more details, and in lieu of Dustin's sadly-now-deleted video of Mike and company covering The Pixo Control's "Potpourri" at his local farewell show in July, here's an alternate video of that same song from the crowd! Dustin's video was solid, hopefully it returns online down the road!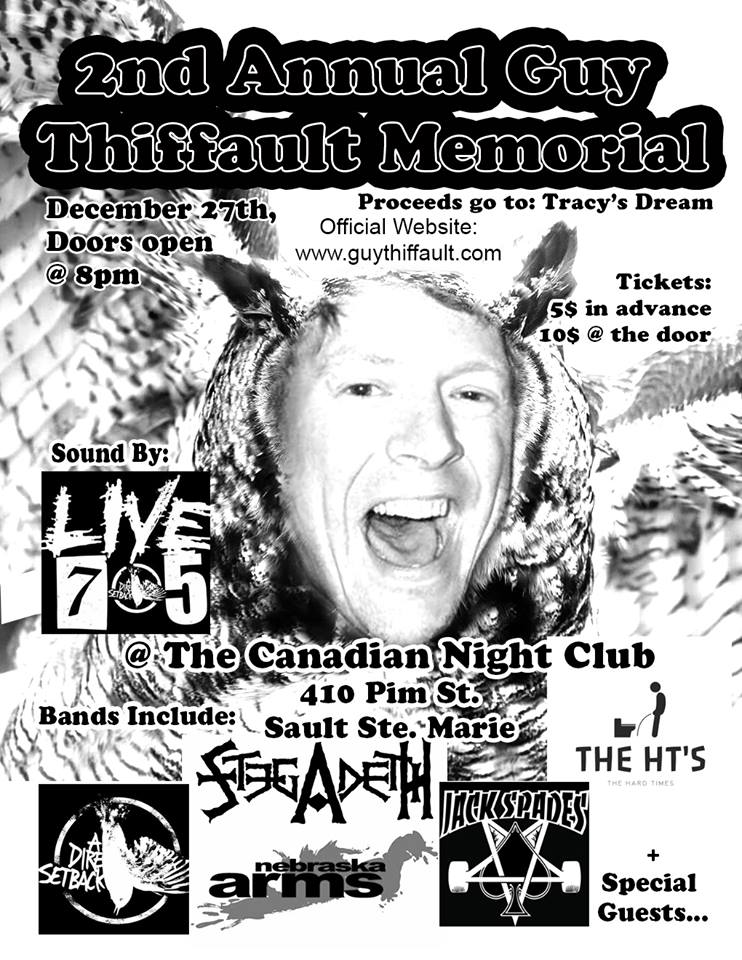 Next up, here's our other special mid-week concert preview for you hard rock and punk fans, as the second annual
Guy Thiffault Memorial Concert
goes down THIS WEDNESDAY NIGHT! Moving to
The Canadian Nightclub
(in spite of parking lot renovations) after holding last year's event at The Rockstar Bar, this concert will again pay tribute to late Hangdowns/Business Suit Trappers frontman
Guy Thiffault
, whose passing last December paved the way for this hastily booked but overwhelmingly successful tribute show, and it's great to see it back for year #2 with more advance word! This year's installment will be headlined by a one-off reunion of Guy's old indie/punk band
Nebraska Arms
, who played a brief 2 song set last year, and it'll be interesting to see how Wayne, Dave, and Adam do with more time on Wednesday! Local punk/metal quintet
Jack Spades
will also take the stage for a hard hitting set of their own originals, and it's great to see them on this year's bill!
New local punk quartet The HTs (featuring Bankshot, Northwest, Quasar, and Caveman Morrison alumni) will play their first non-Gimme Gimmes tribute set on Wednesday as well, so come on down to hear them for yourself, especially with no public media online yet! Remaining announced bands are all returnees from last year, including punk trio
Stegadeth
(in their debut appearance with Johnny Belanger on drums), alt-punk trio
A Dire Setback
(in their first show since the departure of original singer Larry Babic), and in a new confirmation on
the Facebook event page
on Thursday, online page-less punk quartet Talk Shit! As you may recall, this band reunited last fall after a 7 year breakup, but they'd been very quiet throughout 2017, so how will they look and sound in their first show in a year? Be at The Canadian on Wednesday to find out! Promoter/HTs frontman Lucas "Sal Velinus" Schmiedendorf also revealed that DJs
The Dub Selectah
and Manskirt will be on hand to spin tunes between bands, so keep them in mind as the music pumps all night long!
Special guests are teased on the poster and event page, though the only one credited beyond the DJs is "B.S." Could this stand for
"Business Suit" (Trappers)
, as in an encore reunion of Guy's last major band? Time will tell! This event will see all proceeds going to
Tracy's Dream
, a local chariy that helps pay for Sault Area Hospital parking for those with serious medical need, which is a great gesture! Admission for this concert is $5 in advance (which you can buy online at
this link
) or $10 at the door, this is a 19+ event, and doors open at 8:00 PM. The partnership
with Driverseat towards getting a discount on desginated drivers to get you home is still a thing, so visit the event page for details on Wednesday if this interests you, and once again, The Canadian is open during the parking lot renovations. There are signs up noting how you can pull into the property and enter the venue, so don't let things scare you away!
This should be another great show to honour Guy's memory, and hopefully there's a high turnout to rock out with this stacked lineup of local punk talent! Visit the above links for more details, stay tuned for this month's YouTube Channel Profile on the site next and here's Nebraska Arms live last year! Merry Christmas and/or Happy Holidays, everyone!