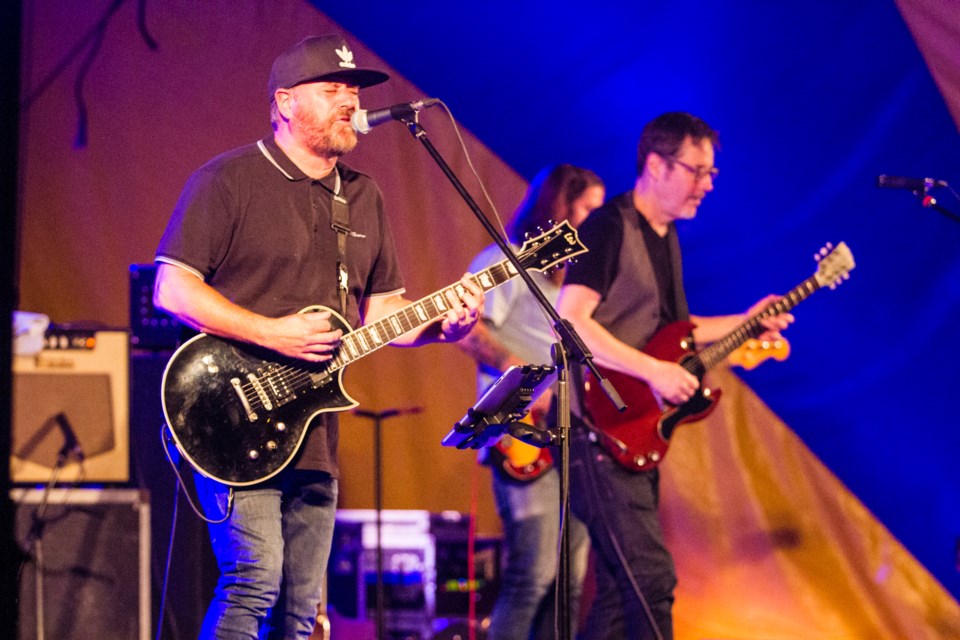 At long last, here is our
Rotaryfest
fallout post concerning musical action on Stages 1 & 2, so what is there to say from this year's installment of the Soo's summer festival? Well, let's start with local news coverage, starting with Stage 2 presenting sponsors
SooToday
, they were definitely on hand for this year's Rotaryfest, with correspondent James Hopkin getting 18 quality photos of Thursday night acts on both stages for
this article
, including some identical acts as Brian Kelly's Sault Star album (more on that soon.) Donna Hopper was on hand for
Treble Charger
's headlining set on Friday, snapping 18 photos of the local/Toronto indie/punk veterans for
this article
, while also including some remarks on the set. Bill reportedly introduced their performance of their song "Drive" by noting that it was "the last song on our last album ("Detox"), but it might not be our last album."
There had been scattered teasers in recent years that Treble Charger were planning to record a new album, so is this more fuel for the fire, or just a hopeful nudge? Donna's photos are predictably excellent, so give hers and James' a look above, and we'll have more local news coverage soon!
Video-wise, there isn't as much currently online as you may expect, but hopefully that will change. Of course, Sault Online haven't posted videos of the full Stage 1 lineup since 2016, though maybe with their new ONNtv service, there's some exclusive content there? Also, keep in mind the rainy conditions that persisted on Saturday, which may have impaired many Rotaryfest attendees' efforts to attempt filming certain bands. There is a SooToday video, but we'll hold that for our next post to spread things out, as there is a YouTube channel with a couple of concert videos from Rotaryfest weekend to cover! These come from veteran local musician Randy "Dutch" Vanderploeg (of Browbeat, Nikkfitt, and Caveman Morrison fame), who has recently been vlogging for his channel
Randy's Rides
, where he takes his e-bike around the city to tell stories about the city and showcase it's sights. Great idea, I'll definitely have to see more of his videos!
Randy posted three videos from the festival on YouTube, with
the first
largely focused on his ride to the festival and his footage from the car show, with the only musical tie being some video of the Saturday lineup announcement on Stage 1. His first video with a musical performance is of the aforementioned Treble Charger playing their opening song "How She Died" on Friday, though there was an odd moment where the MC was corrected as to who's drumming for Treble Charger. The festival program credited Richard Mulligan as their current live drummer, seemingly backing up Wikipedia edits, but their actual drummer on Friday was prolific London musician Ian MacKay, who also played with Treble Charger in Brantford last summer. Is Richard just a studio musician, or is their Wikipedia page just a victim of unsourced updates? For what it's worth, Wikipedia also says that Rosie Martin's back on bass, even though Darcy Yates played at Rotaryfest as advertised.
Maybe Greig or Bill should do one of those "Wikipedia: Fact or Fiction" videos? In any event, Randy's video is solid and captures Treble Charger in fine form, with Dutch at a good close angle of the band, so fans will be well served to check this video out below!
Randy's other video is of Rotaryfest on Saturday, which he had intended to be longer and more all-encompassing, particularly with footage of The Stampeders, but the heavy rain wrecked those plans, which I can fully relate with! However, he did film a video of local funk/hard rock quartet
The Elements
(and guest saxophonist Josh Norling) playing an apparent original song that afternoon on the Second Stage from two different angles. Remember, Dutch & bassist James White were long-time bandmates. The far angle of the whole stage is
much
better than the close-up angle for audio quality (I fear that the rain was partly to blame with it), but luckily, that's only the view for under 40 seconds. As for the song proper, it's a solid mid-tempo number with a casual feel balanced out by gritty low singing from Rob Speers, so fans will want to check it out below!
That's all for today, but stay tuned for more Rotaryfest fallout and other news in the coming days! Thanks everyone!