Here's this month's Defunct Local Band Profile, but with a late change of band! Last month, we had
randomly chosen
Sykotyk Rampage
for our next band in this spotlight series on inactive local metal, hard rock, and punk bands, as they were seemingly still on hiatus. As it turns out, they have in fact released
their first "album" in over a year
, and are back in our active band links (more on that this week), so I have opted to change this month's featured defunct/inactive band. Like with similar past situations, I picked the closest alphabetical band that we hadn't previously profiled in this series, who should be familiar from our early years, so here's what you should know!
-----------------------------------------------------------------------------------
Sue Inside
Genre:
Death Metal/Hard Rock/Folk
Hometown:
Sault Ste. Marie/Oil Springs, Ontario
Members
:
Shane Lipsit-Fraser (Paricide), vocals/guitar
Adam Veen (Dog Patch, Paricide,
The Mudd Buttons

), bass/guitar/vocals
Jeff Vogel, drums
Audio/Video
:
Though Sue Inside never released a formal studio album in either of their hometowns, a fair amount of original material survives from their run, including 8 original song demos on
their CBC Music page
. Shane and Adam's respective YouTube channels (linked
here
&
here
) feature a number of Oil Springs-era videos from the early 2010s, though Shane's are primarily of an informal acoustic variety sans Jeff, and some of Adam's are cover performances, while I can't find any live videos of Sue Inside from their late 2000s local tenure. Here's the 2012 music video for their song "Caligula (Extra Cheese)" from
the band's YouTube channel
!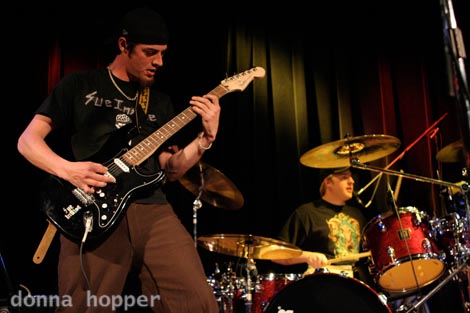 Info/Analysis
:
Formed by then-Sault College students Shane Fraser and Jeff Vogel in early 2007, non-alumni will best know Sue Inside locally from their sets as an extreme metal duo at the Skid Row and YMCA Battles of the Bands in April 2008 & March 2009, though they didn't place in either event. The band moved along with Shane and Jeff to Southern Ontario in mid-2009, where they enlisted Shane's former Paricide bandmate Adam Veen to round out their lineup. Sporadic activity would follow over the next three years, largely via solo and jam session videos, though the guys did play the occasional Sarnia-area concert during this time. The group quietly dissolved following the "Caligula" video release in 2012, though Adam remains musically active in Oil Springs. As a local band, Sue Inside honestly came onto the local scene about 6 years too soon, as they'd have fit right in with the mid-2010s rise of two man metal projects in this city with their brutal minimalist sound!
While raw and unpolished in the Soo, Shane and Jeff harboured good chemistry in their battle sets. Sue Inside's Oil Springs tenure saw a nice expansion of their horizons to softer acoustic material like "Hogtail Juice" and "Saved on T.V.s", while also retaining a fuller metal edge on select tracks, with Adam a key factor at this time. The guys are now spread out across the province, but hopefully Sue Inside resurfaces in some form down the road, they were definitely ahead of their time locally!
-----------------------------------------------------------------------------------
I hope you guys liked this month's Defunct Local Band Profile! Next month in this series, we'll be looking at two bands for the second time this year, as the first randomly chosen band doesn't have enough material to warrant a solo profile, so a Sault Michigan act in a similar state was chosen to round things out and close this 10 band

2

-

1

-

3

-
1

-
2

-
1

cycle. As such, our next profiled bands will be ex-Fitswitch bassist Andrew MacDonald's LikeKissingBricks solo project and early 2000s metal project Hammerspace, so look for these on or around August 10th, and stay tuned for news and concert previews on The Sault Metal Scene soon! Thanks everyone!