I hope all of our Caandian readers are having a great Civic Holiday! Today on the site, we have some long overdue coverage of a unique new-ish record store, a lengthy full-set concert video, and leading off, a LOCAL CONCERT ALERT for later this month, so here's what you need to know!
Toronto pop punk quartet
Carried Away
will make their local concert debut on Tuesday, August 28th when they headline at
The Rockstar Bar
! Already making waves in Southern Ontario since their launch 3 years ago, this female fronted outfit have impressed fans with their high energy punk sound, complete with emo and alternative influences, and they should keep up their positive and proficient original material with Saultite fans in three weeks! The only announced opening band is Man Feelings, a new (and online page-less) local alternative rock band featuring Bizotic/Sounds From The Green Room alum B.J. Swire, though I don't know anything else about their lineup or sound. Other than a cancelled Downtown Street Party set last month, I have no other details on Man Feelings, but we'll let you know if we hear anything! This concert is a co-presentation of former A Dire Setback singer Larry Babic and photographer
Josh Pace
, in their first promotional booking of 2018.
This 19+ concert has a $5 cover charge, and it currently has an advertised start time of 8:00 PM, which may not be inaccurate given the work-week scheduling, but we'll let you know if it's actually later. The Tuesday night scheduling may not be optimal for many local punk fans, but if you can make it to The Rockstar Bar for this one, you should be musically rewarded! Visit
the official Facebook event page
for more details!
Next up, have you been hoping for some more videos from
Rotaryfest
's stages? Well, how does the entire Stage 1 set (more or less) from early-2010s classic/hard rock cover veterans Turner Up sound? Yes, the former Full Circle were the focus of this video from new local filmmakers
Passionate Wolf Productions
, as uploaded to
their YouTube channel
last week. After a nicely detailed introduction, Turner Up's set included covers of Led Zeppelin's "
Good Times, Bad Times"
, The Stone Temple Pilots'
"Plush"
, Billy Idol's
"Rebel Yell"
, April Wine's
"Just Between You & Me"
, Tommy Tutone's
"867-5309/Jenny"
, The Outfield's
"Your Love"
, April Wine's
"Sign of the Gypsy Queen"
, Velvet Revolver's
"Slither"
, and Paul McCartney & Wings'
"Band on the Run"
, so visit each link to hear each song. Travis Sharpe's between song banter was usually cut from the final upload, and the audio is often somewhat muffled, but the video quality is great otherwise here!
While this is a composite lineup from across Turner Up's prior runs (and Travis was previously their bassist, not singer), this performance seems to have been a success, and Passionate Wolf had a nice close angle of the action, but will this be the last we've seen of Turner Up? Give their Stage 1 set at Clergue Park a watch below, and don't miss Travis with Soundcheck in the interim!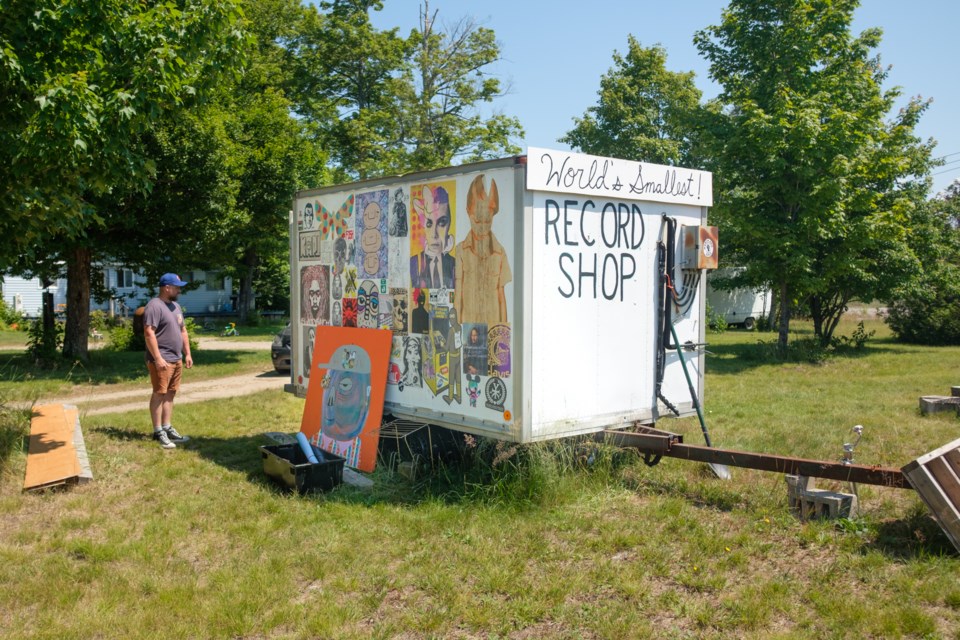 Also today, here's something that I admittedly should have acknowledged on the site long ago: A new local record store named
Oosik Records
! That said, it may be easy to miss, given that owner Al Bjornaa set it up in a
used meat trailer
, and it's believed to be the smallest record store in the world! I profusely apologize for the delay in covering this joint on the SMS, it has been open since June of
last year
, but better late than never! I can't find a firm address for Oosik Records, but it's home base is nearby Batchewana Bay along the highway. In it's trailer locale, Oosik (named for a specific part of whale anatomy in Inuit) plays host to hundreds of vinyl records and cassette tapes, plus books, art, stickers, patches, old record & tape players, and even vintage toys from local retailer Puke Skywalker. Hours are flexible to nonexistent at Oosik Records, with a come-and-go, pay-what-you-can model when Al's not around.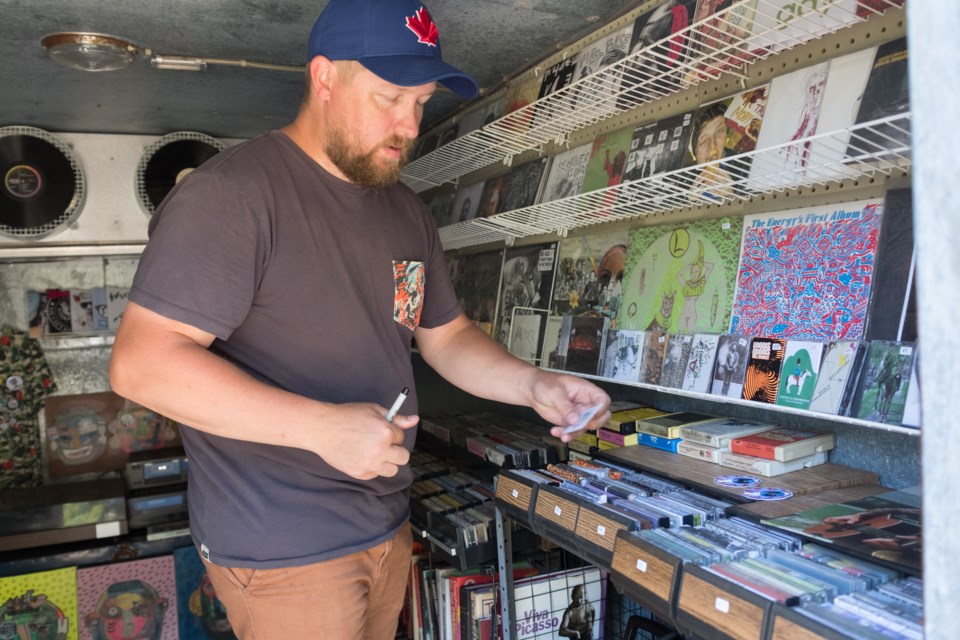 If you peruse the albums on past and present offer on
their Instagram page
, you'll find a ton of independent artists who I've never even heard of, plus many we all have, so you never know what you'll come across! And if a trip to Batchewana is too far or impractical, Al has brought stock with him for sale at Sault Ste. Marie events affiliated with Nicole Dyble's
Dryer Fire
promotion company, from the old Gore Street Cafe to her recent open mic, concert, and night martket events on the M.S. Norgoma. They even hosted an acoustic show at Oosik Records headquarters last month, so maybe more is on the horizon there in that regard? I don't have many Batchewana connections (partly hence why Oosik Records was off my radar for so long), but this definitely warrants a trip that direction! I like Al's ambition and generosity, and the eclectic selection is more than welcomed, so be sure to visit the above links and
this SooToday article
by Jeff Klassen for more on Oosik Records!
That's all for today, but stay tuned for more news and notes on the site this week! Thanks everyone!