Here's a new news post for your Monday, including last month's poll results, a new cover video, and leading off, a SHORT NOTICE LOCAL CONCERT ALERT for in a couple of days! Here's what you should know!
Traverse City, Michigan acoustic hard rock trio
Project 6
will (as far as I know) make their local concert debut THIS WEDNESDAY when they play a special afternoon set at the
Blarney Castle EZ Mart
convenience store in nearby Kincheloe! Apologies for the short notice, this concert was previously announced on Project 6 and related bands' concert schedules, but with it's atypical venue and timing, it fell through the cracks. Not to be confused with local hard rockers Project
906
, Project 6 is the (typically) unplugged side project from the members of Kewadin Casino lounge regulars
Scarkazm
, and while they will reportedly be playing with electric instruments on WEDNESDAY (as they have on prior EZ Mart gigs), they will still be playing as Project 6 with that band's setlist. I can't find any reference to Project 6 playing in the Upper Peninsula before, but I'd have never guessed their E.U.P. debut would be in Kincheloe, let alone at a convenience store!
This is part of the ongoing
Thank You Party tour
of customer appreciation events at EZ Mart locations in Northern Michigan, with free hot dogs and pop for attending customers and fans, among other frills, and this should be a fun mid-week attraction on WEDNESDAY! Note that Saginaw-based Elvis Presley tribute artist
Jake Slater
is the musical attraction at numerous stops on the EZ Mart tour, including Thursday's in Cedarville, but not in Kincheloe. WEDNESDAY'S concert at 4440 West M-80 is a FREE & ALL AGES event, with Project 6 on at 12:00 PM. Visit
the official Facebook event page
for more details, here's their Facebook promotional video!
Next up, here's the first new solo performance video on local/Manitoba solo hard rock artist
Mike Haggith's Facebook page
in over two months, namely a cover of Daniel Johnston's "Some Things Last A Long Time"! Thematically inspired by Lana Del Ray's later cover, this is a well performed cover with Mike nicely using his emotional higher register vocal style, so fans of Mike's softer output should get a kick out of this cover1 Give it a look below, and stay tuned for updates on his next solo album!
Finally, here's the results for last month's poll on the SMS, where we posed this question to you guys:
What was your favourite metal, hard rock, or punk concert in the first half of 2018?
Despite including fewer shows, vote totals were unfortunately decreased to match, with only
four
votes being cast. The results do have a clear winner, so thanks to the four of you who did vote, and here's the final tally as of yesterday's closure!
I Mother Earth at The Machine Shop on April 18th (2 votes, 50%)
Archelon and Doors & Fours at The Rockstar Bar on March 10th (1 vote, 25%)
Big Wreck at The Machine Shop on February 13th (1 vote, 25%)
Joni Radford Benefit at The Canadian on January 13th (0 votes)
Punk Covers Night at LopLops Lounge on March 3rd (0 votes)
Jesse Merineau & The Tide at The Speak Easy on March 22nd (0 votes)
Shit Liver & Stegadeth at The Rednecks Saloon on April 6th (0 votes)
Who Made Who at The Rockstar Bar on April 6th (0 votes)
The Steves & A Dire Setback at LopLops Lounge on May 2nd (0 votes)
Id Iota & Pointless at LopLops Lounge on May 19th (0 votes)
All The Wasted Years at The Rockstar Bar on June 1st (0 votes)
Jesse Stewart & Jack Spades at Low & Slow on June 8th (0 votes)
The Cover-Up at LopLops Lounge on June 15th (0 votes)
The Elements at The Rockstar Bar on June 16th (0 votes)
Go Skateboarding Day at Queen Elizabeth Park on June 21st (0 votes)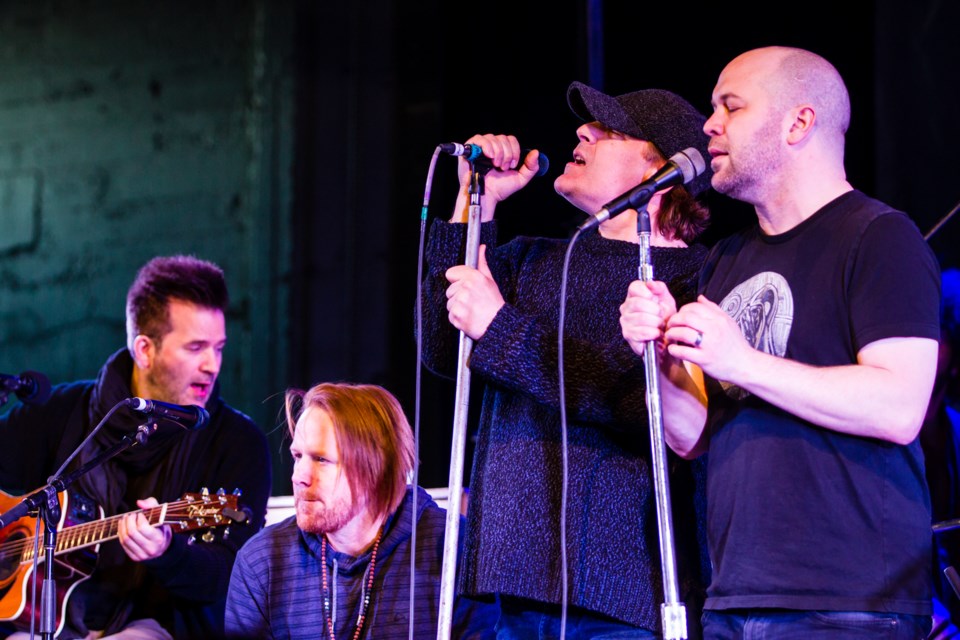 What do you guys think? Well, it's clear that, as far as the voters in this poll went, concerts with mutiple out of town headliners won the day here, with all but one going for one of the major Machine Shop hard rock concerts earlier in 2018. Both the Big Wreck and I Mother Earth concerts were well attended major events, so I'm not surprised they did so well, while i was nice to see someone throw a bone to the Archelon concert in March! Given the hype an attendance, I'm particularly surprised that the Jesse Merineau, Shit Liver, and Jesse Stewart shows, plus Go Skateboarding Day, didn't get more attention in the poll, but alas, it's all in who votes. With the massive return of both I Mother Earth and Finger Eleven on the same night in April, I am not surprised at all to see it win this poll, and the three did get a vote will return in our poll on your favourite concerts in all of 2018 early next year. Thanks again to those of you who did vote, and stay tuned for more news and updates this week!