As promised, it's now time for our sixth monthly installment of our Saultites in Out Of Town Bands profile series! This month, we look at two Ontario hard rock bands with local connections, one from Northern Ontario, one from Southern Ontario, both of which are well worth discussing! Let's begin this month's profiles, and of course, if there's something incorrect, missing, or lacking info/details,
please tell me
!
(

UPDATED: November 25h, 2014

)
----------------------------------------------------------------------------------
The Disciples of Rock
(Blind River, Ontario)
Lineup: (Saultites in
RED
;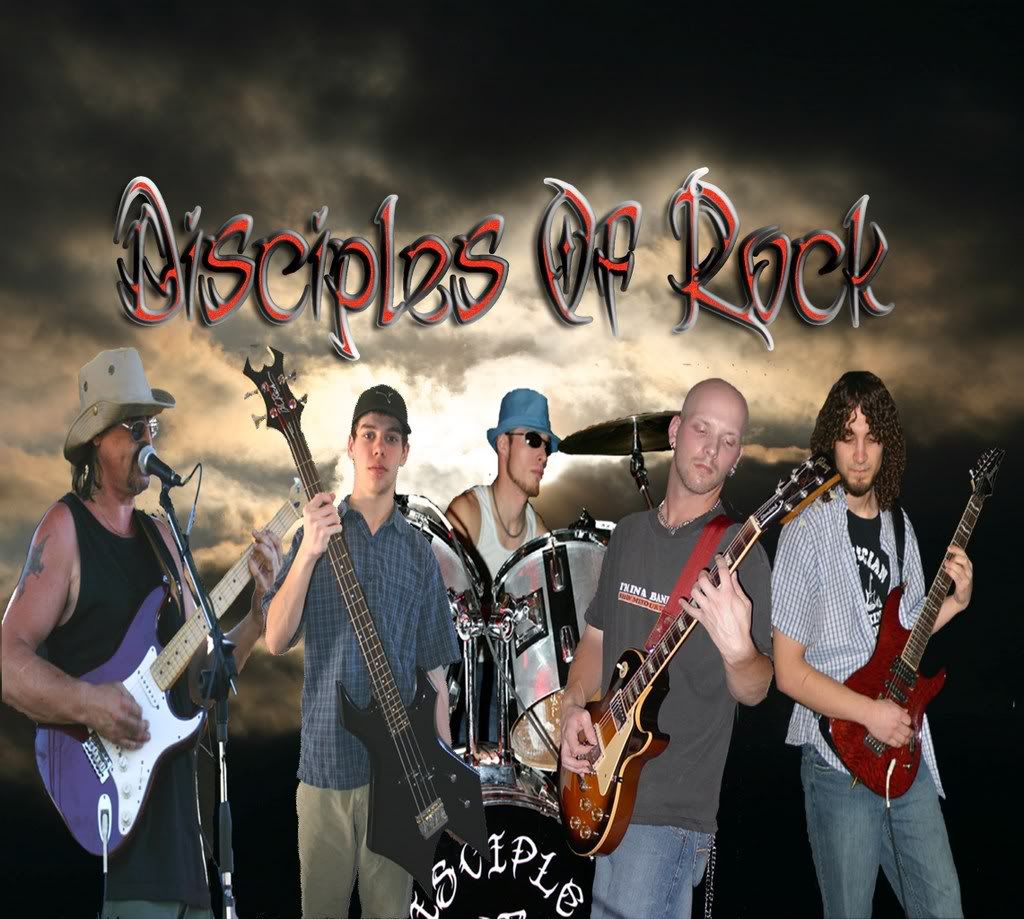 ex-members in
italics
)
Yves Rock (vocals)
Aaron LeBlanc (guitar)
Preston St. Jules (guitar)
James White (bass)
Jamie Labreche (drums)
Terry Lantaine (bass)
Roger Landry (drums)
Official MySpace page:
http://myspace.com/thedisciplesofrock
Official YouTube channel:
http://youtube.com/disciplesofrock
Official SoundClick page:
http://soundclick.com/disciplesofrock
Official CBC Radio 3 page:
http://

radio3.cbc.ca/bands/Disciples-of-Rock
Official Facebook page:
http://facebook.com/pages/Disciples-of-Rock/6911548158
Local Info:
Two Saultites would find their way into The Disciples of Rock as later additions to the band, starting with James White in July 2006, replacing Terry Lantaine on bass. Later, Aaron LeBlanc joined as the lead guitarist, making the band a five-piece. Both Aaron and James were born here, but both moved to Blind River in their youth. Since the band's apparent hiatus, James moved back to Sault Ste. Marie, and now plays bass in local punk band
Redundant
and funk rockers
The Elements
, along with tenures with bands like
Caveman Morrison
, Browbeat,
The Northern Mudsliders
,
Haggith
,
The Quims
, and as a guest with
Frightlight
since re-entering the local scene, plus work as a producer and concert soundman with his company
White Wreckords
. As best as I can tell, Aaron still lives in Blind River, though I could be wrong. I haven't heard if Aaron's been in a band since The Disciples of Rock went on hiatus, but it'd be nice to see him gigging again, as he has real talent!
Band Bio:
The Disciples of Rock were founded in June 2006, with their classic lineup being completed not long after their formation. Only frontman Yves Rock and rhythm guitarist Preston St. Jules remained in the band from the start. Consisting of 5 musicians of widely varying ages and styles, The Disciples of Rock quickly gained a solid reputation in the Blind River/Elliot Lake area, and released their first and only CD, "Nasty Habits", in May of 2007, which was recorded at Blind River's
EFR Studios
. Playing sets of their originals and select covers, The Disciples of Rock gave Blind River a good dose of hard rock before their 2008 hiatus, but they did reunite for occasional one-off gigs through July of 2009. I don't believe the band ever played in Sault Ste. Marie, but I bet their concerts were must see events no matter where they were!
I've always liked The Disciples of Rock, I remember hoping they'd play locally when I first heard of them, but no such luck. Good thing they have tons of pages online, cause they've got some solid stuff to check out! There's a definite classic rock influence in a lot of their songs, but at the same time, they know how to keep things heavy, and there's an equal mix of metal-ish stuff and bluesy classic tunes on their album! Yves Rock has a nice melodic rock voice that has a lot of soul and melody to it that works nicely, and I'm impressed with the band as a whole! Four of the members were between the ages of 16 and 22 when they released "Nasty Habits", and they were really playing beyond their respective years! I'm particularly impressed with Aaron LeBlanc's guitar work, I'd love to see him back in a band, cause he's got some awesome guitar skills! They're not the absolute heaviest band in Northern Ontario, but they have enough heaviness to get by, with a nice classic rock twist! Here's hoping they reunite down the road once again!
While there are places online to buy "Nasty Habits" in it's entirety (
Amazon has it for $9.99
), the band's various internet pages have the full album for free to stream too! If you wanna support the band (never a bad idea), buy it today, but feel free to listen to the whole thing whenever you want on one of their pages! I recommend
their CBC Radio 3 page
for audio quality, but it's up to you! And yes, they have plenty of videos,
click here
to visit their YouTube channel, which features live performance clips of originals and covers, as well as some songs straight from the album! I'm embedding their Halloween 2006 performance of "Hey DJ" here, check it out below, see what you think, or see more from the band at the above links!
----------------------------------------------------------------------------------
Violet Fuse
(London, Ontario)
Lineup: (Saultites in
RED
; ex-members in
italics
)
Kyle Mayer (vocals/bass)
Scott Vincent (guitar/backing vocals)
Thom Edwards (drums)
Tim Vujicic (vocals)
Unidentified members (bass, drums)
Official website:
http://www.violetfuse.com
Official Facebook page:
http://www.facebook.com/violetfuse
Official MySpace page (1):
http://myspace.com/violetfuseband
Official MySpace page (2):
http://myspace.com/violetfuse
Official YouTube channel:
http://www.youtube.com/violetfuse
Official Reverbnation page:
http://reverbnation.com/violetfuse
Local Info:
Drummer Thom Edwards was born right here in Sault Ontario, but was raised in Mattawa. Sure, it's not the strongest local connection, but Thom was a Saultite, that can't be denied! His dad being a rock drummer, Thom picked up on drumming early, at the age of 11. This led to him joining some high school bands and being a roadie for his dad's bands. Thom moved to London to further his music career when he was 20, and recorded an EP with London hard rockers
The Bumps
in 2006 before their breakup. The next summer, Thom joined Violet Fuse, though he's most recently been seen in the pirate rock collective
The Gypsy Ghosts
.
Band Bio:
Violet Fuse were formed in late 2006 by college classmates Tim Vujicic and Scott Vincent on vocals and guitar respectively, along with an unidentified bassist and drummer who have since left the band. Thom Edwards and bassist Kyle Mayer joined in June 2007, playing their first concert two months later. Tim left the band in April 2008 to pursue other genres, which led to Kyle Mayer taking over on vocals as well as bass in time for their return shows in August 2009. Violet Fuse have since became a fixture of the London music scene, playing frequently at area bars, and kept busy recording their self titled debut album, which was launched at a CD release party in London in August 2010, and the album's now on
iTunes
! Violet Fuse have never played in Sault Ste. Marie, but they were briefly advertised for
Hempfest
's local return in 2011 before dropping out. Activity persisted on a steady basis through December 2012, though public updates didn't follow, and the band quietly fell inactive the following year.
Violet Fuse describe their sound as "classic rock inspired, with a modern rock sound", and I can see where they get that idea! They're by no means the heaviest band in the world, but they rock pretty hard, and they're right about having classic rock inspiration! Hard to explain, but they have the kind of sound that would fit well with fans of new and old hard rock! Really nice melodies combined with some hard riffs and good singing! Scott Vincent's a good rock guitarist, I like his riffing and his rhythm, and Kyle Mayer's a great bassist! Good singer too, but to me, his bass shines through more, but on songs like "Castle Walls", he's particularly great vocally! Thom Edwards holds down the drums effectively, no complaints there! For some nice melodic hard rock that music lovers new and old can get into, check out Violet Fuse!
The above links have lots of music from Violet Fuse, notably their self-titled debut album and a live EP, which you can purchase at
this location
! Material is also available on
Reverbnation
,
Soundcloud
, and on
their official website
, which sound pretty good! Check them out, but if you want lots of Violet Fuse material, head to
their YouTube channel
, where the band has uploaded 14 concert videos featuring both originals and covers! Here's one of their better originals, "Be Confident", from a May 2011 show in London!
----------------------------------------------------------------------------------
Hope you guys enjoyed this month's profiles! Next month, I have decided on two metal bands to profile that have/had a Saultite in their lineup! I think you'll like my choices! They are
Thrawsunblat
, the Fredericton, New Brunswick black metal project featuring the Sault's own David Gold on drums (alongside current
Woods of Ypres
guitarist Joel Violette), and
Jar.
, the Vancouver metal band that originally featured
Wishbone
bassist Chris Smith! Look out for that late next month! Stay tuned later tonight for another packed news post (I've been swamped with news lately) and tomorrow evening marks the kick-off of our GarageBand Profile Mini-Series! Stay tuned!