It seems like too long since we've had a news post on here that focuses mainly on the Sault Michigan area, but that's the case today, as we have new videos from two E.U.P. projects and the long awaited first online page from a regional hard rock band, but we do have a LOCAL CONCERT ALERT for Sault Ontario as well! Without any further adieu, here's what you need to know!
Over two and a half years after their formation, Sault Michigan hard rock cover trio
Power Slug
finally
have
their own Facebook page
, so we can finally add them to our active Sault Michigan metal/hard rock band links! I have no idea what took them this long, but it's great to finally have a formal online page for them! Succeeding the short lived River Witch in late 2011, Power Slug's lineup has continually featured singer/bassist Chris Leask and bassist Chris Gurnoe from the earlier band, with drummer/prolific local metal singer Bob Helsten (also of Nose Dive) rounding out their ranks. The band has carved out a solid reputation since their debut, playing numerous weekend gigs at regional bars, along with a few appearances outside of our area, and sets at some major concert events like LemmaFest. Currently, Power Slug has out of town gigs lined up at
the Kewadin Casino in Manistique
through September, but their new Facebook page has yet to plug any upcoming dates , so hopefully some more are forthcoming!
Power Slug's few online videos (some of which you can see
here
) show off a solid and gritty hard rock sound that fans of the members' prior bands should appreciate, and it's easy to see why they have a following! Be sure to check out Chris, Bob, and Chris at a local stage near you hopefully in the near future, so you too can chug your mug with Power Slug, and stay tuned for updates from their camp!
Next up, here's that LOCAL CONCERT ALERT, as local hard/alternative rock trio
The Pixo Control
will take the stage for a show on Monday, June 16th at
Cafe Natura
! If you're not familiar with it, this venue (located at 75 Elgin Street, just seconds from Sears at the Station Mall) is a whole foods restaurant & natural medicine shop that also doubles as a concert hall (mainly for acoustic, indie, and folk bands), and they have a unique and successful thing going, so give them a look above! This show will be headlined by Halifax folk/alternative musician
Jon McKiel
(who The Pixo Control covered at the Hard Times Bar & Grill on Sunday) and fellow Nova Scotia indie/experimental duo
Construction & Destruction
, both of whom have a talented and experienced sound that will fit well at Cafe Natura, so keep them in mind as well! Promoted by Jackson Reed at the local music/art collective
Ears & Eyes
, this concert (the first at Cafe Natura that we've ever formally covered) is ALL AGES, starts at 8:00 PM, and has a $10 cover charge.
For more details, visit
the official Facebook event page
! While this may seem like an odd genre fit on the surface for such a grungy band, The Pixo Control are huge Jon McKiel fans, have a good relationship with Ears & Eyes, and frontman Michael Mikus has played this venue before with Great Chamberlain, so things will work out! The Pixo Control should set the tone nicely on the 16th with their alternative & grunge originals, so keep this unique show in mind!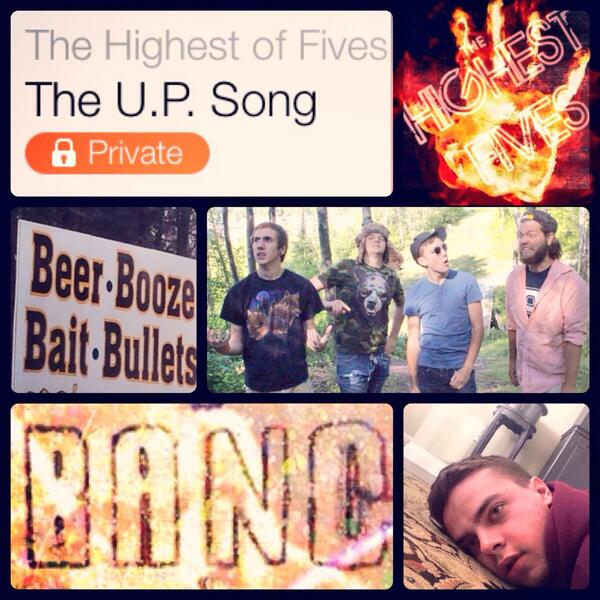 We'll close today with some new Sault Michigan videos, including the long awaited first part of local hard rock collective
The Highest of Fives
' short film "Bang!" Uploaded to member
Devin Anderson's/the band's YouTube channel
on Thursday, what can you expect to see in part 1? It starts with an introduction to guitarist Marcel Grengs' "Crusty Park" alter-ego and the revelation that he's been kicked out of his parents' home, followed by an introduction to The Highest of Fives' in-movie lineup (singer Mitch Goetz, guitarist Devin Anderson, bassist Jack Slater, and drummer Mike Pascoe) and whether they should practice or not, with their related storylines being expanded on in the last minutes of this video, presumably to merge in part 2. Note that member Travis Theel is not featured on camera in this section, but he is listed as a co-producer in the credits. Also, while there is some of the band's music featured, it's not a widespread focus after the opening titles.
This is an amusing first part of "Bang!", with some appropriate cliffhangers for the next installment, and I like the spirit and imagination employed (though some of the post-production effects seem a bit out of place.) Things have been a slow go in terms of finishing and completing their film and album, but check out part 1 of the film below, and stay tuned for more from The Highest of Fives!
Finally, Sault Michigan classical metal band
Theatre of Night
posted a sample of their new original song "The Killing" onto
their YouTube channel
on Thursday! As previously teased on
their website
, this song features guest vocals from Italian singer
Ida Elena DeRazza
, who is a member of singer Gaby Koss' classical vocal group
Cantus Lunaris
, though it's not clear yet whether Gaby sings on this song too. The video is naturally heavily filtered, though the end does confirm that the full song will come out on iTunes on August 1st, so we'll have to see if that holds up. We don't get a huge glimpse of the song, but it has a haunting and dark quality, so give it a look/listen below, and keep an eye out for more Theatre of Night updates!
That's all for today, but stay tuned for a new news post in the coming days! Thanks everyone!