As we continue to clear out some recent news and notes, here's a new news post featuring some assorted recent updates, new album reviews from metal websites, and the latest from a popular young metal duo, but first, here's some news from a rising local band's new website!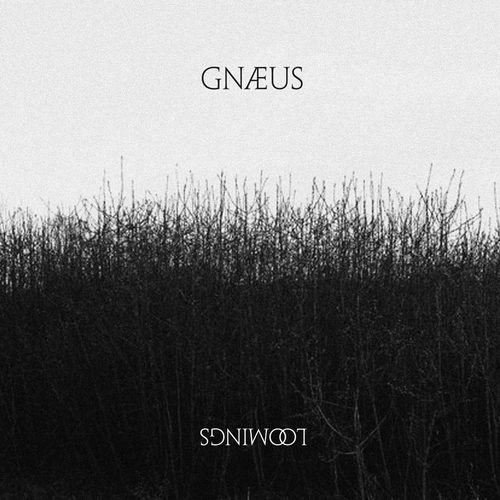 Did you know that local post-punk/garage rock quartet
Gnaeus
have
an official website
? Using the fittingly creative URL of
http://www.gnae.us
, the site has been active for at least a month, and it includes sporadic news updates, never before seen photos, a contact e-mail for bookings, a biography, and even a store to buy merchandise! In terms of new items, the biography details their formation and sound more than Facebook does, indicating that they formed last summer, they have lost some band members in their early run, and they call Gnaeus "an experiment" with a "home grown sound from the drudges of a Northern Ontario border town that refuses to be compared." The online store doesn't have anything in stock right now, but listed items (presumably for future sale) include t-shirts, posters, a lock of synth player Brad Irwin's hair (for $25!?) and... their debut EP?
Entitled "Loomings" with the cover art embedded above, the store lists it for $10 but only says that it's "coming soon". The band has referenced studio work in the past, and won studio time with Tidal Records at March's VM Radio Battle of the Bands, but is "Loomings" underway, or just the planned name and cover for when sessions fully begin? We'll let you know when/if more is announced, but check out their site above, it's well made so far!
Next up, here's the latest from local goregrind duo
Rotopsy
, so what's new from Tyler & Dylan's camp? Well, this is arguably old news now, but Rotopsy played a surpsise set at the Shit Liver-headlined house party concert on April 25th, which wasn't announced in advance but was likely well recieved by attendees and Blood Shed loyalists! As for when we can next see Rotopsy, they're actually planning their first ever full tour for the summer! Named partially after their new album, the tour lists three confirmed local dates, including
June 25th's Menstrual Munchies show
and dates with venues to be announced on July 1st & 4th, though the latter is separate from the AxMinister show at The Algonquin. A June 8th Sudbury date to be announced is also listed, as is Rotopsy's first ever appearance at
the Touch of Death Metal & Punk Fest
in Cochrane in June!
Along with the second straight appearance from Tyler Gibson's
Crucify The Whore
solo project and local rap/metal quartet The Apocalypse Afterparty the day before, Rotopsy will rock this year's T.O.D. Fest on Sunday, June 28th, continuing the recent run of local bands at the Corchrane festival (8 hours north of the Soo.) For reference, out of town bands from upcoming local shows like Horse Lung, AxMinister, Pantychrist, and Menstrual Munchies are also scheduled, with more to be announced. Rotopsy have a busy stretch ahead, so stay tuned as more rolls in!
Also, here's some long overdue new reviews of local doom metal trio
AlgomA
's debut CD
"Reclaimed By The Forest"
! On April 24th, Kunal Choksi of
Doom-metal.com
gave the album an 8.5/10, calling it "thunderous" and saying that it grows on you and is "solid as walls" caving on. Nice review with comparisons to other major doom bands, so give his review a look at
this link
! On April 15th, Eigen Beheer of the Dutch website
Zware Metalen
gave "Reclaimed By The Forest" a 70/100, and while you'll need a translator to read the review, Eigen seemed to say that this CD was "a lush sludge doom syrup" with a solid sound, though I believe he wished some songs were faster. Give this review a look at
this link
! Finally, Christian Denner of German website
Metal1.info
gave the album a 7.5/10, calling them "quite a surprising band" with skilled vocals, though you can tell the symbolism of the AlgomA name was lost in translation.
Give that review a look at
this link
! Both of the latter reviews require an online translator to read them unless you know the language(s), but all three are positive and show AlgomA's global exposure continuing to grow in the new year! Read each above, and buy AlgomA's CD at
this link
, The Rad Zone, or through band members!
Finally for today, here's three shorter updates from the last while, and as usual, these are in alphabetical order by artist name:
You may have seen this coming via recent postings relating to frontman J.D. Pearce's concert promotional work, but his local punk/metal quintet Jack Spades are officially now signed with Tidal Records, as per recent postings on their Facebook page, which include teases of "some wicked stuff coming up". Logical move for the guys, so stay tuned for more! Also, we've changed the name of J.D.'s promotional Facebook group from Johnny Pints Presents... to Tidal Records Presents... in our links to reflect it's name change and their new cooperation.
On April 19th, Haggith drummer Mike Haggith quietly released one more promotional digital EP named "Candy Is A Hooker's Name" onto his Bandcamp page featuring three songs (including the title track) from his upcoming full length solo album "The Warinside". Another nice bonus for fans in advance of the full CD's release, so buy it above for any price you want! And yes, we will review "The Warinside" when it's out.
On April 20th, Telephone & Address mainman Chris Shoust revealed on their Facebook page that the local lo-fi punk/grunge solo project's new album will be called "Monster", and it's done and recorded with a planned pressing to occur "by July" while he gets funding for this CD. No word on the track listing, musical themes, or Bandcamp release yet, but stay tuned in the coming months for more updates on this (and "The Early Tapes"?)
That's all for today, but stay tuned for more news and weekend concert previews to come! Thanks everyone!