We're back on this Wednesday morning with a new news post, so what's on tap? Assorted recent updates referencing summer concerts, a new interview from a popular local metal band, and two mid-week concert previews, so here's what you need to know!
The second concert in J.D. Pearce & Tidal Records'
Gonqshow
concert series at The Algonquin Pub goes down TONIGHT with Calgary punk sextet
The River Jacks
making their local debut as the headliners! A message-driven and focused band who mix folk rock and hard hitting punk into a strong and entertaining package that fans of The Dropkick Murphys should take to, so don't miss them TONIGHT during their Canadian tour! Note that the Soo date falls when they have no fellow touring acts joining them. The local opening bands (both of which making their Algonquin Pub debuts) include VM Radio Battle winning-post punk quartet
Gnaeus
and new local pop punk quartet
Stereo North
(featuring T-Rex Manning & Starlit Sins alumni), and both should fit in well for this Gonqshow entry, so don't be late! This 19+ concert has a 10:00 PM start time and a $5 cover charge, so for more details, visit
the official Facebook event page
, and for a preview, here's The River Jacks live last year!
Next up, we'll preview the likely next installment of
Mourning Wood
's weekly jam night series at
The Rednecks Saloon
, as the local classic/hard rock trio are presumably back there TOMORROW NIGHT for the eleventh straight week! I will give the caveat though that I saw no personal Facebook postings referencing last Thursday's jam night, but unless something is said to the contrary, we won't assume the worst for the series. Fresh off of a Saturday double-header at both Rednecks and The New A, this talented cover band should be ready to rock the former Nicolet Tavern once again tomorrow night with the same Thursday jam theme as before, so if you can play an instrument and want to jump on stage to play with Mourning Wood, here's your chance! Like usual, there's no announced cover, a 19+ age limit, and a 9:30 PM start time, so visit the above links for more info, and here's the guys last year!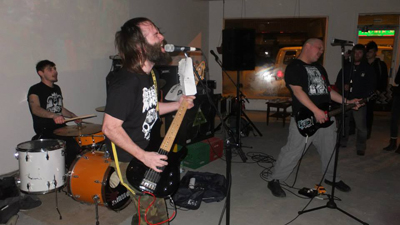 Also, here's
a new-ish interview
with local doom metal trio
AlgomA
, courtesy of Italian metal website
Metalhead.it
! Conducted by Matteo Piotto with singer/bassist Kevin Campbell, and posted online on April 15th at
this link
, the interview is preceded by a brief review of AlgomA's CD "Reclaimed By The Forest" (which Matteo called "one of the most obscure and disturbing albums" of 2014), and don't worry, that's a positive remark! In the interview, Matteo asks Kevin about how sales of the CD are going, their lyrical and musical inspirations, their past local band experience, how they got Adam Geyer to do their album artwork, and their upcoming tour plans, and more. In terms of new stuff, Kevin did reveal that they're apparently opening for Toronto crossover metal band
Teethmarks
with Destroilet in the Soo on July 4th, which hasn't been publically confirmed yet otherwise, but we'll keep you guys posted.
He also referenced the band's June tour plans in the interview, and though he didn't detail shows specifically there, one new confirmation will see AlgomA headline in Hamilton on June 24th, so
click here
for more details. Solid and informative interview, and Kevin is friendly and well-spoken throughout, so give his interview a read at the above links!
Finally for today, here's some assorted shorter updates from the last little while, and as usual, these are in alphabetical order by artist or event name:
Is the annual Sault Michigan memorial concert festival LemmaFest coming back for year 5? In the form we're used to, it's not looking likely, as one of the main promoters is reportedly dealing with legal concerns, hence why there have been no announcements for the usual late June timeframe. However, musicians and supporters of the Mike Lemma memorial event are showing interest in putting on LemmaFest later in the year, so visit the event's Facebook page to join the discussion, and we'll keep you posted!
A venue is to be announced, but local independent label PaperClip Productions are dipping into the concert promotion game for a show on August 10th that will feature Alberta metal bands Lie Among Us & Eternal Prophecy alongside local openers/label acts Haggith and, in their first show since reuniting, The Revolution. We don't call concerts on here until a venue is publically advertised, but click here for full current details on this intriguing Monday nighter, and stay tuned for updates!
The planned Of Tall Tales-headlined Gonqshow concert at The Algonquin Pub appears to have been completely cancelled, as per it's removal from the Facebook event page. Originally planned to take place on July 18th, it was later changed to have a date to be announced, but no word on why it's no longer listed there. Of Tall Tales are a solid band, hopefully they come here at some point!
That's all for today, but stay tuned for more weekend concert previews and more news to come! Thanks everyone!