Before we head off to The Canadian Nightclub for TONIGHT'S fifth annual Sewer Swampstravaganza, here's a new news post for your Saturday afternoon featuring big updates from a local news website, new videos from two popular punk bands, and a LOCAL CONCERT ALERT for later this month, so here's what you need to know!
Kiss fans should pay attention, as
Destroyer
, Canada's premier Kiss tribute band, are coming back to Sault Ontario on Friday, May 29th for a concert at
The Rockstar Bar
! Making their (at least) third appearance in the Soo, this will be Destroyer's first local stop since rocking the same venue in July 2013, and it will come amidst their 20th anniversary tour, which is a great milestone! If you're in the Kiss Army, you won't want to miss this one at month's end, but in an uncommon occurence for a local tribute band show, there will be a local opening band, as local hard rock cover quartet
Griphook
are listed as openers! Though the band has yet to confirm this, their set would be their first in almost two months, and their first Rockstar Bar appearance of the new year. Griphook haven't played all that often in recent months, so if you've missed them in the last while, write this show on your calendar!
This concert has a listed start time of 10:30 PM, it is a 19+ event, and tickets are $12 in advance at The Algonquin Hotel's front desk or $16 at the door. For more details, visit
the official Facebook event page
! Destroyer have the Kiss sound and look down pat, as videos of their shows will attest to (not to mention fans who saw them locally in the past), so if you want the best, you'll get the next best thing on the 29th! Stay tuned for possible updates!
Next up, here's some new videos, starting with the newest episode of Local2's stripped down performance webseries
Bare
, which features members of local Celtic/punk quartet
Dustin Jones & The Rising Tide
! Specifically featuring singer/guitarist Dustin Jones and stand-up bassist Marshall Jaaskelainen for this performance, the video is of them playing their song "Sticky Situation" from their newest album "Dancing Our Demons Away". Played in an acoustic form, it's well done and puts an interesting new spin on this recent original, so fans of The Rising Tide should get a kick out of this! For reference, the end-of-video credits do not list a drummer among their current lineup, which seemingly confirms that Mikey Hawdon isn't their full time drummer anymore (though to be fair, they've largely played with guest drummers for the past year or so.)
Check out the new Bare episode below, and be sure to check out all 12 episodes (including locals and out of town bands alike from various genres) at
the official Bare YouTube channel
, which is now in our "Other Local Metal Links" on the SMS! Strong work all around, and hopefully we see some more punk or hard rock bands on there!
Also, here's a new video from VM Radio Battle of the Bands winners
Gnaeus
, before they headline TONIGHT'S fifth annual Swampstravaganza at The Canadian! Uploaded to
their YouTube channel
on Thursday, this is seemingly from a jam session, and it's of the guys playing a new(?) original named "Fire". Shot from a low camera angle with dark purple lighting, this captures the post-punk quartet channeling more of their garage rock sound (is it wrong to get a Killers vibe from this?), but it's well done oversall, and the lighting actually helps set the mood fairly well! Check it out below!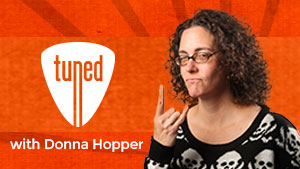 Finally, here's some overdue updates from local news/video website
Local2
, who overhauled their official website on May 1st to emphasize and focus 100% on video content, severing it's last traditional news ties from the old SooNews.ca days. As outlined in
this SooToday article
from their sister website, the new site features a new layout that's easier to navigate to find and watch video content, including new webcams, categories for different content, and pages for individual webseries like Bare and
Tuned with Donna Hopper
, the latter of which we can also now add to our "Other Local Metal Links" section as a result! Note however that the player for videos on Local2 still doesn't permit external video embedding. Speaking of Tuned, three new episodes have been posted online of that popular music webseries, so what lies within that has a hard rock or punk element?
The April 23rd episode spotlights local DJ Shane Erickson (a.k.a.
DJ Seith
), and includes brief footage of his live collaboration with
The Elements
at The Rockstar Bar in February, though the episode is largely about DJ Seith's general live work and crossovers with various local projects like Honest Job & Conika. The other new episodes are on recent concerts with out of town bands
My Son The Hurricane
(featuring the Soo's own Danno O'Shea) and
B.A. Johnston
, and all are similarly well done, so givem all a look at the above links! The new Local2 layout is much more user friendly, so give their videos a look and see what you've missed!
That's all for today, but stay tuned for our newest Defunct Local Band Profile TOMORROW, and we'll see you guys TONIGHT at The Canadian for the fifth annual Swampstravaganza! Thanks everyone!