I hope everyone's having a great day! For today's post, we're touching on a recent news article with a unique metal tie, a pair of new videos referencing two local acts, but first, here's a LOCAL CONCERT ALERT for a veteran cover band's long awaited return to the stage!
Local hard rock cover quartet
Griphook
will return to the stage on Saturday, January 23rd for a headlining concert at
The Rockstar Bar
! After a six month stage hiatus (apparently to focus on learning new material), this talented veteran band will finally unveil the fruits of their recent labour for fans next Saturday, in what will be their first show of 2016, their first of any type since Rotaryfest last year, and their first at The Rockstar Bar since
2014
! Remember, Griphook are the band featuring ex-100 Gran frontman Joel Syrette, ex-Bigsuit guitarist Brian Oja, ex-Hollow bassist Dan Beaupre, and ex-Gsis Murphy drummer Anthony Fabiano, and all have the chops for heavier material, so don't bypass them next weekend! And yes, this is a one nighter, no word on who's playing at the venue next Friday. There's a 10:00 PM start time for this concert, you must be 19 or older to attend, and there's no announced cover charge (but have cash on hand just in case.) For more details, visit
the official Facebook event page
!
Griphook's recent break was a little worrisome given the lack of online updates, but it's great to have the guys back at last, and hopefully 2016 is a much busier year (publically, at least) than we saw last year! Stay tuned for more from Griphook as it comes in, and don't miss their return to the stage next weekend at The Rockstar Bar!
Next up, here's the first ever music video from local goregrind solo project
Crucify The Whore
! Set to a new song from their upcoming CD "The Beautiful Sounds of Nature", this was uploaded to label
Blood Shed Productions' YouTube channel
yesterday. The song's title is what it is (and comes with the territory for C.T.W.), but the video itself isn't badly put together, featuring clips from live performances, some in-studio work, and various outside antics & camaraderie. It's short, but worth watching if you love some local goregrind, so check it out below!
Also, here's a new video of local skateboarders featuring
The Pixo Control
's "Scratch" as the backing audio! Uploaded by YouTube user
Hooksane15
on Tuesday, this is more of a skateboarding video than anything else (compiling street footage from last year as a montage), but I thought I'd acknowledge it as it's a locally filmed and edited video, featuring boarders who you may recognize from the
Tidal Records
skate team, and "Scratch" fits the theme well! Give it a look below!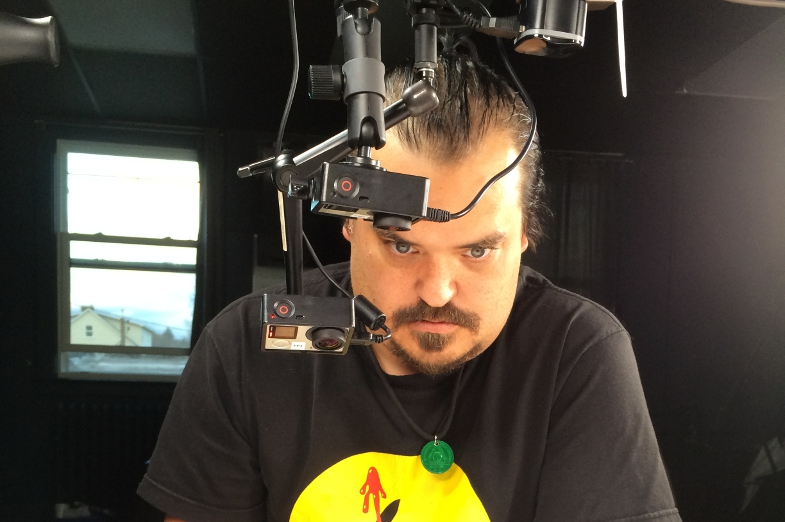 Finally for today, here's an overdue look at
a recent SooToday article
on a local artist who recently got a high profile gig with a major metal band! Last week, Wawa native and ex-Sault resident Darren Emond was interviewed for an article by
SooToday
's David Helwig which reveals that Darren was recently selected to draw the artwork in a forthcoming
Iron Maiden
comic book that will be published for their upcoming Book of Souls World Tour! I won't spoil the article proper, but it highlights the personal struggles that Darren dealt with in recent years, his path to becoming an artist, his artistic influences, and how he got the gig to work on an Iron Maiden comic (sketches of which are featured with the article.) This is an in-depth piece that nicely explores Darren's career trajectory, and if you're familiar with his art, you'll know he's a talent, as the sketches show! I don't personally know Darren, but he has a bright future ahead, so check out his SooToday article at the above links, and best of luck on the release!
That's all for today, but stay tuned for much more news and notes in the coming days! Thanks everyone!