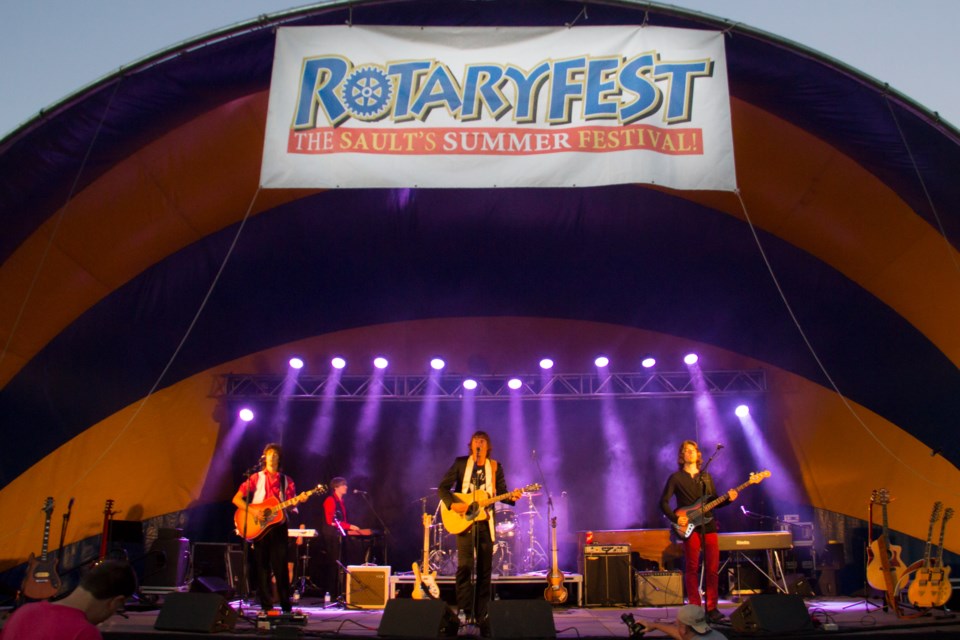 Apologies for the week+ delay in getting these on the site, but here's a showcase post of YouTube videos from this year's
Rotaryfest
! Surprisingly, Sault Online's Mike Caruso has
not
posted any footage of this year's summer festival band lineup, but the always generous Christopher Paci was on hand for the Saturday lineup to film many of the day's bands, as uploaded to
his YouTube channel
last week, so kudos to him for getting as much as he did! Shaky camera at times, but the audio is consistently good! Going in descending order, we'll start at the covers-only Stage 1, where Chris filmed three songs from co-headlining Paul McCartney tribute band
The McCartney Years
, including their renditions of Beatles classics
"I've Just Seen A Face"
&
"The Long & Winding Road"
, plus the Wings song
"Nineteen Hundred & Eighty-Five"
. Not badly done at all, Yuri really does sound like Paul, and the Soo's own Dean McKey is solid on drums! However, Chris didn't film The Ghost Town Cryers' closing set.
The only other main stage band that Chris shot was local classic/hard rock cover veterans
That's Chester
, who made their long awaited return to the stage at this year's Rotaryfest! The band had teased guest appearances via jam session photos on
their Facebook page
in the lead-up to the festival, but only formally revealed their identities that evening & later via personal Facebook postings, so who were the guests? Original That's Chester frontman Richard Fullerton (now of the Ottawa cover bands
Mothership
&
Trashed Taxi
) came home for the occasion, while the teased female singer was Jeannine Jefferson, who played the Acid Queen in last fall's stage production of The Who's Tommy (in which That's Chester played the house music.) As for the guest guitarist, that was North Bay musician & sound/lighting tech Dan Belanger, who also worked on Tommy, and has jammed with That's Chester in the past. He's a solid player, and while it's tough to fill the late Eugene Orlando's shoes, he fits in nicely!
Chris' videos both feature Dan on guitar, including a cover of Doucette's
"Mama Let Him Play"
, but embedded below is their version of Kiss' "Rock & Roll All Night" with both guest singers joining in (Richard splitting lead vocals with Greg Simpson, and Jeannine on backing vocals.) Attendees heads can get in the way, but That's Chester sound great, and I'm sure Eugene would be proud of their set! If only fellow That's Chester alum Jim O'Leary was available, imagine if all three singers performed together? Check out their Kiss cover below, and see more above!
Moving to the original-focused Stage 2 (also at Clergue Park), Chris filmed every act there except Liam Seymour's solo band and The Wild Iris. Two of his videos were of headlining indie rock quartet
K.I.C.K.
, who were filmed playing their songs
"So Long"
and
this song
whose name I can't place off hand. The Keep It Cool Kids sound good and on their battle winning form, so indie rock fans will want to check those out! Post-punk quartet
Gnaeus
were also filmed playing their mellower original "The Edge", and while it's not one of their more up-tempo songs, the guys play this song nicely as the build towards the "Meditations" release continues, so check it out below too!
Progressive rock quartet
Machines Dream
's video features them playing (most of) their song
"My Ocean Is Electric"
, and if you're not familiar with their technical and skilled blend of prog originals, do yourself a favour and give them a listen! They're not "heavy", but yet, they are very heavy in other ways! Another video from Stage 2 comes from alternative hard rock quartet
Id Iota
playing their EP-opening original "California Wasted", and while Dustin Goodall is often obscured behind the stage's lineup banner, Id Iota sound solid on this fun sing-along track, so give it a look below!
Lastly of Chris' uploads, he filmed opening alternative hard rock trio
The Din
playing their song "Potato (Should Have Known Better)", which was previously known by the longer name "This Potato May Be Used As A Flotation Device". Solid performance from this fast rising band, on what looked like a beautiful day, so give their Rotaryfest video a look below, and kudos again to Chris for the videos!
That's all for today, but stay tuned for this month's YouTube Channel Profile tomorrow! Thanks everyone!