Before we begin today's post, I wanted to apologize for a missed concert, as local classic/hard rock cover quartet Mourning Wood played at The Rednecks Saloon last night. The band never plugged the show publically, with members only confirming it on personal Facebook accounts last night, which I didn't notice until it was too late. Though it was a one nighter, the show did follow a Friday gig at Rednecks where Terry, Paul, and Steven backed up local country singer Mark Tarantini in a rare local appearance, which wasn't advertised under the Mourning Wood name. Apologies for missing last night's show, we'd have plugged it had we known about it!
Now, today's post is largely devoted to fallout from Friday night's
Hedley concert at The Yard, so let's get things rolling! As you may remember,
the Abbotsford, B.C. power pop/punk quartet returned to the Soo for the first time in over five years for the first half of The Yard's Canada Day Kicker, with an estimated crowd of 2,000 people taking in Hedley's well received set!
SooToday
's Donna Hopper was on hand to photograph the show, and while
the review proper
isn't too long, she did note an amusing incident where frontman Jacob Hoggard borrowed a fan's phone to call her mother, in response to fans texting during the show. Keeping it light, good work! Donna got 39 colour photos from the outdoor show that you can check out as well at
this link
, all of excellent quality as usual, which include 18 of Hedley, 10 of local openers
Dustin Jones & The Rising Tide
, 9 of Toronto indie rockers
The Beaches
, and two of attending fans.
No word on a potential SooToday video of/from the show, but for YouTube videos from Friday night, the best we've seen for quantity come from
Chris Paci
, who's back with more great local concert videos (stay tuned for some recent Oddfellows footage that he shot too!) Chris uploaded seven videos from Hedley's set to his YouTube channel, including their songs
"Hello"
,
"For The Nights I Can't Remember"
,
"Perfect"
,
"Lose Control"
,
"Trip"
,
"Kiss You Inside Out"
,
"Crazy For You"
, and as embedded below, their set-opener "Hello". These videos lean heavily to Hedley's more recent material and/or ballads, so fans of their early punk songs may be disappointed, but Chris got some solid footage as usual, and while fans can get in the road, you get a good view of the band in action! Give his Hedley videos a look above & below!
Before we close with one last video from Chris, here's all of the currently known footage of the texting incident & Jacob's call to the girls' mother! As of this writing, at least three people have filmed this and posted it to YouTube, with the longest and most substantial being from YouTube user
C Auffrey
, who got arguably the best and longest video of the texting incident and subsequent usage of the phone, which Jacob milked for all that it was worth, much to fans' amusement! No songs were filmed here, but it's an amusing 10 minute watch to see just what happens when you're caught texting at a Hedley show! The other currently known footage from this was filmed by attendees Sam Mick (
link here
) and Alexis Alberta (
link here
), but I won't physically embed them on the SMS, as C Auffrey's covers all ground, and it's not like a song where different angles & qualities could have a big impact. Still, give them a look above & below!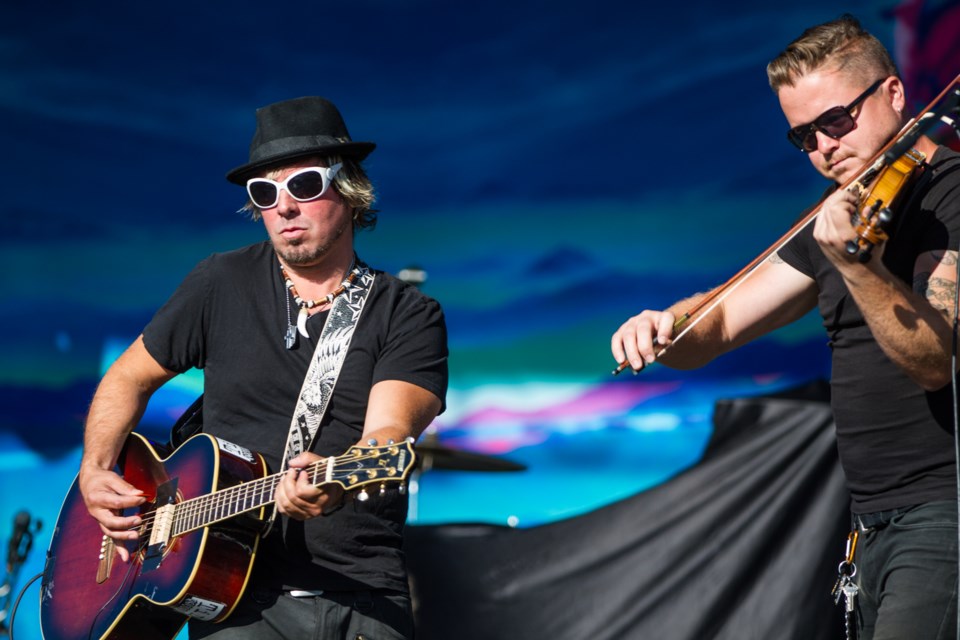 Finally, here's Chris Paci's video of local openers Dustin Jones & The Rising Tide! As far as I can tell, he didn't film The Beaches. Chris filmed The Tide playing their single "A Day Will Come", and with the benefit of extra daylight and less fans, his camera work is even better to capture the first local show of the year from these Celtic punk favourites, who sound as good as ever! And yes, drummer Mikey Hawdon was back behind the kit for The Rising Tide on Friday, marking his long awaited return to the live stage with The Tide (remember that Mikey lives in and fronts multiple bands in Toronto, so The Tide have enlisted Cooper Hannahson, Clint Wilson, and Chris Johns as drummers for recent gigs.) It's great to see Mikey back home for this huge concert, and hopefully The Tide have more big stuff in store this year, so check out their video from Friday night below!
That's all for today, but stay tuned for more news and notes this week! Thanks everyone!