Let's dive back into some general and more varied news and notes for this third post of the month, so what's in store? Assorted recent notes, a milestone video of ours from our early months at the SMS, and some spring concert footage, but first, here's a new addition to our inactive band links!
We have a "new" local band to add to our band links, and they are F.F.B., a defunct punk trio who have quietly re-emerged in the past year with posthumous plans! We've acknowledged F.F.B. (acronym meaning unclear) on the site before, but only now do they have enough public information to make it fit on the site. Active for a 4 month span in 1999 and 2000, F.F.B. were distant predecessors to the inactive punk/grunge duo The Red & Black, with singer/guitarist Chris Shoust (Telephone & Address) and drummer Damjan "Spider Fingerz" Binda joined by Kyle Grawbarger (instrument unclear, possibly bass?), who isn't familiar from recent local bands. The band reportedly only played 4 shows during their brief run, with at least one being in Sault Michigan before the border tightened up, and they apparently recorded 16 songs, including originals and covers from bands like The Misfits, The Exploited, and Minor Threat.
Chris has teased releasing F.F.B.'s surviving material as far back as 2011 via their posthumous Facebook page, and the guys apparently agreed to release a film about this band last November, but nothing has stated since. It's hard to comment on F.F.B.'s run personally, as their songs aren't known to be available yet, and I was 10 years old during their heyday, but stay tuned in case some archive material and/or that teased film make their way online!
Next up, here's some recent concert videos from prolific local concert filmer Chris Paci's YouTube channel, and yes, we'll touch on his last Hedley video later this week! Chris was in attendance for the Motherfuckers-headlined concert at The Oddfellows Hall on April 30th, but for one reason or another, the three videos that he shot that night weren't posted online for two months. Better late than never! His videos (all of the headlining Calgary hardcore punk band) include this short song, and this similarly quick number, but embedded below are multiple songs from The Motherfuckers' set. I admittedly am having trouble titling these (especially as they sound so similar to multiple tracks), but blame that partly on the muffled audio through the camera. Chris got solid footage though, and from a pair of angles, so give his videos from this all ages punk concert a look above & below!
Also today, here's three assorted shorter news items from the last while, and as usual, these are in alphabetical order by artist name:
Oshawa "death punk" quartet Black Cat Attack have been forced to drop out of THIS FRIDAY'S concert at The Rockstar Bar due to unspecified van troubles, as per promoter J.D. Pearce on the Facebook event page on Friday. Disappointing to be sure, but the show must go on, as B.C.A frontwoman Valerie Knox's other band, Toronto grunge/punk quartet The Anti-Queens (who were already opening) are now the headline act, while classic metal quintet Project 421 have been added as a late opening band in their place (not punk, but their talent speaks for itself), and admission has been halved to $5! See above for more details!
In a minor update stemming from their recent studio track postings on their Bandcamp page, the album cover for the apparently self-titled debut EP from local hard rock quartet Long Shot is featured on Bandcamp too! It's simple (pictures of the guys on a white background with their logo), but it'll get the job done if it is indeed final, so check out their EP's current content above!
We missed this when we originally covered the apparent upcoming cassette album from Telephone & Address, but when BGP Tapes owner, musician, and Gore Street Cafe co-owner Sam Decter revealed the plans for "Are You Or Have You Ever Been?" on his blog The Tinderbox, he suggested that it would be a split, with side B focusing on his new experimental rap duo The Leash Kids. Again, Telephone & Address haven't acknowledged these (or any other) album plans lately, but this would be an interesting release, so keep watch for updates!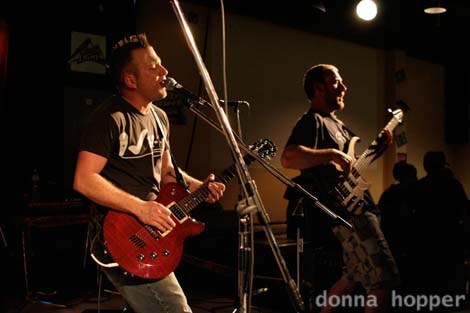 Finally for today, I wanted to share an archive video find that has never been featured on the SMS before, despite being the earliest surviving concert video that I have ever shot. This comes from the Skid Row Battle of the Bands/skatepark fundraiser at The Speak Easy on April 27th, 2008, during the first year of The Sault Metal Scene's run, and it's of defunct hard rockers Sense of Truth playing their early original "Anything At All" during their battle winning set! Represented by singer/guitarist Cory Murchison (Skeyes of Seven), guitarist Steve Myers (The Wild Iris), bassist Patric Belanger (who left the band by year's end), and drummer Ryan "Kev Riain" Haryett, the guys definitely delivered their A-game in what was their live concert debut! At this point, I was using a low quality cell phone camera (certainly not an iPhone), hence why the video quality is hideous and it's only 15 seconds long, but hey, for better or worse, it's a milestone for us.
This was originally featured on my personal Facebook page, where it attracted virtually no attention, but I have given it some extra life eight years down the road, namely by having the video fade in & out, and by replacing the extremely scratchy original audio with synced audio from Cory's own footage of Sense of Truth playing this song at the battle (all credit to him & that video's original filmer!) It's just 15 seconds of low quality cell phone footage, but it's our first toe in the water in terms of filming concerts, so check it out below, and of course, check out Cory's video above for the best view of this performance!
That's all for today, but stay tuned for more news and updates as the week progresses! Thanks everyone!