Hello everyone, it's time for another news post at the SMS, and on this cold Saturday afternoon, we're tackling a new digital album posting or two, a new solo performance video, and first, a SHORT NOTICE LOCAL CONCERT ALERT! Here's what you need to know!
New local alternative/punk quartet
A Dire Setback
will reportedly make their
Canadian Nightclub
debut TONIGHT when they perform at
Underground Empire Records
' first ever
YouTube party
! Apologies for the extremely short notice, we were waiting for official announcements on the lineup from promoters, which surprisingly have never came, but A Dire Setback confirmed their involvement on
their Facebook page
last week. This event is the first ever YouTube party in the Soo, which will feature DJs, live artists, and activities and competitions, though no word on if the YouTube branding means that there will be filming or streaming of any kind (
this
is the label's YouTube channel, just in case.) Money raised will go to developing future entertainment events and providing a venue for them, which sounds like a good plan!
Promoters still have not unveiled a performer lineup publically for TONIGHT, but for what it's worth, Underground Empire Records are primarily active in rap and dance music. Also, The Din expressed interest in performing, but they have not publically confirmed any involvement. Admission for TONIGHT'S YouTube party is $10 ($15 with a friend), this is a 19+ event, and doors open at 10:00 PM. I wish we had more info on this event, but hopefully A Dire Setback knock it out of the park for their second live concert set TONIGHT, and if we hear any extra details or fallout, we'll let you know! Visit
the Facebook event page
for more, and here's A Dire Setback live!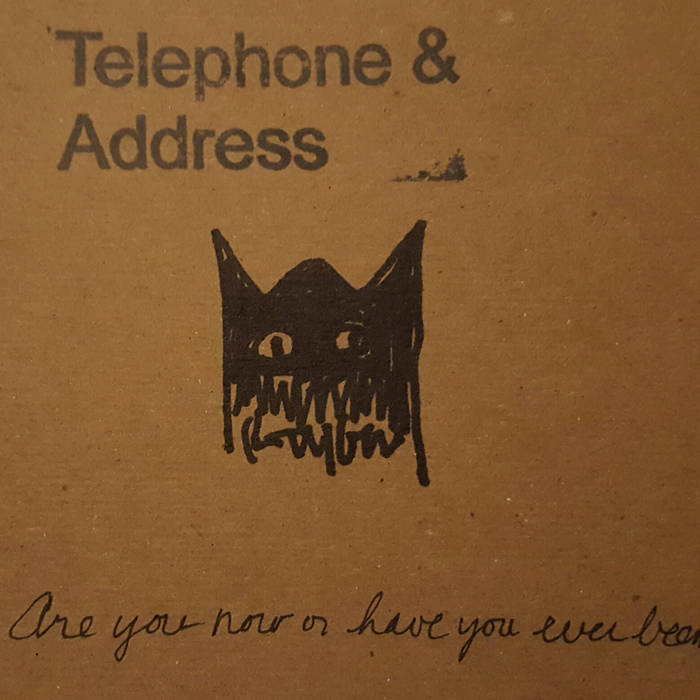 Next up, the newest album from local punk/grunge solo project
Telephone & Address
was finally posted to
their Bandcamp page
over the past week! Though originally independently released on October 26th when the Chris Shoust-led project opened for Iansucks at The Gore Street Cafe, it's digital release was delayed for unannounced reasons until this month. Officially considered their fourth album (anything pre-2013 isn't canon now), the album now appears to be titled
"Are You Now or Have You Ever Been..."
, adding the final word that isn't present on all prior album references. A physical copy's artwork is used for the digital cover art too, in a departure from the separate covers used before on Bandcamp, while the hand-drawn character on the front will vary if you have bought your own CD copy. "A.Y.N.O.H.Y.E.B." was recorded over the past year, and it features eight songs, entitled "Army Song", "He", "Ignore The Platitudes", "Not The Only One", "Protest March", "Sing On", "Test", and "Your Say".
This album can be bought at the above links for $8 on mp3 format, or $10 for a physical copy plus digital download (only 50 are available!), but you can also stream the album for free on Bandcamp too. With this album now at access, I can safely say that Telephone & Address will be the subject of this month's CD review at The Sault Metal Scene, so give it a listen above, and stay tuned for our review in the next two weeks!
Also in the realm of album releases, did you know that local party/hard rock cover trio
Stiffler's Mom
recorded an primarily-original demo CD back in 2004? I knew about it and have alluded to it in the past, but it never crossed our radar in even a streamable form... until now! Last month, fan Alex Moore uploaded the demo, fittingly titled
"The Demo"
, to
his YouTube channel
, and the EP-length release features Greg, Mike, and Jon playing four songs, including a cover of Gordon Lightfoot's
"The Wreck of The Edmund Fitzgerald"
and the originals
"Yesterday"
,
"Pearl's Necklace"
, and
"Enjoy the Show"
(originally by their predecessor band Sin Stereo.) This is a mock-up of the cover art, though the band's name isn't exactly the same font. It's great to finally hear this elusive demo in full, and it shows Stiffler's Mom's original songwriting talents that may have fallen by the wayside for many fans only familiar with their covers, but is "The Demo" possible for a CD review at the SMS in 2017?
By all means, yes, but as it's over 12 years old, it'd have to be in a month with nothing new obtained, though given how often singer/drummer Greg Simpson plays live with this and other bands, I'd have no problem tying it in with one of their gigs! Give the full demo CD a listen below, and kudos to Alex for posting this online!
Finally for today, here's a new original song in progress from Sault Michigan classical metal band
Theatre of Night
! Uploaded to
their YouTube channel
on Wednesday, the song is entitled "If I Could Just Tear Down These Walls", which keyboardist Craig Harrison noted was "for those walls our loved ones put up." I have a feeling there's some personal meaning behind this song, which currently exists as a melancholy piano ballad complete with a monochrome video to suit the mood. There's something here given it's emotion, but it does need extra instrumentation to fill it out, and perhaps lyrics if they wouldn't get in the way. Check it out below!
That's all for today, but stay tuned for much more next week! Thanks everyone!