Now, let's tackle this month's Defunct Local Band Profile, as we again spotlight a
randomly selected
local metal, hard rock, or punk band that (while no longer active) deserves a modern spotlight for current SMS readers! This month, we're looking at a notable Sault Michigan band that definitely thought outside of the box during their run in the early 2010s, and featured many familiar faces, so here's what you should know!
-----------------------------------------------------------------------------------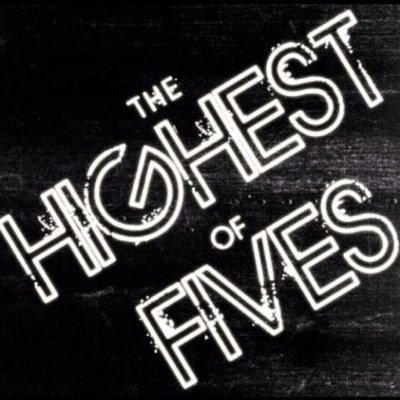 The Highest of Fives
Genre:
Hard/Alternative Rock
Hometown:
Sault Ste. Marie, Michigan
Members
:
(Note that member fluidity after their 2012 relaunch was common, allowing for frequent member absences and instrument role changes as a result, though at last public word, no credited band members ever left the group before falling inactive. Also, some official sources credited Marcel Grengs & "Crusty Puck" as two separate band members during their run, as they appeared separately in their short film clips, though his alter ego wasn't a secret.)
Mitch Goetz (
415E
,
Intrepid
,
Hoist the Sails
), vocals/guitar
Travis Theel (Hoist the Sails), vocals/guitar
Marcel "Crusty Puck" Grengs (Hoist the Sails,
Analog Deficiency
), guitar/bass
Devin Anderson (
The Balsam Brothers
,
Free Refill
, 415E), guitar/drums
Jack Slater (415E,
Unleashed
,
7/47
), bass
Mike Pascoe (Free Refill, 7/47), drums
Audio/Video
:
An unusually ambitious group during their local run, The Highest of Fives once had a number of comedic videos, musical performances, and teasers for a linked debut EP and short film, though after their demise, most of their material was deleted for unannounced reasons. What little surviving media there is can primarily be seen at
Travis Theel's YouTube channel
, aside from Devin Anderson's copy of their studio song
"Take My Time"
. Travis posted numerous performance videos on his channel, some with H.O.F. bandmates, and some featuring songs intended for the group. Here's the band's sole publically surviving music video, for their song "Look How Far We've Come" from September 2013!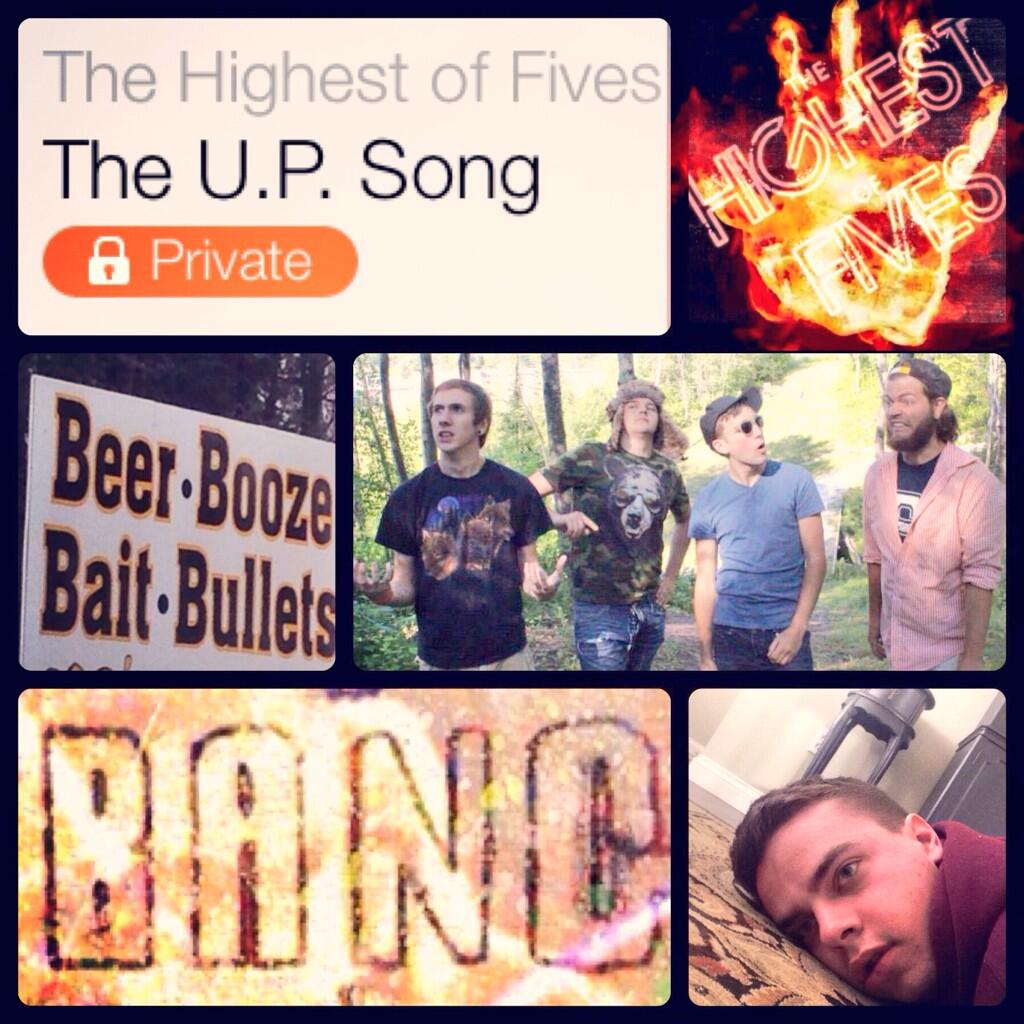 Info/Analysis
:
Formed by Guitar Studio rock camp alumni (initially sans Travis & Marcel) and named after a "How I Met Your Mother" reference, The Highest of Fives first came onto our radars with hard rock cover performances at the Sugar Island Music Festival and Relay For Life in the summer of 2011. After taking a 6 month hiatus, the guys returned in March 2012 as a fluid six-piece collective, and changed to a wider focus beyond live concert sets, planning to release an EP and comedy short film (each titled "Bang!"). Released music videos, particularly with material sung by Travis, also took on a softer tone than the guys had previously performed. Despite likeable teasers and segments from the "Bang!" film being posted over a 2 year period, and a June 2014 release date being announced, Highest of Fives updates ceased by the fall of that year, and many members later moved from the area, though Mitch Goetz still plays live locally as a bassist with 415E.
With a lot of clear talent, imagination, and chemistry, it is a shame that The Highest of Fives' best laid plans never fully got off the ground in their three year run! I can't speak musically for their 2011 shows, but from what I saw and remember of their late era music, they were a solid group with a lot of varying styles, often led by Travis' quality clean singing, though hard rock fans will have preferred their earliest gigs. The collective approach of the guys as multimedia artists really set them apart in the local scene of the early 2000s, and their "Bang!" teaser videos were often genuinely funny, but hopefully the final product can be posthumously released!
-----------------------------------------------------------------------------------
I hope you guys liked this month's Defunct Local Band Profile! Next month in this series, we're heading back to Sault Ontario for our first in a three band run from this side of the border, and our 100% random selection has given us T-Rex Manning, the early 2010s punk/metal quartet that begat Stegadeth and Jack Spades! Look for that on or around July 10th, and stay tuned for more news this week! Thanks everyone!