Here's a new news post to check out on this Tuesday evening, and it includes a new concert video of sorts, a new compilation album release, and a preview of a special Wednesday night metal concert, but let's lead off with a LOCAL CONCERT ALERT for next month at an unexpected locale!
Lethbridge, Alberta post-punk/art rock quintet
Body Lens
will make their local concert debut on Wednesday, May 8th when they play at local concert promotion agency
Dryer Fire
's new summer pop-up venue at 128 Bruce Street! A throwback in ways to Gnaeus with their indie-tinged post punk sound, Body Lens' sound isn't too aggressive, but it has enough punk attitude to go around while also harbouring some darker goth influences, and they should be a good fit for a Dryer Fire-hosted event! A new local "dungeon synth" project named Hot Goblin will open this concert, who I know nothing on, hopefully we can fill in some blanks at some point. In lieu of the former Gore Street Cafe and the soon-to-be moved M.S. Norgoma, Dryer Fire owner Nicole Dyble will open her own temporary venue near The Farmhouse Collective on Saturday, May 4th, and there are more concerts coming there over the summer season, while vendors like
Oosik Records
will be on hand for events.
I like the idea of the temporary summer space for Dryer Fire events, and while they only infrequently book punk and hard rock concerts, this should be an interesting run to see if this leads to a longer stay and/or permanent location elsewhere!
Click here
for details on the grand opening. As for May 8th's Body Lens show, it has a $10 cover and a 7:00 PM start time, and it is an ALL AGES event (no word on what "notaflof" means though.) Visit
the official Facebook event page
and the above links for more details!
Next up, here's our preview of a special mid-week metal concert TOMORROW NIGHT, as Vancouver death metal quintet
West of Hell
will return to the Soo when they headline at
The New American Pub
! This will be West of Hell's third concert appearance in Sault Ste. Marie, and their first in over 5 years, so their brutal and melodic originals have been a long time coming for their fans, and they should be ready to melt lots of faces at The New A tomorrow! Fellow Vancouver metal quintet
Expain
will bring their own thrash-laden brand of original music to the stage in their own local debut as the direct openers, and extreme metal fans should take to them nicely in the lead-up! A diverse local opening roster will include the apparent live debut of
Blood Shed Productions
cybergrind solo project
Malignant Neoplasm
, who were previously known for their studio demo output. I'm very surprised they're playing rather than C.T.W., but this should be an interesting set!
Despite event advertising saying that this show has "1,000% Metal", the opening act is local rapper
Conika
, who's no stranger to being a musical outlier on an otherwise rap-free concert. She's a skilled MC and should set the tone well tomorrow! Promoted by
Six, Two, Oh.
in their first concert booking of 2019, tomorrow's concert has a 19+ age limit, $5 cover charge, and 9:00 PM start time. Visit
the official Facebook event page
for more on this extreme metal Wednesday night blast, and here's West of Hell live!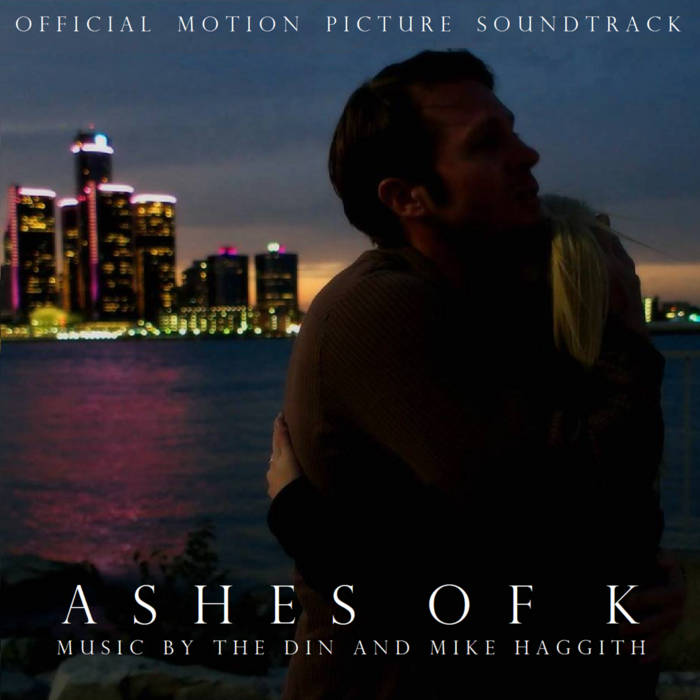 Also today, we have a new compilation album release to take note of from a prominent artist, namely local/Thompson, Manitoba solo musician
Mike Haggith
, though in this case, it's the soundtrack to the film he contributed to! As you'll recall, songs from Mike and his old local band
The Din
comprised the official soundtrack to the Windsor-shot independent film
Ashes of K
, with Mike's involvement announced in 2017, preceding it's premiere last year, but the soundtrack was only released through
Mike's Bandcamp page
yesterday. The 11 song soundtrack features all of the tracks from his 2015 solo album
"The Warinside"
except "The Snake", "Candy Is A Hooker's Name", and "Of Cars & Criminals", plus 4 songs from The Din's 2016 debut CD
"Give In To The Din"
This does include both the solo and Din versions of "A Drive Through The Peninsula", as both are in the movie. The Ashes of K soundtrack is available at the above links on a "name your price" model.
As this is a compilation, it does not jump Mike's unreviewed & future studio albums in line for CD review consideration on the SMS, but if you really want to see our thoughts on the 11 songs, check out our reviews of
"The Warinside"
&
"Give In To The Din"
, both written shortly their initial releases. It's great to see the soundtrack finally on sale/to stream, but might Ashes of K get a local screening at some point? See above for much more, and stay tuned for updates on his new album "Bridges"!
Finally for today, let's close up our coverage of
Soundcheck
drummer Glen Thomas' new live videos from
his YouTube channel
, as the last of the 11 recent uploads is the 15 minute compilation of live clips that he has (mostly) posted to YouTube already. As such, you get a lot of bang for your buck here, but if you prefer full videos, visit Glen's channel. The compilation begins with Soundcheck and then-drummer Scott McLurg at the Wawa drag races last August, with the 2nd-5th songs from
their regular cover medley
, including Journey's
"Don't Stop Believing"
, Metallica's
"Enter Sandman"
, Boston's
"Foreplay/Long Time"
, and Bon Jovi's
"Livin' On A Prayer"
, albeit cut off. The compilation continues elsewhere with concerts featuring Glen behind the kit, including covers of Alanis Morissette's
"Ironic"
at The Esquire Club, Kenny Loggins'
"Footloose"
, Queen's
"Crazy Little Thing Called Love"
,
and
John Mellencamp's
"Wild Night"
at Toystock, and Keith Urban's
"Somebody To Love"
at Reggie's West.
The big scoop here is a previously unseen clip of Soundcheck covering Def Leppard's
"Hysteria"
(with Travis on lead vocals) at The Esquire Club, courtesy of a vertical cell phone camera angle at a crooked angle. Visuals aside, the cover is well done and melodic, if a little slow, and it's worth a special look! The video closes with their previously seen cover of Greta Van Fleet's
"Highway Tune"
at the Reggievelt. There's a lot to take in here, so if you want a sampling of Soundcheck at the top of their game, give this video a look below, and see most covers in full on Glen's channel!
That's all for today, but stay tuned for weekend concert previews and last month's poll results soon! Thanks everyone!