Before we begin, I wanted to apologize for a missed concert on here, as local classic/hard rock band
Soundcheck
played at
Reggie's West
on
Friday
, a show that was
not
listed on
the band's 2019 concert calendar
. This was only announced that same evening on
their Facebook page
, and it was reportedly played as a trio, as bassist Paul Belair was absent. I apologize again for not plugging the show here, we would have had it been announced with more than a few hours' notice! Now, we have the latest from a prolific solo artist, a new musical production, and much more, but let's lead off with a unique LOCAL CONCERT ALERT for later this month!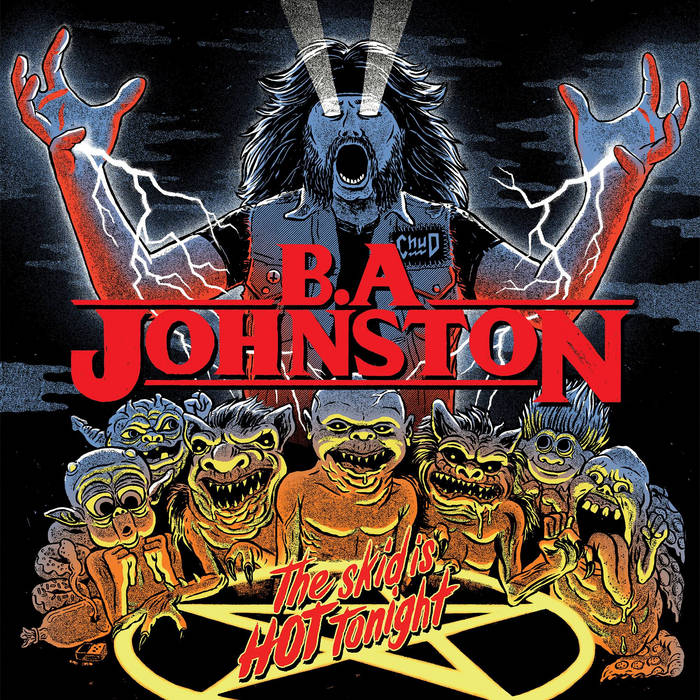 Hamilton comedy/folk punk musician
B.A. Johnston
will make his local concert debut when he headlines at
The New American Pub
on Thursday, April 18th! A tongue-in-cheek mixture of punk rock, outsider folk, Canadiana, and pop culture references, B.A. has gotten many wildly polarizing notices from fans and critics alike, but if you're at all familiar with his stage show and wide array of short and irreverent originals, you know it won't be hard to take notice, and the punk attitude and aesthetic is a frequent presence! Is it fair to compare B.A. Johnston to Wesley Willis, at least in part? Definitely give B.A. a look online to see what he has in store! No word on potential opening acts, however. This presentation of
Girl Friday Productions
has a 9:00 PM start time, 19+ age limit, and $10 tickets, which are available at
this link
, at The New A, and at
Case's Music
. I'll be very curious to hear how this show does, so see above and
the official Facebook event page
for much more!
Next up, this isn't a concert per say, but given the subject band, I can't not mention this. From Thursday, May 2nd-Saturday, May 4th,
St. Mary's College
is holding their own student production of
We Will Rock You
, the jukebox musical based on Queen's music catalog! A hit musical around the world since it's 2002 debut in London, England, this SMC Spotlight production will feature students performing this dystopian future story where a group of Bohemians struggle bring free thought and rock music back to the monotonous, identical culture in this universe, all as set to Queen music performed live by the cast. The show runs at 8:00 PM each night, tickets are $20 for adults and $15 for students, and tickets are available at St. Mary's main office. We Will Rock You isn't as recognizable as other similar jukebox musicals, but Queen fans would be well served to give this a look, so visit
the official Facebook event page
for more on this student version, and best of luck to all of the Knights next month!
Also today, here's the latest from local experimental/metal solo artist
Chase Wigmore
's extreme metal project
Awokest
, who resurfaced in March after a 2 month break from online updates by sharing
this 80 second teaser clip
of new material, which sounds like an ominous intro track moreso than a full song. Not long after, Chase shared
the back cover
of his upcoming Awokest album "Solving The Human Condition", which definitely says a lot about it's thematic content, while later sharing
some artwork samples
for his "Enter the Nightlands" compilation's physical release. The latter doesn't reveal much new, but it does confirm the original recording dates for it's included songs, with only 3 predating 2018. "Enter The Nightlands" is now available in CD copies on request, price details unclear, so message Chase on
Awokest's Facebook page
for details on that front. It's great to see Chase staying busy, so see above for more details, and stay tuned for much more from his projects!
Finally for today, here's three assorted shorter news items, all courtesy of musician searches on
the Musicians Wanted Facebook group
as of late! As usual, these are in alphabetical order by artist name:
Former Haggith/Eclipse frontman Curtis McKenzie is looking to get back into the the local music scene with a live band, and he cited bands ranging from Dokken & Dio to The Scorpions and Skid Row as acts he'd like to tackle (a familiar range if you recall his tenures with Project 421.) He has a bassist in mind already, but he is looking for a lead guitarist and drummer. If you're interested in working with Curt on a new project, message him at this link or above!
Ex-Bear Hunters/Skull After Betrayl guitarist Mike Vincent is looking for a female vocalist for a new rock band that he's working on, that would also play pop rock and "maybe some country." It'd be great to see Mike back with a live band after far too long, so message him at this link or above for more details!
Centro bartender Nicholas Larmond is helping put together a cystic fibrosis fundraiser event at Joe's Sports & Surplus on Queen Street East on Saturday, May 11th, and he is looking for "small local artists" and bands who'd be interested in playing for the cause. Sounds like a promising event, and if you're interested in learning more, message Nicholas at this link or above on the group!
That's all for today, but stay tuned for more news and updates as the week rolls along! Thanks everyone!